It's a common question among business owners: How can I grow my business?
It used to be having a business presence online was enough, but not anymore. In today's business environment, you must be able to navigate and utilize online resources to maximize your advantages in the marketplace.
Let's face it … business has changed and it isn't turning back. The process by which people - and I do mean people since businesses don't do online searches - research the products and services that they are interested in purchasing, has changed. If your company does not recognize this shift in behavior, you will lose business.
That's because buyers complete 60% of their buying cycle before they even contact your company!
If potential customers are doing research before they even decide to contact you, you need a solid web presence. A website is only the beginning, however. Your website must offer value, and you must have a plan in place to drive customers to your site - and keep them there.
1. Know Your Customers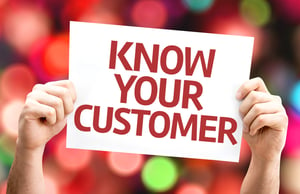 One of the most critical things you must do to grow your business is to know your customers.
Who are they? What are their pain points? What challenges do they have? Where and how do they shop?
You need to develop a strong picture of your ideal customers, or who we call buyer personas, in order to market to them more effectively. According to Hubspot, 63% of business owners say generating traffic and leads are one of their company's top marketing challenges.
Understanding who your target audience is in great detail helps you solve this challenge and create useful and relevant content that is valuable to your ideal customer.
Not sure how to narrow down who your buyer persona is? Our article Buyer Persona | What Are They And Why Do I Need Them? helps you figure out who your ideal customers are, their needs and what they do when they're online so you can determine who you should be gearing your website and its content toward.
2. Evaluate Your Website
Does your website make the cut? Evaluating your current website with a critical eye is important in determining whether you need a redesign. After all, 90% of searchers haven't made up their mind about a brand before starting their search.
First impressions are crucial, and unfortunately, websites are subject to snap judgments by users. In fact, it takes just .05 seconds for a user to form an opinion about your site. That means your site must not only offer value in content, but be organized and visually appealing.
It won't matter how many visitors you drive to your site if when they get there they immediately move on to another option.
Extra tip: While you're at it, consider evaluating your mobile site as well. Statistics show 52% of customers are less likely to engage with a company because of a bad mobile experience, and 57% of internet users say they won't recommend a business with a poorly designed website on a mobile device.
3. Create Engaging Content
Creating content aimed at your ideal customers will give you substantially more opportunities for your customers to find you.
Blogs, ebooks, case studies, charts, etc. can be used to draw in your ideal customers and give them something of value. All this content creates organic search results for you. After all, 70% of the links search users click on are organic - not paid (Marketing Sherpa). So, you want to make sure you have high-quality content to offer.
While content marketing is crucial to growing your business, not everyone has the same marketing budget as multi-million-dollar companies. For small business owners, however, there are several approaches that aren't as costly or timely. Hiring a marketing agency is an affordable way to save you money and time by creating content for you that's tailored to your buyer persona.
4. Embrace Social Media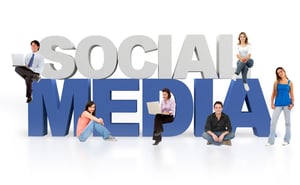 But go beyond the minimum. Chances are you have a Facebook page for your business, but if you don't use it to its maximum potential, it will just sit there waiting for someone to stumble upon it.
The same goes with other social media options you have, whether it's Twitter, LinkedIn or Pinterest. They can all bring you qualified leads. And, here is where knowing your audience is especially beneficial.
Pinterest is particularly popular among millenials - 80% says the social media platform helps them decide what they should buy. If your buyer persona is someone on the younger side, 71% of Instagram users are younger than 35.
While LinkedIn is the most effective social media platform when it comes to delivering content, you're bound to hit your audience with Facebook as well, which has more than 2.38 billion monthly active users.
However, you have to do more than create a page. You must create quality posts. After all, your social media strategy is only as good as the content you create, and your goal should be to educate, inform or entertain your prospects.
Don't forget to take advantage of marketing tools available to you, such as Facebook Lead ads, post boosts and other social media advertising opportunities. You can read more about how to use social media effectively in our article 5 Ways To Use Social Media To Ignite Your Lead Generation.
And, by the way, if you have high-quality content, it's more likely to be shared on social media, extending your reach and further opening up the possibilities for lead generation.
5. Take Marketing To The Next Level
Inbound marketing takes online marketing to the next level. It incorporates website design, buyer personas, calls-to-action, landing pages, blogging, content creation, strategic planning, email marketing and analyses.
All of it is designed to maximize and deliver measurable results in line with your business goals.
The fact is, traditional tactics don't work like they used to. Outbound marketing tactics like cold calls and print ads use a one-way communication method that no longer generates quality leads. The proof is in the numbers:
Only 18% of marketers say outbound practices provide the highest quality leads for sales.
So how does inbound marketing deliver the goods? First, it's important to determine whether inbound marketing is right for your business. If so, inbound marketing will:
Create engaging and interesting content, usually around keyword research, to pull potential customers from search engines like Google, Bing and Yahoo and bring them to your website or specifically-designed landing page. This begins the process of building trust and loyalty.
Add resource information designed around that essential search to draw the customer further down your sales funnel and ultimately reach your goal of a call, consult or free quote.
Ultimately provide you with very good prospects for your service or product, which allows you to close the sale much easier, since the customer has already bought into what you have to offer.
Have additional questions about how inbound marketing works? You can get your questions answered in our article, Inbound Marketing For Business.
Bottom Line
While some companies still operate "business as usual," those that are taking action to grow their business through effective and proven methods are moving light years ahead of their competition.
Change isn't always easy, and neither is navigating the internet and using it to your advantage. However, businesses that embrace new technology and employ the tools necessary to make their business goals a reality will generate higher-quality leads and establish themselves as leaders in their industry.
Bill is the CEO and Founder of InTouch Marketing. Bill drives the vision and direction of InTouch except when England's playing in a soccer tournament, because everything stops!