Hazardous Waste Disposal Marketing Experts
Welcome Friend!
We provide a proven system that will help you generate More Leads, More Customers, Increase Your Cash Flow and Generate Sustainable Business Growth.
Talk To Us About Your Business
It's Time To Start Focusing On Your Business
As business owners ourselves, we understand the stress and frustration that comes when you are having to work in your business instead of working ON your business. We have created a proven system for waste disposal companies that will help your business grow and free up your time so you can start focusing ON your business.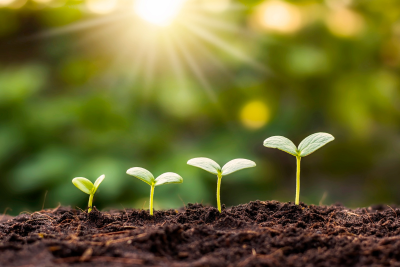 But the frustration of not knowing how to grow your business causes stagnation. Then helplessness and worry set in because you think you'll never find the right answer on what you should do!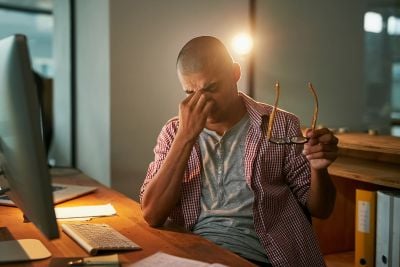 You can never grow your business to reach its full potential unless you get out of the day-to-day details. You end up being too tired, overwhelmed, stuck and feeling angry that appears to be no way out!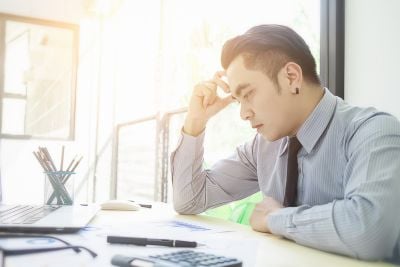 Even if you work 12-16 hrs a day, the financial rewards you are currently don't come close to the amount of effort you are putting into your business. You need to work smarter not longer.
As experts in waste disposal marketing, we have helped many businesses just like yours grow their revenue beyond what they thought was possible.
We have a proven process that allows our clients to start working "ON" their businesses and build a business that gives them the financial freedom they are looking for!
Remember this, 2x, 5x or 10x is better than 0x
This Is Where You Can Be!
Once you have the business running on autopilot, you can afford in both time and money to enjoy yourself!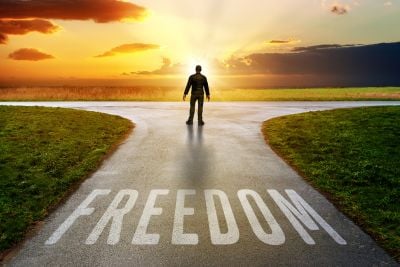 Financial freedom is possible if you trust the process and stick with it. Growing your business is not a SPRINT, it's a MARATHON.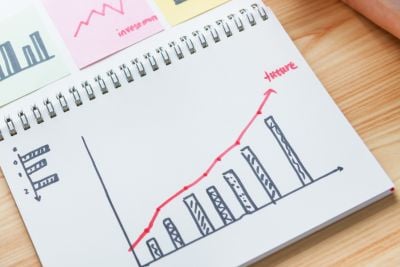 By implementing the right strategy your business can maintain a sustainable growth projectory.
We Can Help You and Your Business Achieve Results!
We Can Help You And Your Business Achieve Results!
Our PROVEN SYSTEM THAT WILL TAKE YOUR BUSINESS TO THE NEXT LEVEL.
Discover the power of partnering with a marketing agency that focuses on the hazardous waste industry to skyrocket your business to new heights.
Our proven system includes:
Defining your goals: We will define what your goals are for your business and what success looks like for you.
Designing a Custom Plan: Based off of your goals we will create a custom marketing plan to help you reach those goals.
Implementing The Plan: Once we have the marketing plan we will start implementing the plan so you can start growing.
Testing & Analyzing: Once the plan is implemented, we will test and analyze our efforts to see what's working and what needs to be tweaked to reach success.
Adjust & Repeat: Last but not least... once your goal has been met it is time to start over with a new goal that you want your business to reach and what we need to do in order for that goal to be a success.
Our systems means:
More Leads = More Customers = Increased Cash Flow = Growth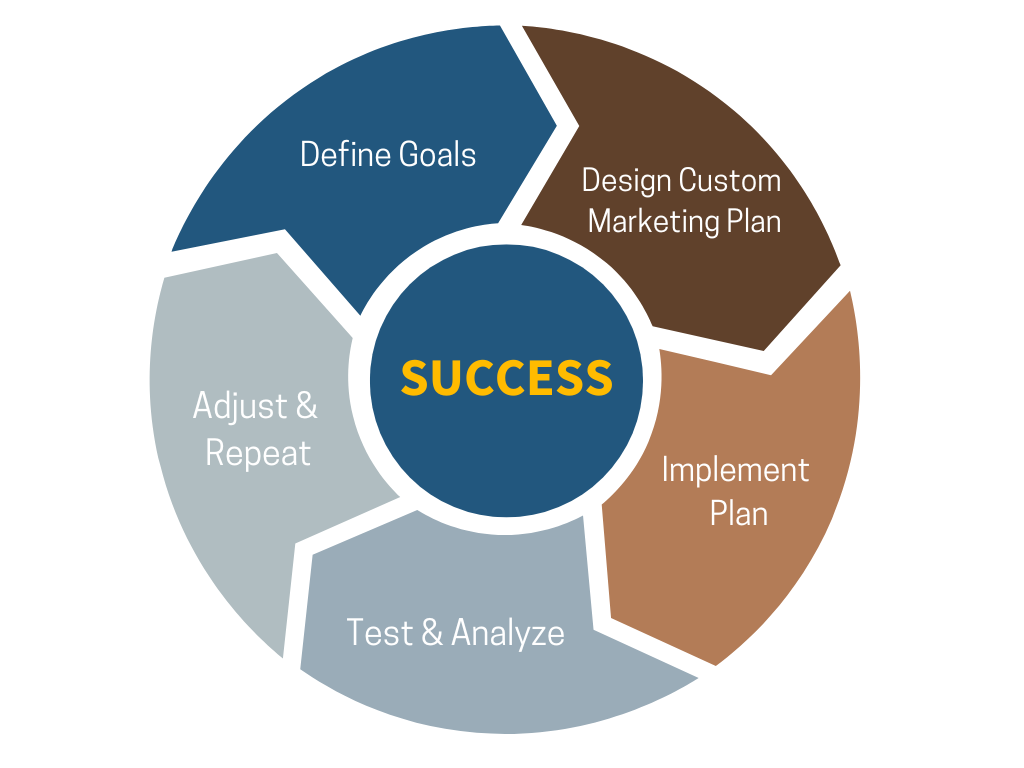 What your success can look like
We took a small hazardous waste transportation company with specific goals and were able to reach them in just 7 months. We did this by:
1. Putting together a complete strategic plan to meet their goals
2. Increasing their lead generation by 425%
3. Meeting their $50,000 a month additional revenue goal in 7 months
4. Increasing their online presence and establishing marketing and sales alignment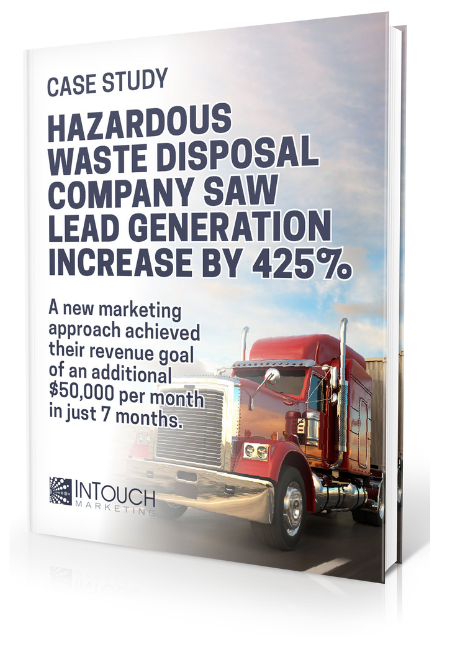 How Much Revenue Can YOU Really Get Online?
Given the number of search results in Google for the services you provide, how much new revenue could your business achieve?
We have put together some search results from your specific state and done a calculation based on an average order size.
The potential new revenue results will likely amaze you.
Download your state's search results and see how much revenue is possible for your business!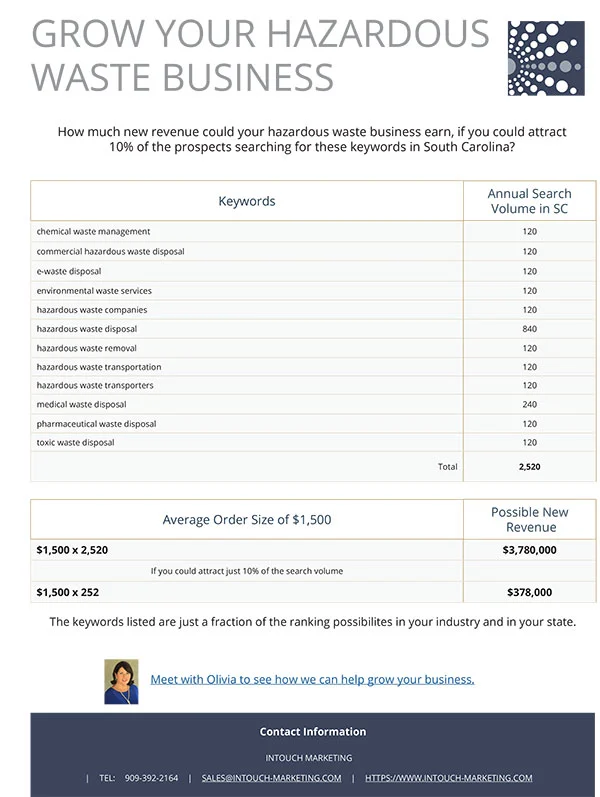 Question FOR YOU, Do You Look At Marketing As An Expense Or An Investment?
A joint survey conducted by Bright Local and Chamber of Commerce.com interviewed 700 business owners about their marketing spend. Here are some of the interesting findings from the report.
The average

spend

on marketing by SMBs is $400/month.
32% of SMBs are spending less than $100/month on marketing their businesses.
Just 6% spend more than $1,000/month.
As a general rule, B2B companies should spend between 2%-5% of their revenue on marketing. B2C companies typically spend between 5%-10%
Business guru Peter Drucker once said:
"Because the purpose of business is to create a customer, the business enterprise has two—and only two—basic functions: marketing and innovation. Marketing and innovation produce results; all the rest are costs."
It can be challenging to engage in something you are not familiar with. Those that take that leap with the right partner can realize their financial objectives.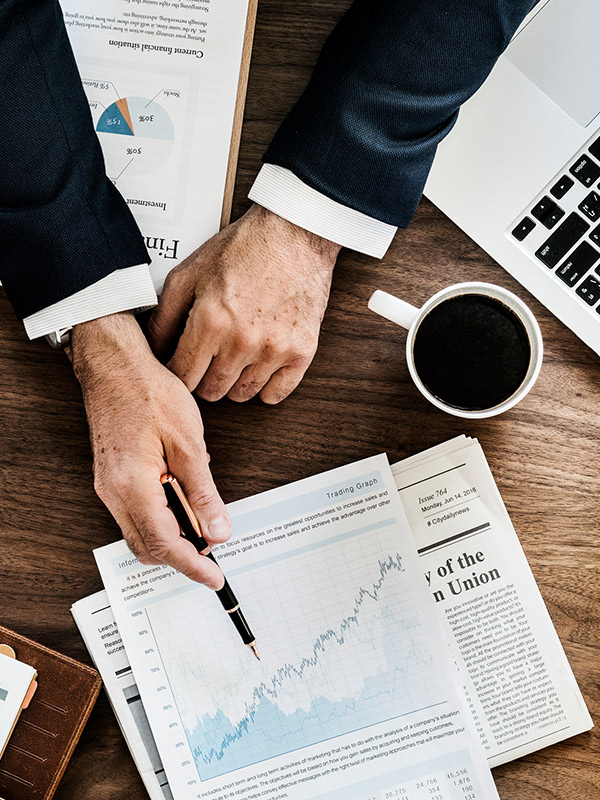 The Cost Of Doing Nothing For Your Business
You need your business to get to the next level. What does your business look like if you do nothing?
We have helped business owners just like you excel in the industry and have been able to get them out of their day-to-day duties and really start focusing on their business.
It's time to let go of the frustration and helplessness of promoting your business and let us take over so you can focus on growing.