You've seen the commercials, "Get a website for Free. It's easy, and you'll have people finding you on the web in no time." Ha! What a load of crap! If you believe those commercials, stop right now, there's a guy up the high street that has some reeaallll Rolex watches he wants to sell you.
Ted Nugent Called and He Wants His Website Back!
Most business owners have common sense and know that building a website can be a time consuming and difficult process. Let's face it, technology changes faster than my daughters mind on what outfit she is wearing tonight. When you are busy running your business, keeping up with the ever-changing internet, putting out fires, making hundreds of little decisions every day, the last thing you want to tackle is making more decisions about website themes, color schemes and other elements of a web design process.
In addition to requiring a financial commitment, the website redesign process also involves time and attention, something that many of you are short on.
Here's the rub – If you bury your head in the sand and continue to operate with an outdated public image (company website), you ARE missing out on opportunities, hurting your brand image and wasting your marketing efforts and money.
I'll say it more bluntly – YOU ARE LOSING BUSINESS, AND YOU DON'T EVEN KNOW IT!
The problem is that websites and internet search marketing have evolved over the last several years; it is no longer good enough for you to have the sophisticated outdated web catalog that most small and mid-sized businesses have out there.
It is estimated that there are 100 billion internet searches per month – AND THAT IS JUST FROM GOOGLE!
If you haven't touched your site in a while here are five reasons why you really want to take a closer look at your current site and consider a redesign. We will start with a few design elements.
1. Your Site Is Designed For Old Monitors
Back in the olden days, say early to mid-2000's, we designed sites for the standard 600x800 resolution monitors. You know those heavy monstrosities that sent you to the chiropractor when you lifted it. We did this to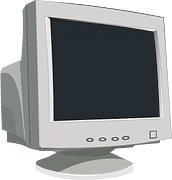 ensure that your site would be viewed without the user having to do much horizontal scrolling. Then what happened? Monitors got wider, then even wider, then they got smaller, then mobile exploded then Apple came up with the iPad and then…………YOU GET THE PICTURE.
Unfortunately many of you have sites that are still designed using those old standards, and quite frankly it makes you and your brand look ancient.
2. Your Site Takes Too Long To Load
The speed at which your site loads is too important to ignore. Internet surfers have the attention span of a three-year old in a toy store. If your site takes too long to load (think 3 to 5 seconds) you can kiss that prospect good-bye; they will be off to spend their money with your closest competitor and your sales team will never get the chance to talk about all of the differentiators like customer service and price. You will never know that prospect existed.
3. Your Site Is Not Mobile-Friendly
Have you been in a restaurant lately? If so, you have seen entire families eating dinner with each member tethered to their cell phone. If your site is not mobile-friendly (See Above), you are missing out on opportunities.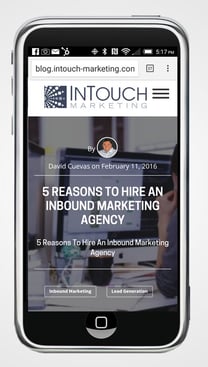 Mobile usage is growing and your site needs to have a "responsive design." This means that it automatically adjusts to fit the screen. Mobile users love it and so does Google. In fact, Google will now penalize your website in its search rankings if your website is not mobile friendly.
4. Your Site Has no Call-To-Actions or Specific Landing Pages
If you are lucky enough to keep that visitor on your site for longer than 6 seconds, how does your website work for you in terms of trying to convert that visitor into a lead? As we mentioned above, websites can no longer be just pretty brochures of useless information about how great you are and what great products you have. Folks just don't care, YET. You have to offer the visitor something of value and use CTA's that are designed to entice visitors to click on them and take them to a landing page to download your offer. If you are not using these tools to help you obtain leads, then you need to contemplate a redesign.
5. Your Website Offers No Value
Finally and perhaps most importantly, your website has to offer value beyond telling us how good you are. Remember those 100 billion monthly internet searches from above. This is where your site has the opportunity to shine, or make you look like an outdated mess. People are looking for information, and they want to do business with people that offer solutions to their problems.
They also want to avoid a sales confrontation (er! presentation) at all costs. This is where inbound marketing comes in. Tools like blogging, case studies and eBooks are the drivers to the modern company website.
People are searching right now for the products and searches that YOU have to offer, can they find you! If they do, what are you doing to help turn them into a lead?
If it's been awhile, take the time today to look at your current site and honestly ask yourself, what you would think of the company if you had never seen it before?
If you feel your current website is in need of a touch up, then look at a marketing agency not just a web design company. Why should I hire a marketing agency for my small business will help answer some of the questions as to why!

Bill is the CEO and Founder of InTouch Marketing. Bill drives the vision and direction of InTouch except when England's playing in a soccer tournament, because everything stops!