If you've considered working with a marketing agency to help grow your business, your next question may be, Why get started with a digital agency?
As a business, you know how important it is to attract more customers. Today, customers are online, and if you do not have a presence online and a marketing plan in place that allows potential customers to find you, you may be missing out on an important opportunity to grow your business. Here's a telling statistic:
"Where to buy" and "near me" mobile queries have grown by over 200% in the past two years, according to Think with Google.
An experienced marketing agency will deliver more leads and increase revenue the following three ways:
Through defined processes: Setting specific and measurable objectives is one of the first steps to marketing success. This will help you determine what your return on investment (ROI) is if you invest in marketing. This

ROI calculator

is designed to give you a simple idea of what your ROI would be if you invest your money in an inbound marketing program.
By implementing best practices: If you're not spending your marketing dollars on proven strategies, you aren't going to get any real value out of what you spend. A qualified marketing agency knows what works and what doesn't, and what's best for your company and your industry. Other best practices include following key performance indicators (KPIs) you should be tracking and determining which dedicated resources are necessary to implement a customized strategy.
By focusing on results: A successful marketing agency is motivated to consistently deliver value to its clients and has processes in place to deliver the highest possible ROI. When assessing agencies, look specifically for a proven track record, review customer success stories and follow up on client references.


Organic search has increased from 2,500 in January to 6,500 in December.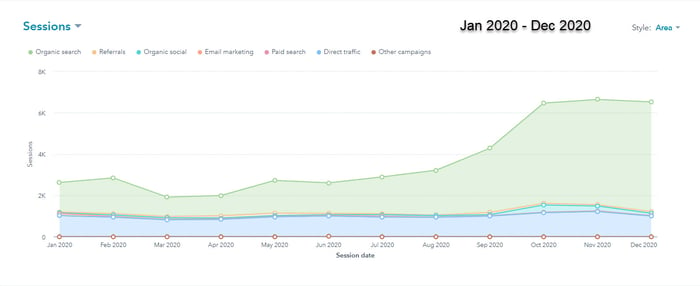 Finally, there are two significant reasons why you should consider getting started with a marketing agency - costs and time. You may be holding onto the notion that you don't have the budget to hire a marketing agency. However, working with an agency actually allows you to control costs more and drive business through proven strategies. These strategies are executed by professionals who are trained to consistently analyze and optimize their methods for delivering results.
Hiring internal team members with a variety of skill sets you need is costlier and often not practical, especially for small- to medium-sized businesses. In addition to salary, consider the costs of benefits like health insurance and paid time off. In 2020, the average annual premium for employer-sponsored health insurance was $7,470 for single coverage and $21,342 for family coverage, according to the Kaiser Family Foundation.
When you hire a marketing agency, on the other hand, you get access to an entire team of experts: professionals who know every aspect of marketing, creative content developers, graphic artists, social media managers, web developers, marketing analytics experts, and more. Yet this can cost less than one internal full-time professional marketer.
Take a look below at the side-by-side cost comparison of hiring internally versus hiring a marketing agency to get a more accurate feel for how much you may save.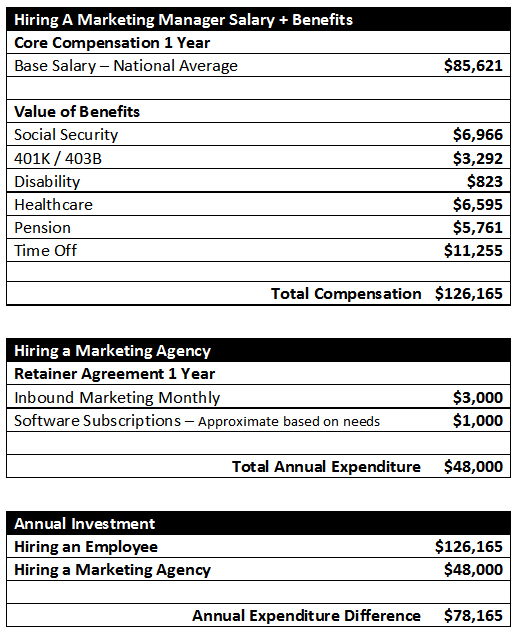 Developing and executing strategies is time-consuming as well. Experts who do it for a living are efficient and have solid, repeatable processes in place. There's significant value in the amount of time you or your staff spend on your marketing efforts. That dollar value you save due to an agency's efficiencies may very well offset the cost of the agency fees and allow you to do what you do best - running the day-to-day operations of your business.
I Can't Afford To Wait, I Need Results Now
Inbound marketing is the best long-term strategy for success. But there are times when quick wins are necessary to fund cash flow and get a business in a position to afford inbound marketing.
This is where our Business Revenue Builder Program comes into play. It's an 8 week program designed to book more sales calls and get more demos etc., within 15-20 days.
We have a Free Masterclass that describes the 5 changes your business needs to make today, to generate more leads. Complete the form below to get instant access to the free masterclass.
If you have thought about hiring a marketing agency to handle your growth goals, now is a good time to see what the possibilities hold for you and your business.