Marketing Agency
What They Do, How They Can Help & Why You Should Use One
Unless you have the staff, experience and know-how to implement your own marketing strategy, you'll likely need the help of a marketing agency.
Free Download
Hiring An Inbound Marketing Agency
Everything a business owner needs to know before you hire.
Download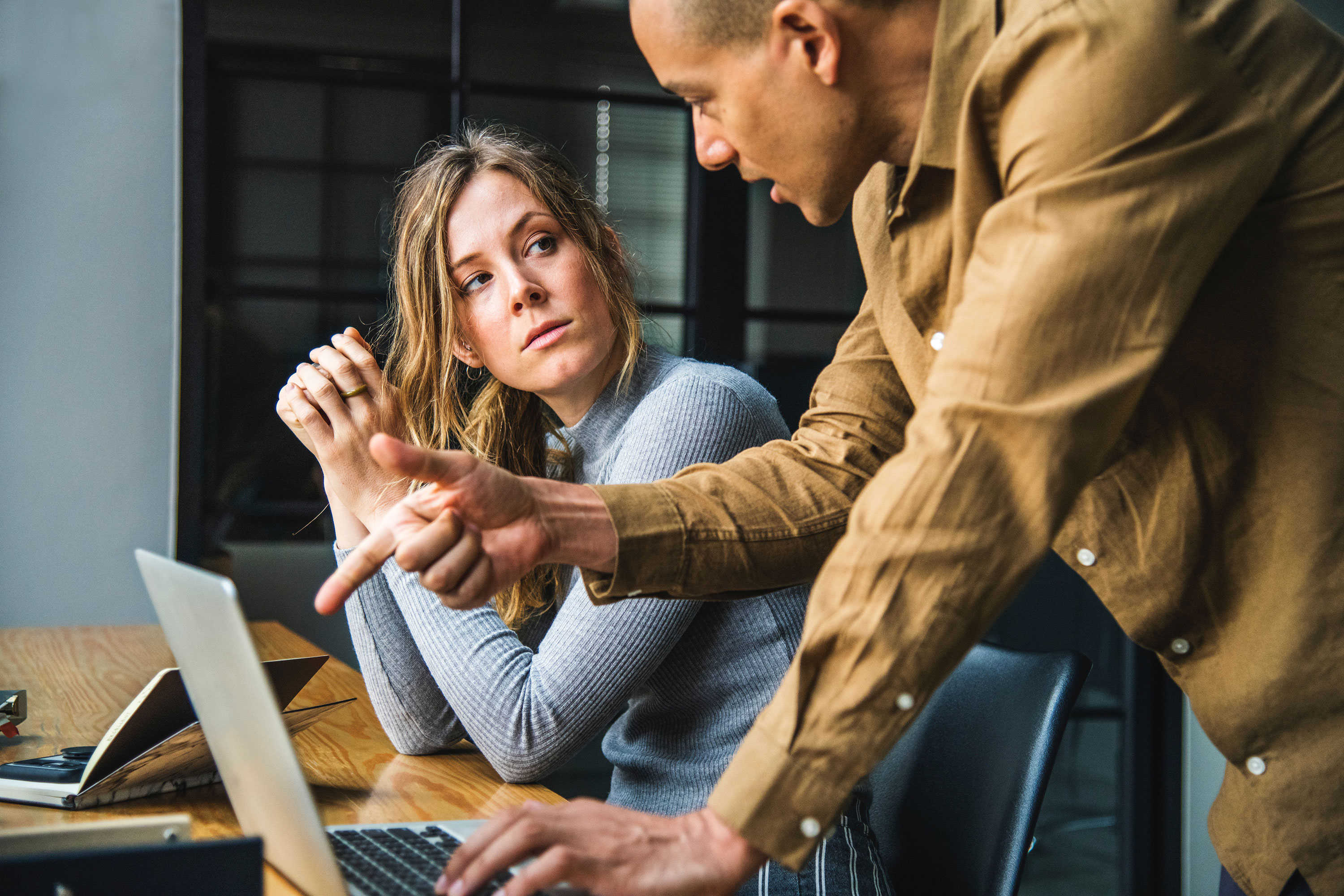 Everything You Need To Know About A Marketing Agency
Lead generation is the lifeline of any business. If your current marketing strategies aren't delivering the results you need to grow your business, you've likely begun weighing your options.
The temptation to perform all your own marketing efforts comes naturally for many entrepreneurs. However, the costs and resources required to implement a modern marketing strategy can make the DIY option unattainable. After all, in today's digital world, an effective strategy often includes an array of marketing channels and a high level of expertise in each channel.
A marketing agency, on the other hand, can provide you with a range of services with the expertise you need to implement a successful marketing plan that generates, converts and nurtures qualified leads on a consistent basis.
This strategic approach leads to sustainable, long-term growth that meets your revenue goals.
Despite the many benefits of working with a digital agency, many companies face barriers associated with the anticipated costs of hiring an agency or the lack of trust associated with handing over the marketing for a business they have built.
It's not easy to grow your business, especially since the world of marketing has dramatically changed over the past decade. An experienced marketing agency, however, can put you on a path to success.
Let's explore what marketing agencies do, the different types of marketing agencies out there and the type of agency that is most effective in today's fast-paced, digital world.
What Do Marketing Agencies Do?
If you've ever wondered what a marketing agency does, you're not alone. It may seem obvious, but the intricacies of an agency and what they do for clients are quite complex and detailed.
What does a marketing agency do? Also called a marketing firm or creative agency, a marketing agency helps its clients implement digital marketing services and strategies that accomplish their business goals. Marketing agencies typically employ a variety of tactics to achieve these goals, from advertising to social media and web design.
While each company has its own set of goals, in general, marketing agencies work to help you grow your business. That's a challenge nearly every business faces at one point or another. In fact, getting new customers is one of the most difficult aspects faced on a daily basis.
While the actions an agency performs vary based on the client's needs, the agency may work to:
Help you get more organic traffic

by building a magnetic presence online
Generate more leads, displaying a clear way to convert visitors into leads and then qualified leads
Expand brand awareness

by making sure you're seen online in the places that your ideal and more lucrative customers hang out
Create opportunities for engagement

with those potential customers so that they are more likely to recognize your brand and interact with it
Improve your overall marketing strategy

by ensuring everything is working together to help you achieve your marketing goals
While some businesses hire marketing agencies to help develop a plan for growth that is then carried out by the business' in-house marketing staff, other companies hire marketing agencies to develop and carry out every aspect of their strategic marketing plans.
What Do Marketing Agencies Do?
Marketing agencies design, develop and implement strategic marketing strategies designed to meet their client's goals.
What Types Of Marketing Agencies Are There?
"Marketing agency" is a broad term that can cover many facets of the marketing industry. While all marketing agencies generally work to develop a strategy that promotes a brand or product, how they implement that strategy varies based on the type of agency.
What are the types of marketing agencies? Marketing agencies typically fall into one or more of the categories below based on the services they offer and how they implement their marketing strategies:
Full-service digital marketing agency / inbound marketing agency

SEO Company

Digital ad agency

Social media marketing agency

Web design agency

Experiential marketing agency
Here is some more information about the different types of agencies outlined above:
Full-service digital marketing agency / inbound marketing agency - Manages your whole online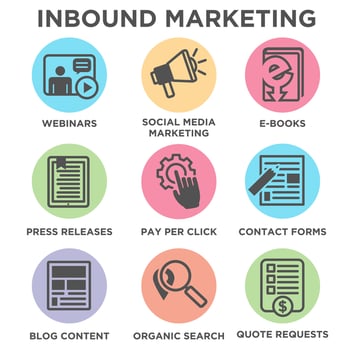 presence and makes sure all of your marketing efforts work together seamlessly to achieve goals. A full service marketing agency or online marketing agency will have lots of resources at its fingertips. It may use various channels and methods like content marketing, inbound marketing, email marketing, social media marketing and pay per click advertising to generate the results you are seeking.
SEO company - Is solely focused on using SEO (search engine optimization) strategy to increase your search results visibility. The SEO agency engages in activities like keyword research, creating SEO friendly website content, and making sure you have a fast and user-friendly web design.
Digital ad agency - Researches, creates, tests, and optimizes paid ads. Those ads could be in search, Instagram, Twitter or other places online.
Social media marketing agency - Manages your social media presence across the platforms that matter to your brand. This includes organic social media, paid social media, and sometimes influencer networking.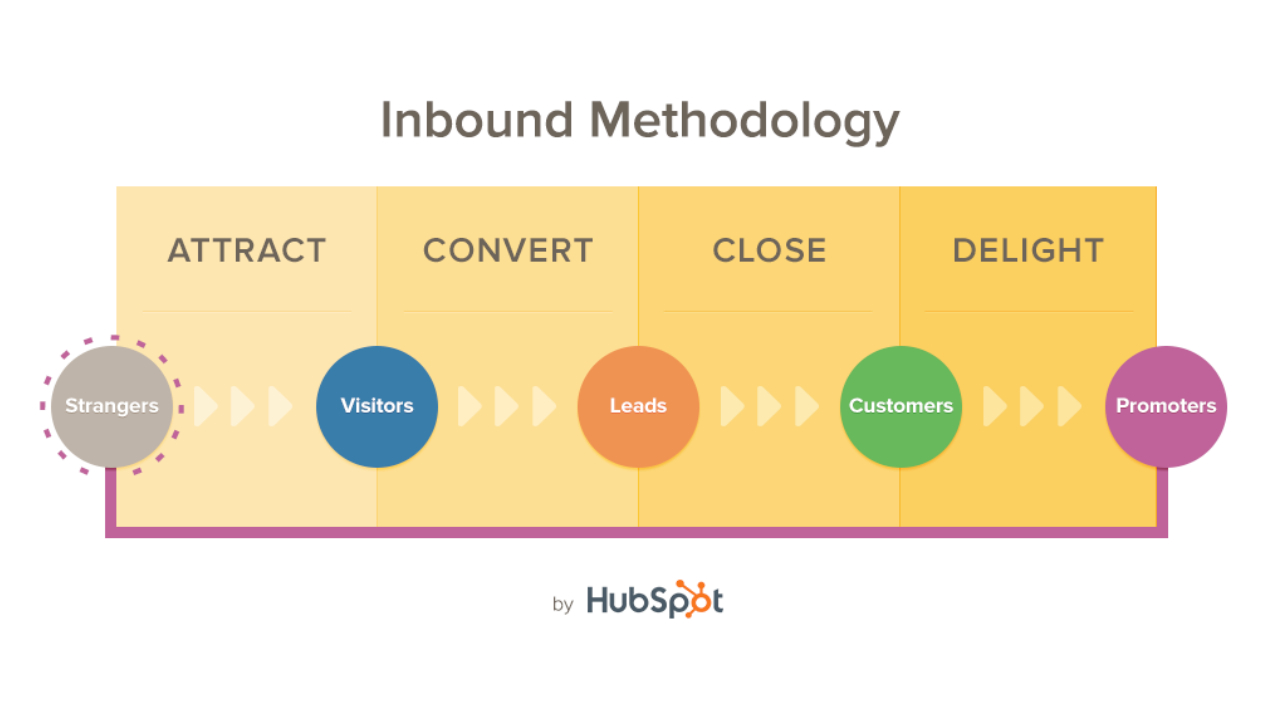 Web design agency - Builds a high-performing website that you will then maintain. These days, that site must be mobile-friendly, SEO friendly, and conversion rate optimized on an ongoing basis. So you will need ongoing website maintenance from a web marketing agency.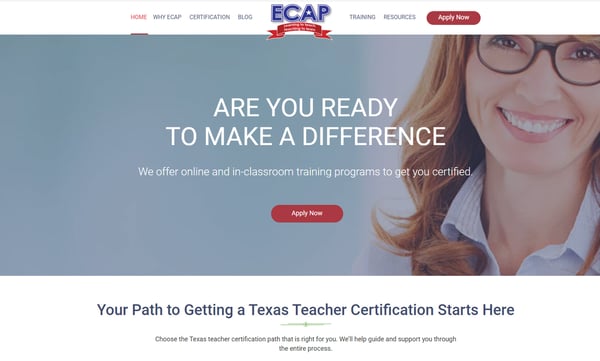 Experiential marketing agency - Top experiential marketing agencies create experiences between brands and consumers. They usually do so through experiences like sampling or events to interact with a target audience.
What Types Of Marketing Agencies Are There?
Marketing agencies typically fall into categories:
Full-service digital marketing agencies/ inbound marketing agencies
SEO companies
Ad agencies
Social media marketing agencies
Web design agencies
Experiential marketing agency
Free Download
Hiring A Marketing Agency Complete Guide
Everything a business owner needs to know before hiring an agency.
Download
What Can A Marketing Agency Do For Me?
All companies need an effective, well thought out and executed marketing plan. While most companies understand the need for a strategic marketing plan, few understand what it is or how to implement one.
A marketing agency will work with you to create and implement a successful, customized marketing plan that focuses on growing your business. So what does this look like for your company specifically?
The best marketing agencies often begin with marketing research to understand what is and is not working in the current marketing plan, followed by demographic research to create a complete ideal customer profile.
Once the marketing agency has a clear picture of who you are marketing to and what you have already attempted to do to reach them, a marketing firm helps you develop an overall marketing strategy, create and implement a plan for specific marketing campaigns, and analyze the success of those campaigns through marketing metrics.
You should expect a marketing agency to:
Modernize your strategy
Free up time to run your business
Help you keep payroll costs down
Generate new revenue based on specific goals
Be a sound investment that produces a solid ROI
This should result in lead generation for your business that can then be turned into sales, putting you on a path toward business growth.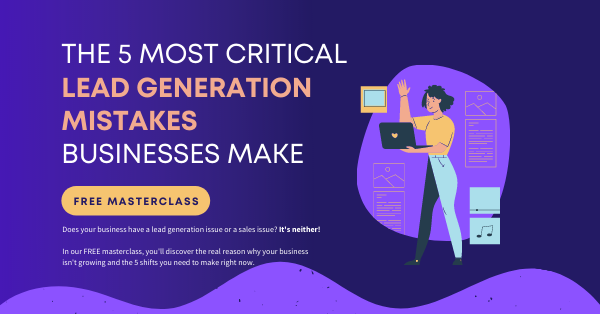 What Is The Most Effective Marketing?
For most businesses, their current outdated strategies simply aren't producing the revenue they desire. As a result, their businesses aren't growing … or worse, they're losing customers as they struggle to keep up with today's high-speed world.
To determine the most effective marketing agency for your business, you must first start with your goals. You'll need to have a clear picture of what you want to accomplish. Do you want awareness of your brand to increase, lead generation, social media campaigns, etc.? Determining what your primary goals are will help you land the right agency.
For example, an inbound marketing agency utilizes a unique approach that encompasses several digital marketing strategies from generating qualified leads, social media marketing, SEO, PPC and several other marketing strategies to meet your specific goals. By taking a strategic approach to attract the right visitors, convert them into leads and help close them into customers, companies can reach their business goals.
So what is inbound marketing and what sets it apart from other types of marketing? Inbound marketing attracts customers by creating valuable content that is tailored to them. Successful inbound marketing agencies put customized plans in place that create connections, solve problems and allow customers to come to you.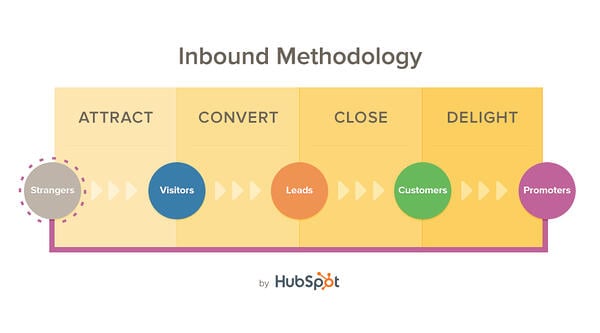 In other words, inbound marketing allows you to establish yourself as an authority in your industry using the internet. When customers search for your product or service, they will naturally discover your brand.
Why is that important? According to Hubspot, 81% of buyers no longer rely on a salesperson for purchase decisions. Inbound marketing allows prospects to receive your message on their terms, making them far more receptive to what you have to say. This is in contrast to outdated, traditional advertisements that were popular decades ago (radio and TV ads, flyers in the mail, billboards, etc.) that aren't as effective today.
Marketing agencies that utilize inbound marketing will develop your buyer persona or a fictional representation of your ideal customers based on real data-driven results about customer demographics and online behavior. They will then use a combination of website design, lead nurturing, content marketing and digital strategies to increase the demand for your products or services and help you reach your growth goals.

You can read more about this type of marketing and how an inbound marketing agency effectively implements a customized plan to grow your business in our article, Inbound Marketing Definition: What Is It And Is It Right For Your Business?
Finding a marketing agency near you can be a lot more complicated than searching for your nearest grocery store or bank. Simply performing a Google search will yield results of both local and online marketing agencies, but they may not be the best results for you.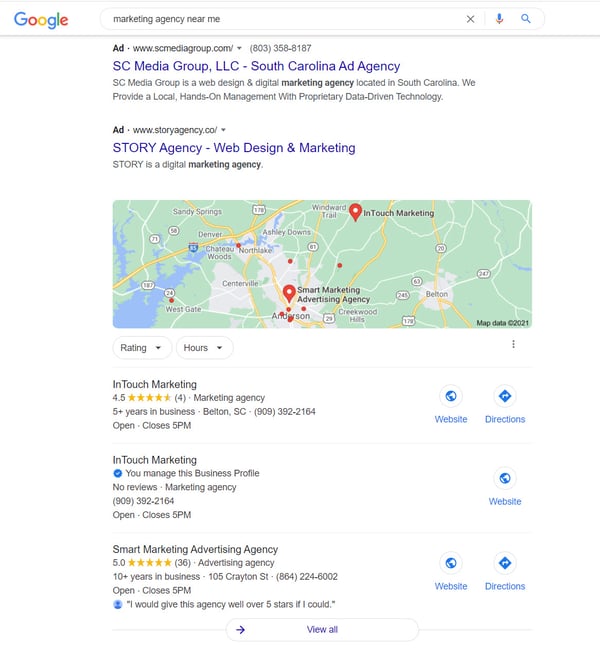 Before you start looking for a digital marketing agency, you should assess your current situation. Ask yourself:
How are you marketing your business now?
What is working and not working in your large or

small business marketing

plan?
Is your website generating leads for your business?
How much money can you invest in marketing?
Can you afford not to invest in marketing?
Where do you want to be in six months, a year or five years?
Can you achieve those goals if you don't invest in marketing?
It's important to set achievable goals. These goals become the guideposts that keep you moving in the right direction and help you stay focused. They'll also help you in making the right marketing agency choice for your company.
Once you have a clearer picture of the current state of your company and what you want the future state of your company to look like, here are six key components successful marketing agencies will have that you should keep in mind when evaluating your options:
They offer a proven process:

Businesses need customizable solutions and solutions that work. Any marketing consultants that are worth your time and money have a proven process. They have applied it with previous business clients and gotten measurable results they can share.
They ask the right questions:

The right questions demonstrate that a marketer gets it. They don't come at you with all the answers. Every answer must start with a question. Listen for questions like, What makes your business unique? What are your goals for inbound marketing? Who is your audience? Who does your audience turn to for advice?
They have long-time clients:

Marketing agencies that have clients who they've been working with for years is a good indication that they have been successful. Otherwise, why would a business end that relationship if it's getting results?
They provide quality work:

Ask for samples of an agency's work. This should include websites the agency has worked on, social media profiles, email marketing campaigns and blog posts. Visit these locations online to verify that this marketing agency is getting the results it claims.
They follow the same process for themselves:

Great marketing agencies lead by example. They employ the same process with their own online presence. Although they may do work in a different industry than yours, the basic principles of marketing always stay the same.
They make realistic promises:

A

marketing company's role is to design a custom marketing strategy designed to generate quality leads to pass off to your sales department and hit your revenue goals. Marketing agencies shouldn't make solid revenue promises or tell you that they can get you to number one in Google search in one month. Instead, they help you understand what is achievable and how they can help you get there.
If you've considered working with a marketing agency to help grow your business, your next question may be, Why get started with a digital agency?
As a business, you know how important it is to attract more customers. Today, customers are online, and if you do not have a presence online and a marketing plan in place that allows potential customers to find you, you may be missing out on an important opportunity to grow your business. Here's a telling statistic:
"Where to buy" and "near me" mobile queries have grown by over 200% in the past two years, according to Think with Google.
An experienced marketing agency will deliver more leads and increase revenue the following three ways:
Through defined processes:

Setting specific and measurable objectives is one of the first steps to marketing success. This will help you determine what your return on investment (ROI) is if you invest in marketing. This

ROI calculator

is designed to give you a simple idea of what your ROI would be if you invest your money in an inbound marketing program.
By implementing best practices:

If you're not spending your marketing dollars on proven strategies, you aren't going to get any real value out of what you spend. A qualified marketing agency knows what works and what doesn't, and what's best for your company and your industry. Other best practices include following key performance indicators (KPIs) you should be tracking and determining which dedicated resources are necessary to implement a customized strategy.
By focusing on results:

A successful marketing agency is motivated to consistently deliver value to its clients and has processes in place to deliver the highest possible ROI. When assessing agencies, look specifically for a proven track record, review customer success stories and follow up on client references.


Organic search has increased from 2,500 in January to 6,500 in December.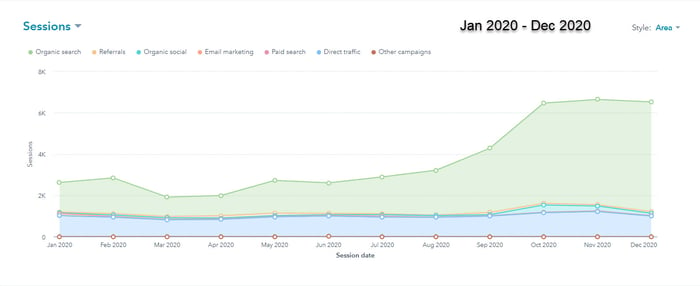 Finally, there are two significant reasons why you should consider getting started with a marketing agency - costs and time. You may be holding onto the notion that you don't have the budget to hire a marketing agency. However, working with an agency actually allows you to control costs more and drive business through proven strategies. These strategies are executed by professionals who are trained to consistently analyze and optimize their methods for delivering results.
Hiring internal team members with a variety of skill sets you need is costlier and often not practical, especially for small- to medium-sized businesses. In addition to salary, consider the costs of benefits like health insurance and paid time off. In 2020, the average annual premium for employer-sponsored health insurance was $7,470 for single coverage and $21,342 for family coverage, according to the Kaiser Family Foundation.
When you hire a marketing agency, on the other hand, you get access to an entire team of experts: professionals who know every aspect of marketing, creative content developers, graphic artists, social media managers, web developers, marketing analytics experts, and more. Yet this can cost less than one internal full-time professional marketer.
Take a look below at the side-by-side cost comparison of hiring internally versus hiring a marketing agency to get a more accurate feel for how much you may save.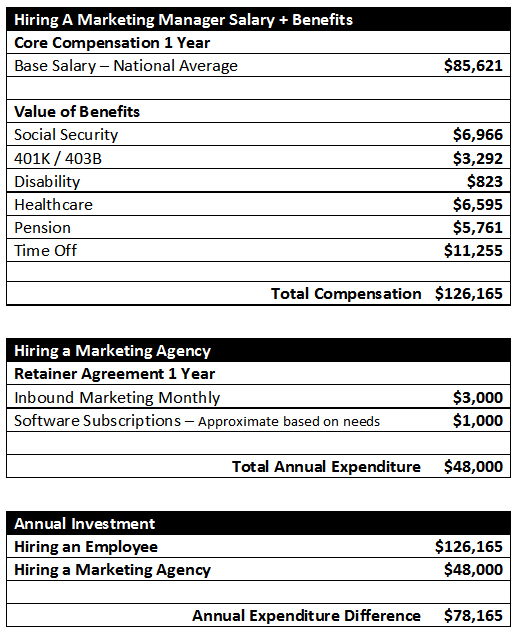 Developing and executing strategies is time-consuming as well. Experts who do it for a living are efficient and have solid, repeatable processes in place. There's significant value in the amount of time you or your staff spend on your marketing efforts. That dollar value you save due to an agency's efficiencies may very well offset the cost of the agency fees and allow you to do what you do best - running the day-to-day operations of your business.
I Can't Afford To Wait, I Need Results Now
Inbound marketing is the best long-term strategy for success. But there are times when quick wins are necessary to fund cash flow and get a business in a position to afford inbound marketing.
This is where our Business Revenue Builder Program comes into play. It's an 8 week program designed to book more sales calls and get more demos etc., within 15-20 days.
We have a Free Masterclass that describes the 5 changes your business needs to make today, to generate more leads. Complete the form below to get instant access to the free masterclass.
If you have thought about hiring a marketing agency to handle your growth goals, now is a good time to see what the possibilities hold for you and your business.
Free Download
A Complete Pillar Strategy Guide
Everything you need to start creating your pillar page flows today.
Call to Action