Website Design
First Impressions Count. Your website needs to speak to your target customers in order to generate new leads.
5 Website Design Mistakes Companies make:
It's all about you
Messaging doesn't speak to your target audience
No CTA's
No Offers
No authority indicators
Request a FREE website review to understand where you are going wrong and how to fix it.
It Costs Nothing!
But it could mean everything.
In order to attract and convert the right visitors into leads, your website needs to address your ideal customer's challenges. It's not about how great you think you are! Your messaging, content and offers should all be designed to help convert that initial visitor into a potential lead.
At InTouch, we use a proven web design process that starts with a simple conversation. From that conversation, we analyze, design and then build your ideal website that is designed to engage your visitors and increase sales.
We carefully plan out your new website or redesign through our proven process, from an initial Talk to Analysis, Design and the Final Build.

Start With A Conversation
We first talk to understand your objectives, define the your website goals and scope of the project and outline your must haves.

Perform Analysis
We then analyze your current website using tools like Hubspot, Google Analytics & SEM Rush. A comprehensive strategy is built around the goals defined in our initial conversation.

Design The Website
Based on the data gathered, our graphic team starts to design each web page. Messaging is strategically crafted and curated to attract and convert visitors into leads.

Build After Approvals
Our team of web developers begin the building process after you have approved each pages design and content. We provide a seamless go-live process that has your new site up and running flawlessly.
OUR WORK
Click on any image to see some of our client's websites.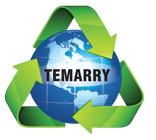 "Temarry Recycling was a company ready to be digitally introduced to the market place. InTouch was the vehicle to get us on the path we needed to be on for continuous sustainable growth."
Larry Burton
CEO Temarry Recycling
Learn What Every Business Owner Needs to Know Before You Hire!
Many business owners know they need to increase their lead generation opportunities but are unsure if hiring an outside agency is the right thing to do.
What You Will Discover
The Top 11 Habits of a Successful Inbound Agency
Specific questions you need to ask any prospective agency
Understand how an agency can help grow your business
Why Not Talk With Olivia
Get some real insights about your website and what you should and should not be doing!
Save Time And Money
You have got a mile long to-do list, a never-ending inbox, and need your companys website launched yesterday. Did I nail it? Yep, thought so... Thats why I created the CLEAN series for HubSpot. Its powerful. Its flexible. Its easy to use. Its super duper sexy.
Its your last chance!
Nah... Not really. But you knew that. I will just leave this button here for you when you need it.
Call To Action