As industries and environmental regulations evolve, hazardous waste businesses find themselves at the crossroads of opportunity and challenge.
In rapidly changing landscapes, such as the hazardous waste industry, the role of a marketing agency becomes pivotal in driving the growth of companies. While the industry itself might seem unconventional for traditional marketing approaches, the expertise and strategies offered by a marketing agency can make a significant difference in establishing a strong brand presence, building credibility and attracting valuable clients.
By crafting a targeted and tailored marketing strategy, a marketing agency can help build a reputation of reliability and responsibility in an industry where these factors are of utmost importance.
As state and federal environmental regulations continue to evolve, a hazardous waste business can also benefit from a strong online presence. As more potential clients seek waste management services to address their growing needs, a marketing agency can devise online advertising campaigns that reach businesses and organizations that require these highly specialized solutions … maximizing your company's reach and potential customer base.
Here are five ways a marketing agency can help grow your hazardous waste business:
A marketing agency can capitalize on market trends.
A marketing agency will educate potential clients.
A marketing agency will target the right customers.
A marketing agency will help deliver the right leads.
A marketing agency will build trust and credibility.
A marketing agency will create a strong online presence.
A Marketing Agency Can Capitalize On Market Trends
The hazardous waste disposal industry is continually evolving due to advancements in technology, changes in regulations, and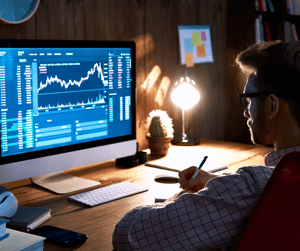 shifting societal and environmental priorities.
Advanced treatment technologies like thermal treatment and chemical stabilization are enabling more efficient and effective treatment of hazardous waste, while digital solutions are available to better track, document and report hazardous waste.
More hazardous waste disposal companies are recognizing the importance of transparent communication with local communities as well by engaging in dialogue and providing information about waste management practices.
For some businesses, new regulations may also mean additional hazardous waste streams or a more complex process of distinguishing between what waste they produce is hazardous versus non-hazardous.
A digital marketing agency can help identify and capitalize on emerging market trends and new regulations in the pipeline, allowing you to position your services ahead of the curve as a solution to a company's needs.
A Marketing Agency Will Educate Potential Clients
Hazardous waste disposal can be complex. Strategic marketing allows you to educate your potential clients about the importance of proper disposal, regulatory compliance and the potential risks of improper handling.
Educating potential customers establishes you as a thought leader in your industry, and as businesses that generate hazardous waste look for a trusted partner, they'll turn to your expertise and guidance.
Examples of marketing tools you can use to educate businesses who require disposal services include:
Blog posts
Ebooks
Case studies
White papers
Social media
Webinars
Workshops
Presentations
Marketing tools can cover topics that include waste management regulations, environmental awareness, potential risks to mishandling hazardous waste, industry innovations and guidance on best practices.
Your commitment to education also showcases your company's efforts in both compliance and environmental stewardship. These marketing tools also offer an opportunity for your hazardous waste company to engage with potential and repeat customers through interactive content like quizzes, assessments and interactive infographics in a more dynamic way.
A Marketing Agency Will Target The Right Customers
A marketing agency will develop a strategy that enables you to target specific industries, regions or businesses that are more likely to require hazardous waste disposal services. This targeted approach helps you allocate resources efficiently and reach the right audience.
Outbound marketing methods, such as billboards and newspaper ads, are less effective in the hazardous waste disposal industry, since the complex and specialized nature of the services requires a more targeted and informative approach to attract potential clients.
Instead, marketing professionals specializing in hazardous waste disposal can craft a comprehensive strategy designed to reach the right audience. Through thorough market research and analysis, the agency can identify industries, regions and businesses that are more likely to require hazardous waste disposal services. This strategic approach ensures that your marketing efforts are directed toward those who have a genuine need for your services, increasing the likelihood of generating qualified leads.
To reach your targeted audience, a marketing agency will carefully select the most appropriate channels. This might involve a combination of digital channels like search engine optimization (SEO), pay-per-click (PPC) advertising, social media marketing, and email campaigns.
PPC can be especially effective in the hazardous waste industry since it is extremely specialized. Also known as "paid search," pay-per-click marketing involves placing your ad where your customers are searching. Google AdWords is the world's largest and most popular pay-per-click advertising platform followed by Microsoft's Bing platform.
The goal of this marketing approach is that your ad is displayed alongside relevant search results. Each time a user clicks on the ad, you are charged a certain amount of money, hence "pay per click."
Hiring a marketing agency with hazardous waste experience will also mean developing messaging that speaks directly to the pain points, challenges and concerns of the identified target audience. Communication through blog posts, ebooks, whitepapers, videos and webinars can provide insights into compliance, regulations, environmental impact and best practices that impact potential clients..
By addressing their specific needs and demonstrating your expertise in hazardous waste management, you can establish a connection that resonates with potential clients.
A Marketing Agency Will Help Deliver The Right Leads
Getting more leads is always ideal, but getting the right leads is what really fuels a hazardous waste business's growth. Quality over quantity is the name of the game.
To generate leads, you must know your buyer persona, or target audience. This is who you are marketing your services to based on well-researched demographic information. For most hazardous waste businesses, your target audience will likely be any company or organization that generates hazardous waste. However, you may have more specialized industries you want to target, including cannabis waste, medical waste, electronic waste or industrial manufacturing.
A marketing agency, particularly one that uses inbound marketing tools, will take this information and create customized lead generation strategies that include specific and measurable objectives.
Some of these lead generation strategies include:
Search engine optimization (SEO) to optimize your content online
Landing pages where potential clients' contact information can be captured
Calls-to-action (CTA's) to take customers to these landing pages
Blog articles, ebooks, videos and other content offers, which enhance your industry authority and include CTA's
An email marketing strategy, which increases customer engagement and directs traffic to your website
Social media campaigns, which offer platforms for sharing content
Your lead generation strategies will play an important role in lead nurturing through the buyers' journey. In other words, while your lead generation strategies will open the gates for prospects to come through on their own, it's critical to have a process in place that qualifies your leads and allows you to build trust with your potential clients.
Businesses that generate hazardous waste don't want to hear a sales pitch. They want to know what you're going to do for them and how you're going to solve their problems. They're looking for value, and you need to show them you can offer that.
Building a funnel system on your website will help you accomplish this so that buyers can work through every stage of the decision-making process. Your funnel should have three stages:
Awareness
Consideration
Decision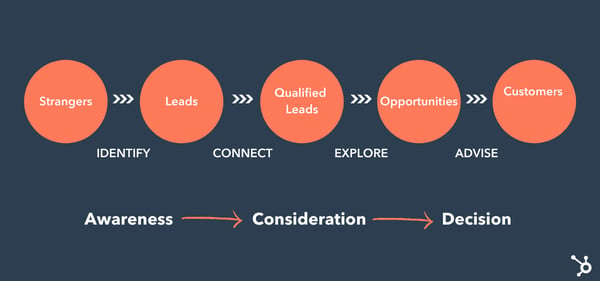 The awareness stage occurs when the buyer has a problem. A company that generates hazardous waste may begin to gather initial information it needs to solve a problem they've become aware of that exists.
The consideration stage is when that company has committed to solving the problem and is looking for options.
The decision stage occurs when the company has begun evaluating its options and ultimately decides on who is going to help them with the solution.
The key to moving prospects through your funnel is to provide high-value, focused content that helps convert them from the consideration stage to the decision stage. You can achieve success if you find their pains, let them know how those pains are hurting their business and then offer a solution to cure the pains.
Additional content ideas to help move your prospects through a funnel include webinars, masterclasses, workshops, video series and free trials with coaching videos. An excellent funnel system will also teach something valuable, build your credibility, establish connections and empower your prospects.
Keep in mind you also need to build an effective follow-up system to close any deals. Without adequate follow-ups, you're losing all the work you put into generating quality leads and are almost guaranteeing the loss of a sale or client.
The latest research shows the magic number of touchpoints to close a sale is 8. What should these touchpoints look like? They can come in a variety of formats, from emails to calls and social media. However, it's important to NEVER blast a contact person and ALWAYS offer something of value with each touchpoint.
A Marketing Agency Will Build Trust And Credibility
We talked some about building trust and credibility, but this area is incredibly important in the hazardous waste disposal industry, where responsible waste management and regulatory compliance are of the highest importance. Effective marketing strategies play a vital role in establishing your company as a reliable and knowledgeable partner.
For example, through content marketing, a marketing agency will craft informative and valuable content that include blog posts, articles, guides and educational resources. This content can demonstrate your expertise and willingness to share industry knowledge.
Other marketing tools include interactive workshops and webinars, which allow attendees to ask questions, seek clarifications and interact with your team directly.
Case studies are another powerful tool for showcasing your company's capabilities. Sharing real-world examples of how you successfully managed complex waste disposal scenarios while adhering to regulations gives potential clients a tangible view of your competence. Details about the challenges faced, strategies implemented and outcomes achieved underline your problem-solving abilities and reinforce the idea that you can handle similar challenges for them.
Consistently sharing expert insights through thought leadership pieces positions your company as a respected authority in the field as well. Open and transparent communication can also build trust, especially when you use your forum to address industry challenges, potential risks and changes in regulations directly with your audience.
By acknowledging these factors and providing information on how your company navigates them, you foster an environment of transparency that resonates with potential clients.
A Marketing Agency Will Create A Strong Online Presence
In today's digital age, having a strong online presence is crucial. A well-designed website, active social media profiles and informative content can help potential clients find and engage with your business online.
An experienced marketing agency will:
Develop a user-friendly website that not only showcases your services, but also educates visitors about hazardous waste disposal regulations, environmental impact and best practices
Enhance search engine visibility by leveraging search engine optimization (SEO) techniques and targeting relevant keywords, which will help drive organic traffic and generate valuable leads
Create compelling content that can be shared online and establishes your business as a knowledgeable industry leader
Manage social media platforms that provide a direct channel for interaction with potential customers
Implement paid advertising that increase your online visibility and drive targeted traffic to your website
Monitor and analyze performance by tracking website traffic, engagement metrics and lead generation
Fine-tune your approach based on these valuable insights
Leverage

email marketing

to nurture leads and keep your audience informed about industry updates
Create a responsive web design that is mobile-friendly
A strong online presence not only establishes your credibility and accessibility, but also provides a platform for educating and engaging your target audience. An experienced marketing agency's expertise ensures that your online efforts are cohesive, impactful and aligned with your business goals, driving growth and success in the hazardous waste disposal industry.
Bill is the CEO and Founder of InTouch Marketing. Bill drives the vision and direction of InTouch except when England's playing in a soccer tournament, because everything stops!