Lead generation has gotten more complicated in today's digitally driven market, so businesses are often confused about what they should be doing if they want to grow.
Here are four lead generation strategies you should be doing now if you want to fill your sales funnel with high quality leads:
Create And Position One Primary Offer On Your Website
Build A Better Funnel System On Your Website
Build A Follow-Up System
Engage And Send People To The Funnel On Your Website
Create And Position One Primary Offer On Your Website
You may be surprised to hear that you should only position "one primary offer" on your website. After all, more is better, right? Well, not always.
And, here is where many businesses go wrong. They make the mistake of trying to offer tons of services to everyone everywhere. But doing this makes you look like you're just trying to off anything you can, and it can come across as unfocused and desperate. It can also make your customers feel confused or give them the impression that they are going to have to conform to your services.
This doesn't mean you shouldn't offer multiple services. It just means you shouldn't be diluting your company's value. Instead, you should decide what you're best at and lead with that particular service or product.
Focusing on one primary offer will also allow you to get better at messaging and position that primary service you offer as the way businesses get started with your business.
Types of Offers
An offer is a piece of content that is perceived by a potential client to be high in value. If a potential customer has a problem that needs to be solved, providing a piece of content that offers advice or provides a path toward solving that problem will be of incredible value to that person.
Examples of offers that are effective in lead generation include:
eBooks
Presentations
Research and Reports
Live Webinars
On-Demand Videos
White Papers
Free Consultations
Coupons
Product Demonstrations
Landing Pages
The offer that you create should have its own landing page. Rather than send people to your homepage, you should send them to a dedicated landing page where they can take action to receive that specific offer.
Landing pages allow businesses to capture information about the prospect in exchange for the offer. By sending your prospects directly to the landing page, you eliminate any distractions that might be present on your normal website pages and allow them to access the information they want more quickly.
The best way to drive traffic to this landing page is by having calls-to-action (CTAs) on other website pages and content you create (blogs, emails, videos, etc.) that take visitors directly to it.
Important Tip: Keep in mind that while offers like eBooks are generally extremely effective in audience engagement, you may find that reports, videos or other formats do better with those you are trying to reach.
Build A Better Funnel System On Your Website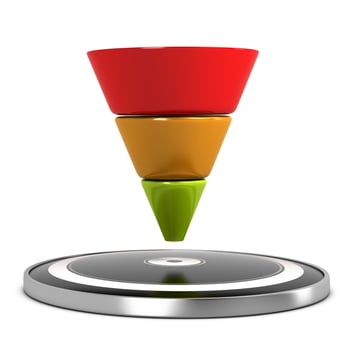 Now that you have your offer, you've opened the gates for prospects to come through on their own. This is where you can start to qualify your leads and begin building trust with your potential clients.
At this point in the process, prospects don't want to hear a sales pitch. They want to know what you're going to do for them and how you're going to solve their problem. They want to see you as a credible authority and know what value you will provide to them.
Building a better funnel system on your website will help accomplish this, so buyers can work through every stage of the decision-making process. Think of your funnel as having three stages: awareness, consideration and decision.
The awareness stage occurs when the buyer has a problem and is experiencing symptoms of this problem. They begin to gather initial information they need to solve a problem they may have because they are aware that the problem exists.
The consideration stage occurs when buyers have committed to solving their problem and they have begun considering options to solve it.
The decision stage occurs when buyers evaluate their options and decide on the right provider to help them with the solution.
The key to moving prospects through your funnel is to provide high-value, focused content that converts them from the consideration stage to the decision stage. You do this by finding their pains, letting them know how it is hurting their business, and then offering a solution to cure it.
Examples of additional content that will help move prospects through your funnel include webinars, masterclasses, workshops, video series and free trials with coaching videos.
A good funnel system will:
Teach something valuable
Build credibility
Establish a connection and relationship
Educate prospects on how to solve something on their own (even though they likely won't want to)
In other words, you're empowering your prospects, and they like that.
Build A Follow-Up System
Building an effective follow-up system is key to closing any deal. Without adequate follow-ups, you're almost guaranteeing the loss of a sale or client.
So, what does a follow-up process look like to guide prospects from the top of the funnel to the bottom of the funnel? Studies show that you need at least 9 touches with a lead. In other words, all prospects should receive at least 9 touches before you move them to the "closed lost" list (or the list that shows they are never going to be a client). We recommend 15 touches.
What should these touchpoints look like? They can come in a variety of formats, such as emails, calls, texting and social media. However, they all have one thing in common. Every time you reach out to someone in your sales funnel, you must offer something of value.
If you offer something of value, you not only will keep prospects interested in how your products or services can solve their problems, it will build trust and show your authority on the subject.
Studies show that it takes an average person 9 times to see a message or company before committing to working with or buying from it. Yet most salespeople end their efforts after 1 call and 2 emails either for fear of "bugging" a person or because they think the sale is hopeless.
Important Note: If you decide to use social media like LinkedIn or Facebook as a method for touching base with someone in your sales funnel, do not blast the person with messages. The last thing you want is for your messaging to look like spam. Instead, shoot for ways that potential clients would be more likely to see your content organically (such as by sharing content on your social media site).
Engage And Send People To The Funnel On Your Website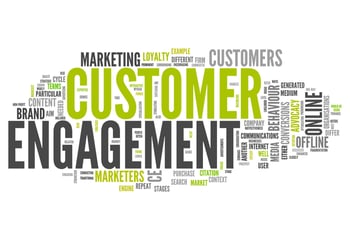 Most businesses have an existing list of prospects. No matter how those prospects got on that list, it's important to know that there's potential gold in there.
It's always a good idea to try to re-engage these prospects because you already have them. Any of these prospects who disengage probably weren't qualified prospects anyway, so don't worry if that happens.
Using that list, you're going to re-engage them by sending them to the landing page you created for your offer (see lead strategy #1 above), using a 3- to 5-email series.
This email series should offer value by:
Talking about the issues your potential customers are experiencing
Sharing how to solve their problems
Giving them a taste of what you're offering
Hinting that you will share the full picture in an upcoming webinar or other value-rich content
Once you have done that, you can look at other ways to drive qualified traffic to your funnel...through organic traffic to content you create such as blogs, ads on social media such as Facebook and LinkedIn or paid ads on search engines.
However, do not send this traffic to your home page. You want to control the flow of your traffic by sending them to your landing page. Paid traffic may bring prospects to you, but if they got lost on your website, it will have been all for nothing.
Moving Forward
It's easy to accept the status quo. In fact, It's much harder to take a leap and try something new, especially when you're not really sure what you're jumping into.
The choice is yours...do nothing and risk your business staying at the level it is now, or implement some of these strategies and set your business on a new course.
We recommend taking the leap.
Bill is the CEO and Founder of InTouch Marketing. Bill drives the vision and direction of InTouch except when England's playing in a soccer tournament, because everything stops!