Is your idea of a digital marketing agency someone who just manages your digital marketing campaigns or increases your Google visibility with search engine optimization? If so, you may not be seeing your company's true potential.
You're not alone.
Without a comprehensive, long-term approach, a lot of your time and money spent on awareness and lead generating goes to waste.
That's not very cost-effective!
Alternatively, efficient, long-term strategies guide your ideal customers through an entire buyer's journey. A complete digital marketing strategy helps you consistently meet your goals and optimize every step of the way to increase your ROI.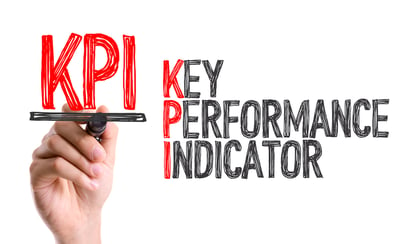 Below we'll show you how complete digital marketing services use comprehensive digital marketing strategies to increase your online presence, drive high-quality website traffic, convert more leads and help you, close customers.
A Comprehensive Approach To Growing Your Business
A SEMrush survey found that 67% of marketing teams say organic traffic is the No. 1 measure of content marketing success.
Now, don't get us wrong. Content marketing and inbound marketing should increase your organic traffic coupled with strategic SEO services and smart website design. But this response represents a very narrow view of digital marketing and doesn't necessarily accompany business success.
A digital marketing agency will use a proven process to deliver the results. The process involves applying strategies that continually improve the cost-effectiveness of your marketing while at the same time creating a foundation on which you can grow.
While the methods that a digital marketing company uses should be proven, they should also be personalized. That's why so many of the "best strategies" you find online don't work for you. They're not built around your business and your customers. A digital marketing agency should assess your business and audience to build this comprehensive strategy.
How Digital Marketing Agencies Develop Complete Marketing Strategies
A digital marketing company builds your personalized strategy around five fundamentals of inbound marketing:
Contacts: Investing in CRM technology is important in order to manage how you gather contacts and interact with leads and customers consistently across platforms and departments (Marketing, Sales, Customer Support).
Buyer personas: Who are your Ideal Customers? What drives them? How can you help this audience? Leverage the power of data to find out.
Buyer's journey: Take a deeper dive into the data that shares how a person goes from stranger to customer to promoter.
Content: Planning and crafting content for real people turn them into customers.
Goals: Setting SMART goals helps you understand better what's working and what isn't so that you can enhance marketing cost-effectiveness and maximize ROI over time.
A digital marketing agency does this with a multi-step process that includes four key phases of the buyer's journey in inbound marketing:
Attract: Attract the right audience with the right content at the right time
Convert: Turn casual content consumption into a more trusting relationship, which generally includes acquiring contact information so you can more efficiently deliver the right content through segmentation
Close: Generate a sales qualified lead who is ready to buy now and does so
Delight: Continue to deliver valuable content to increase loyalty, retention, and CLV
It's critical to note that the buyer's journey is a cycle, not a straight line. Delighting customers leads to customer activities that attract more customers, and the journey begins anew.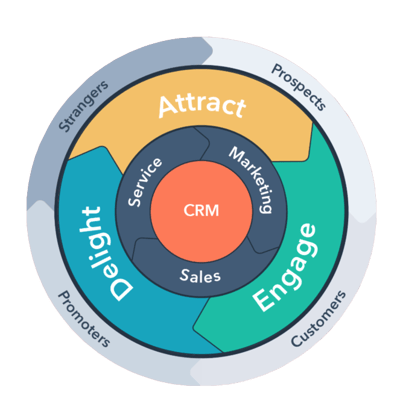 As a result, this comprehensive, long-term approach to digital marketing makes it easier and more cost-effective to guide customers through the buyer's journey with each delighted customer you generate.
Cutting costs while generating more customers … this is how businesses grow.
Why Inbound Sales Are More Effective Than Outbound Sales
In the "olden days" of the time before … OK, it really wasn't that long ago … most sales involved cold calling, physical and digital ads, billboards and radio spots. These outbound sales methods targeted people broadly, annoying a lot of people to reach the right audience.
However, don't blame the advertisers. They were doing the best they could with the technology they had.
Times have changed. With modern data analytics, automation and segmentation, you can see precisely how people respond to your marketing. Now, people are more likely to see ads and pieces of content that they're actually interested in seeing.
This is inbound sales. And, if you imagine this technology is out of reach for small to medium businesses, know that it isn't. Any business can access these tools affordably. Working with a digital marketing agency that knows how to get the most out of these tools can make them even more cost-effective.
Inbound Vs. Outbound Sales
Solving real customer problems (inbound) vs. trying to create problems to solve (outbound)
Using data to learn who your ideal customers vs. targeting broadly
Using data to understand the buyer's journey vs. thinking everyone is ready to buy now
Inbound sales are more efficient in the short term because it uses up-to-date interaction data to optimize the process now rather than waiting on delayed indicators to understand if it's working.
Inbound sales are more efficient in the long-term because it treats customers like real people who need something from the brand. This generates trust, loyalty and a willingness to spend more on a brand.
Marketing-Sales Alignment Is Key
Marketing-sales alignment is critical to business success. However, inbound marketing and inbound sales are distinctly different.
Inbound marketing uses a primary offer as part of a lead generation strategy that attracts people early in the journey when they've just discovered they have a problem to fix.
Marketing builds a funnel that guides this person efficiently through it with secondary offers and a CTA at each stage of the buyer's journey. You may do this with email marketing, social media marketing, retargeting and other inbound marketing strategies.
Your team will nurture this lead along the way and use data to decide when this person becomes a sales-qualified lead (SQL) based upon marketing and sales agreed-upon standards. These standards become your marketing team's method of lead scoring for sales and enabling sales to work most efficiently.
Scoring Leads for Inbound Sales
We score leads by placing them in four categories that represent how we prioritize and handle outreach in sales:
A High Fit-High Engagement Lead has all the qualifying traits and is highly engaged with your content, but isn't buying yet. Outreach is likely to be productive. Prioritize them highly and contact them to eliminate remaining barriers, build trust, and close.
High Fit-Low Engagement has all the qualifying traits but isn't actively engaging with you. In terms of priority, place them below the above, but there is still potential to close here.
Low Fit-High Engagement has minimal possibility of closing, so they're a low priority,
Low Fit-Low Engagement warrants minimal time spent on outreach right now.
Lead scoring represents an inbound sales process because you're reaching out to people who have shown genuine interest in your brand, not bugging people who have determined your brand isn't really a good fit for them.
What To Look For In A Digital Marketing Agency
We've established why having a comprehensive digital marketing strategy is so important. It cuts costs and increases ROI. If your Internet marketing agency isn't doing that, you need to ask yourself: What is a short-sighted and partial strategy REALLY COSTING YOU?
If you're not doing any marketing and your business is struggling to grow, you need to ask yourself, "What's the cost to you of doing nothing?"
When evaluating whether you should work with a particular digital marketing agency, here are some qualities to look for to ensure you get an experienced partner.
Proven Process
Any digital agencies worth their weight have case study upon case study that showcase their proven process and the results they can achieve.
They apply strategies that work, like the comprehensive inbound marketing and inbound sales we've been discussing. They've proven they can improve your effectiveness, so you're poised to grow.
Nearly 40% of marketers now say content is critical to their marketing success. But alone, it's fairly useless. A digital marketing agency can build a comprehensive content strategy that works.
Ask the Right Questions
You'll want a company that does its homework to develop a customized plan for you. The best digital marketing agencies will talk to you about your pain points, address your needs and inquire about what your key performance indicators are so they can better get to know you. This will help the agency develop a customized game plan for growing your business.
They Have Long-time Clients
Marketing can be cost-effective (delivering a high ROI). Hiring a digital marketing agency can save you $78,000 on average versus hiring an in-house marketing manager. But marketing is not cheap, so spending with the wrong digital agency can end up costing you.
You can't afford that.
A marketing company should be able to show a track record of long-time clients who stay because they're getting real results. It's hard to argue with that.
They Meet Clients' Revenue Goals
Clients' revenue aspirations are an important part of achieving goals. If an agency has met its clients' goals, it's a good indicator that the agency not only has a consistent track record but knows how to set customized, realistic goals. Review the case studies to see how these strategies performed.
They Do the Same Process for Their Own Company
If inbound marketing and content marketing work, shouldn't the company you hire for these be using them to promote its own brand?
They Make Realistic Promises
You're not looking for a yes-person. You want someone who knows how to get results and understands what's possible. There's substance behind the goals they set and they can consistently achieve them to grow your company.
Need more advice on what to look for in a partner so that you can both build a future for your company? Our article, How To Choose The Best Digital Marketing Agency For Your Business, shares how to assess your current situation and what to look for in an agency so that you can begin getting consistent results.
Bill is the CEO and Founder of InTouch Marketing. Bill drives the vision and direction of InTouch except when England's playing in a soccer tournament, because everything stops!