As a business, you know how important it is to attract more customers. You have to get their attention in a noisy world, make your brand known, and get them through your door. But today, those customers are not just driving down the street or watching TV. They are online!
If they're online, your business must be as well. But building a presence online isn't easy, especially if you have no experience with things like online ads, search engines or social media.
A digital marketing agency has the skills, experience, and talent in place to help you achieve your online marketing goals for less. That's less time, less money, and less frustration.
Because, honestly, you're in the business to do what you do best. Digital marketing agencies are in the business of helping businesses like yours build a valuable online presence that you can leverage to grow your business.
What Types of Digital Marketing Agencies Are There?
Before you hire an agency, you need to know what type of agency to look for. Some are generalists and some are more specialized. Here are six types of agencies to consider:
Types Of Digital Marketing Agencies
Full-service digital marketing agency / inbound marketing agency - Manages your whole online presence and makes sure all of your marketing efforts work together seamlessly to achieve goals. They tend to be larger marketing firms with lots of resources. They may use various channels and methods like content marketing, inbound marketing, email marketing, social media marketing and pay per click.
Basic digital marketing agency - Offers a variety of marketing services a la carte. So you could purchase only blog publishing, Facebook ad management, Adwords PPC campaign management. Or you might need a combination of social media marketing and SEO.
SEO company - Is solely focused on using SEO strategy to increase your search results visibility. The SEO agency engage in activities like keyword research, creating SEO friendly website content, and making sure you have a fast and user-friendly web design.
Digital ad agency - Researches, creates, tests, and optimizes paid ads. Those ads could be in search, Instagram, Twitter or other places online.
Social media agency - Manages your social media presence across the platforms that matter to your brand. This includes organic social media, paid social media, and sometimes influencer networking.
Web design agency - Builds a high-performing website that you will then maintain. These days, that site must be mobile-friendly, SEO friendly, and conversion rate optimized on an ongoing basis. So you will need ongoing website maintenance.
What Digital Marketing Agencies Do
Each of these agencies manages one or more aspects of digital marketing. But they should all be working toward the same general goals. These agencies can work together or with your in-house team to get things done like:
Get more organic traffic -They're helping you build a magnetic presence online.
Generate more leads - They have clear way to convert visitors into leads, then to qualified leads.
Expand brand awareness - They're making sure you're seen online in the places your ideal and more lucrative customers hang out. Because of that, potential customers now recognize your brand and engage with it.
Improve your overall marketing strategy - They ensure everything is working together to help you achieve your marketing goals.
Over time, they help you cut cost-prohibitive customer acquisition costs and attract more customers who will fall in love with your brand. If you don't have the in-house bandwidth to manage some of this in-house, working with a full-service agency is likely your best choice to grow your brand organically.
Should You Hire a Digital Marketing Agency?
The million dollar question is...Should you hire a digital marketing agency? Many companies think they can just create a basic website, start their own Facebook business page and the business will start coming in. After all, how hard can it be to create some posts or put some ads on AdWords?
The truth is... THAT'S THE EASY PART.
But actually, getting measurable results? That's a whole other story.
A digital marketing agency uses analytics to better understand who your ideal customers are and use this knowledge to improve your marketing messages. They reach your customers with the right message in the right place at the right time every time to generate more qualified leads. They can help small businesses achieve big revenues.
A lot of small businesses think they can manage their marketing in-house.
You may have a person who has some extra time, so you have them managing your marketing. But here's what "saving money" on a marketing agency is REALLY COSTING YOU.
Without proper automation tools, everything takes 10 times longer.
Without good analytics tools, they have to wing it. That turns off a lot of customers. Lack of analytics tools also leads to tons of missed opportunities. Buying industry-leading tools for one business is cost-prohibitive.
Because your in-house marketing team is strapped for time, they're not able to be as consistent as they like to be. So, customers forget about you in between posts.
Because your website isn't search engine optimized, you lack the visibility to attract customers organically. So, you're stuck with high acquisition costs.
Because your website isn't customer-centric, the few you do attract flee a bad user experience.
What all of this amounts to is a whole lot of wasted time, effort, and money. Not to mention the FRUSTRATION. It can leave you thinking..."How can anyone be doing this much work with no payoff?"
But don't blame your employee. They're only working with what they've got.
What Are Your Company's Needs?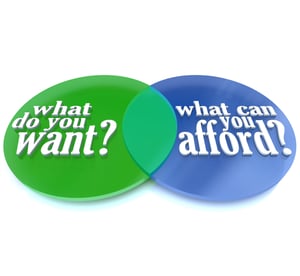 Before you even start looking for an agency, you need to assess your current situation.
How are you marketing your business now?
What is working and not working?
Is your website generating lead for your business?
How much money can you invest in marketing?
Can you afford not to invest in marketing?
Where do you want to be in six months, a year, five years?
Can you achieve those goals if you don't invest in marketing?
It's important to set achievable goals. These goals become the guideposts that keep you moving in the right direction. They help you stay focused, turning point A to point B into a straight line, eliminating waste in your marketing budget to get the highest ROI.
Your goals will assist you in making the right digital marketing agency choice for your company.
What Should You Look for in a Digital Marketing Agency?
You'll consistently find six key components in a successful marketing agency. And honestly, that's the only kind of agency you want to be working with.
A proven process – Businesses need customizable solutions. That's not a bad thing! But any digital marketing agency that is worth your time and money has a proven process. They have applied it with previous small business clients and gotten measurable results they can share.
They asked the right questions - What makes your business unique? What are your goals for inbound marketing? Who is your audience? Who does your audience turn to for advice? These kinds of questions demonstrate that a marketer gets it. They don't come at you with all the answers. Every answer must start with a question.
They have longtime clients - They have clients who they've been working with them for years. Why would a business end that relationship if they're getting results?
They provide quality work - Ask for samples of their work. They should have websites they've worked on, social media profiles, email marketing campaigns, blog posts. Visit these locations online to verify that this marketing agency is getting the results it claims.
They do the same process for their own company - A great digital marketing agency leads by example. They employ the same process with their own online presence. They may be in a different industry. But the basic principles of inbound marketing always stay the same.
They make realistic promises - A marketing company's role is to generate quality leads for your sales department. They shouldn't be making solid revenue promises or telling you that they can get you to number one in Google search in six months. Instead, they help you understand what is achievable and how they help you get there.
These are the kinds of online marketing companies that know how to get results for small businesses like yours.
Bill is the CEO and Founder of InTouch Marketing. Bill drives the vision and direction of InTouch except when England's playing in a soccer tournament, because everything stops!