As a general rule of thumb, business owners should allocate an average of 5 to 10% of their total revenue to marketing.
However, it's important to understand that there are several factors that influence exactly how much you should spend, as well as how those funds should be spent.
It's easy to get overwhelmed as you're considering how much of your budget should be allocated toward marketing. You want to grow your business and you know you need to market your products and services more. However, you're not sure where to spend those dollars because the world of marketing has changed so much.
Rest assured, this is a fairly common problem for today's small business owners. But, there are a couple of things that are fairly certain:
The amount of money you think you need to spend is probably a lot higher than what you actually need to spend.
Where you need to spend your marketing budget likely isn't where you think.
Here's what you need to know about creating a marketing budget that is well funded and effective.
How Much Should I Spend?
Products and services don't sell themselves. No matter how great your product or service is, if people can't find you, they won't buy from you.
Allocating the right amount to your ideal marketing budget can be tricky. You don't want to overspend - you are a business, after all, with a bottom line. However, under spending or spending on a method that doesn't produce deliverable results can be just as costly.
The U.S. Small Business Administration recommends spending 7 to 8% of your gross revenue on marketing and advertising - if you're doing less than $5 million a year in sales and your net profit margin - after all expenses - is in the 10 to 12% range.
However, some marketing experts advise that if you're a start-up small business, you can allocate between 2 and 3% of revenue for advertising and marketing costs, or up to 20% if you're in a competitive market or industry.
Depending on how long you've been in business, your competition and the amount you can afford, you may want to spend more, or less.
| | |
| --- | --- |
| Revenue | Marketing Budget |
| Less than $5 million | 7–8% |
| $5–10 million | 6–7% |
| $10–100 million | 5–6% |
| $100–300 million | 3–5% |
| More than $300 million | 3-4% |
Marketing Operating Budgets as a Percentage of Company Revenue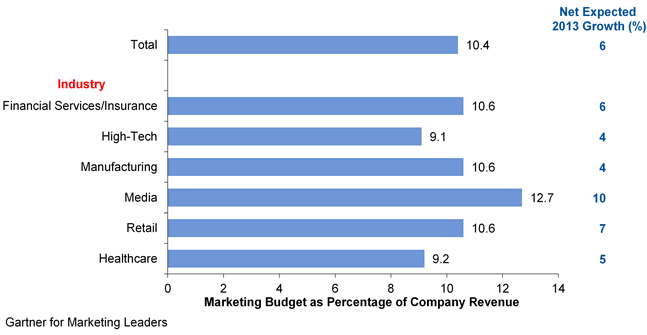 How Much Should Focus On Digital Marketing?
In today's digital age, the answer is, a lot of your marketing budget.
A company can no longer rely solely on the more traditional marketing channels to generate leads, such as word of mouth, trade shows, direct mail and trade magazines. Some experts say at least half of your current marketing budget should be dedicated to digital marketing.
As more and more businesses realize the need to "keep up with the times," it's important that you not fall behind. In fact, according to a recent survey, more small businesses are beginning to see the value of digital advertising and marketing, and plan to spend more on these mediums this year and in the future.
According to the survey:
56% of respondents say they plan to spend more this year on social media
41% say they plan to spend more of their budget on online mediums in general
Yet fewer than 25% of small business owners surveyed said they plan to increase spending through other mediums, such as events, print, TV and radio.
What Type Of Digital Marketing Is Most Effective?
It's clear how much money you should spend, and through what medium, but ensuring the money you budget for marketing is effective and produces results is a whole other challenge.
The majority of business owners do not allocate sufficient financial resources to achieve the business goals they want, and they typically spend whatever budget they do have in randomly sporadic places.
As you can probably guess, this approach results in very poor returns on their investment and a significant amount of frustration because their business is stagnating and they don't know what to do next.
A company needs a specific inbound marketing strategy in order to maximize results and get the most out of the money you're budgeting for this important component of your business.
How does inbound marketing work? The process of developing an inbound marketing strategy involves creating a strategic plan based on your business goals and centered on the following:
Buyer Personas And Journey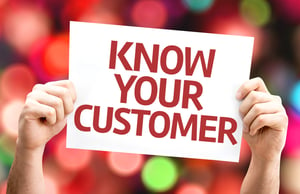 Buyer personas are representations of your ideal customers, and the buyer's journey are the steps they most often take when researching, considering and ultimately buying your products and services from you.
Specific content needs to be generated that appeals to your buyer personas and moves them through the buying process. Many businesses purchase a blogging package to target content toward a specific buying persona.
Awareness And Conversion
Tailoring an inbound marketing strategy to your business addresses how you will get content in front of your buyers, including what channels and approaches are best for reaching them.
Once your buyers see your content, how will you convert these new potential buyers? Successful inbound marketing strategies will develop tactics for optimizing lead conversion rates.
Lead Management
You now have leads, but are they ready to buy? A personalized inbound marketing strategy will help you know who is ready to buy and who is not.
Success Goals
What does success for you look like? Have your goals and key performance indicators (KPIs) been met? What are KPIs and why do you need them? In order to measure success, you need to know which metrics are important. An inbound marketing strategy will incorporate your goals when determining a set of metrics by which to measure your success.
Why Inbound Marketing?
Determining how much of your budget to allocate to marketing should be more than simply picking a number out of a hat. A lot of factors play a role in setting a budget that is effective yet affordable, including the size of your company, your competition and your marketing strategy.
Even if you have a budget in place, how you use your marketing dollars is just as important, if not more important than the number itself. Inbound marketing is an effective tool to meet the needs of the modern consumer and provide a way for businesses to generate leads that can be converted into customers.
However, to be successful at inbound marketing, you must have the right team and the right strategic plan in place. Hiring several employees to accomplish all these tasks would end up costing you potentially hundreds of thousands of dollars.
If you have enough on-site staff who are experts in marketing strategies, web design, social media, graphic design, email marketing, content marketing, copy writing and editing, search engine optimization and marketing analysis, you're in luck. If you do not, or cannot afford to have a full-time team dedicated to inbound marketing, then you need a qualified inbound certified agency, like InTouch Marketing.
Outsourcing your digital marketing will result in a fraction of the cost and allow you to take advantage of the several benefits that come with working with an experienced digital marketing agency.
To be successful at inbound marketing, you also need to have the right software. We are a Certified Hubspot Partner, and we love Hubspot and its platform. It has all the right tools to get you started, and advanced features ensure your future success.
Bottom Line
If you're looking to grow your business or have a 5- to 7-year exit strategy and need more revenue, you need to review your digital marketing budget and know how to spend it wisely. Check out our article, 5 Reasons To Use Retainer Agreements, to see how this type of business strategy will protect you in the long run.
Times have changed and the world of marketing has changed. You have to change with it, if you want to grow and reach your business goals.
Bill is the CEO and Founder of InTouch Marketing. Bill drives the vision and direction of InTouch except when England's playing in a soccer tournament, because everything stops!