Hiring a digital marketing agency can put you on the right path toward growing your business. The wrong agency can bring your journey to a halt, however.
Digital marketing, also known as online marketing, uses the internet to draw customers to your business. All marketing efforts occur online using digital channels like search engines, social media, email, and text or multimedia messages.
Because there's no shortage of prospective agencies, it's important to ensure you partner with the right agency from the beginning, so you don't waste time and money.
Let's look at what the best and worst digital marketing companies offer so that business owners can rest assured their companies are in good hands.
BEST: Offers An Inbound Marketing Strategy
Not all digital marketing agencies are the same. There are several types of digital marketing agencies, from focusing on search engine optimization (SEO) strategy to channeling their efforts on social media, graphic design or website design.
Full-service digital marketing companies, or inbound marketing agencies, manage your whole online presence and makes sure all of your marketing efforts work together seamlessly to achieve goals.
An inbound marketing agency tends to have more resources and may use various channels and methods like content marketing, inbound marketing, email marketing, social media marketing and pay-per-click.
Why is an inbound marketing strategy better? Buyer behavior has changed. Before buying, 81% of retail shoppers conduct online research, according to GE Capital Retail Bank's Second Annual Shopper Study.
Ensuring qualified customers find you is essential to success in this competitive online marketplace. The right digital marketing agency will build a personalized strategy that:
Attracts the right audience with the right content at the right time
Converts casual content consumption into a more trusting relationship, which generally includes acquiring contact information so you can more efficiently deliver the right content through segmentation
Closes sales qualified leads who are ready to buy now and do so
Delights current customers by delivering valuable content that increases loyalty and retention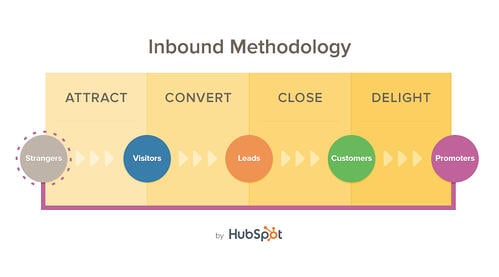 I
nbound marketing is built on these four key phases of the buyer's journey and is cyclical in design. Delighting customers leads to customer activities that attract more customers, and the journey begins anew.
You can read more about how inbound marketing is an effective digital marketing strategy to building your brand in our article, How Digital Marketing Agencies Can Grow Your Business.
Inbound marketing is not right for every business. Inbound marketing may not be the best option if you have a product priced less than $500 per purchase. Inbound is not the best option if your product requires no education to purchase. For example, buying a $1 pencil requires little explanation to know how it will help you.
WORST: Does Not Establish A Buyer Persona
If the digital marketing services you are considering have a cookie cutter plan that is used on any client that comes through the doors, this is a big red flag.
The best digital marketing agencies will work with you to determine your ideal customer first so that a customized plan can be developed. Establishing your ideal customer, called a buyer persona, is essential to accomplishing your goal of generating leads for your business.
Buyer personas are fictional representations of your ideal customers based on real data about customer demographics and online behavior. When determining a buyer persona, a marketing agency will consider speculation about personal histories, motivations and concerns. Your buyer persona should reveal the type of information THEY are searching for online.
Understanding your target audience in great detail helps your marketing and sales team create useful and relevant content that is valuable to your ideal customer.
Our article, Buyer Persona | What Are They And Why Do I Need Them?, helps you determine who your buyer persona is by taking a closer look at your existing customer base, your prospects' needs and what your prospects do when they are online.
BEST: Provides A Variety Of Targeted Content
An important component of a successful digital marketing strategy is content creation that is designed to reach your buyer personas.
Some of the most engaging types of content are:
Blog articles
Videos
Images
Buyers' guides
eBooks
Checklists
These are all excellent tools to offer value on your website. When done consistently, blogging is a key source of traffic to your website. Every time you publish a blog, you provide an opportunity for your prospects to find you and hear about your business's solutions or products.
When evaluating your content marketing plan, it's important that the digital marketing company designate one of your content pieces (often an eBook, report, white paper, etc.) as the primary offer on your website. An offer is a piece of content that is perceived by a potential client to be high in value. Providing this content offers advice or provides a path toward solving a problem.
It can be tempting to want to promote each and every service your company offers. However, this is a common mistake many companies make when they are trying to improve their lead generation processes. This does not mean you shouldn't offer multiple services. It just means you shouldn't dilute your company's value by trying to offer tons of services to everyone everywhere.
Instead, you should decide what you're best at and lead with that particular service. This is called "land and expand." Your prospects will come to you because they desperately need that ONE THING rather than a company that offers an entire department store of options. Once they have found you, you can then expand to the other services you offer later as their needs evolve.
Make sure this one content offer has its own landing page on your website. You do not want to send potential customers on a wild goose chase or to your homepage because they could get lost in distractions that may be on your normal website pages. Landing pages also allow you to capture information about the prospect in exchange for the offer.
To get potential customers to the landing page, use calls-to-action, or CTAs, on your other website pages or in the content you create, such as blogs, emails and videos. Customers who click on the CTAs are taken directly to the landing page.
WORST: Does Not Combine That Content With Social Media
Social media is an excellent way to get your targeted content in the hands of prospective buyers. That is a big problem if your digital marketing plan doesn't include a social media strategy.
An effective social media campaign begins with picking the right channel. Remember, you want to go where your clients are: Facebook, Twitter, LinkedIn, Instagram or Pinterest. While Facebook might be the logical choice because of its 1 billion users, for B2B companies, LinkedIn may be the better option. For eCommerce retailers, Pinterest or Instagram could be a gateway to future clients.
Once you have developed your targeted content, SHARE! Don't be afraid to share interesting content since social media is all about interaction and conversion. Just make sure any content you share from other sources is relevant to your mission. You may even get a reciprocal share in the process.
You can also share your content more than once. If you create an interesting eBook or blog post that results in instant website conversions, share it regularly on your social media feeds. Sharing more than once will increase the likelihood that your content will be shared by others, potentially increasing website conversions.
BEST: Has A Proven Process
A successful digital marketing company has a proven process. It has applied that process with previous small business clients and gotten measurable results they can share. It's also a process that the digital marketing company has used itself to build its own business.
Part of that process includes asking the right questions. A quality agency wants to know more about you and your business … what makes it unique, what your goals are and who your audience turns to for advice. These kinds of questions demonstrate that a marketer gets it. A marketer won't have all the answers right away. Every answer begins with a question.
That process also includes making realistic promises and not giving false hope. A marketing company's role is to generate quality leads for your sales department. There should be no solid revenue promises or stating with confidence that you'll get to number one in Google search within six months. Instead, a digital agency should help you understand what is achievable and help you get there.
Finally, proof of a successful process comes in the form of quality work and longtime clients. Ask for samples of their work, including websites, social media profiles, email marketing campaigns and blog posts. Visit these locations online to verify that this marketing agency is getting the results it claims.
Longtime clients also prove an agency is worth considering. If an agency has been working with clients for years, why would a business end that relationship if they're getting results?
Samantha, an Inbound and HubSpot Certified Marketer is the Social Media Director for InTouch Marketing.