You're on a mission to begin a collaborative partnership with a digital marketing agency that can help your business develop innovative strategies for growth.
You feel good about your decision to harness the power of digital marketing and are excited to get started, but first, you must find the right partner.
Yet as you embark on this quest, you are bombarded with conflicting information, slick sales pitches and a dizzying array of digital marketing jargon. It feels like walking through a maze with no clear path, constantly second-guessing your decisions and doubting whether any agency truly has the capabilities to deliver what it promises.
Suddenly hiring a marketing agency doesn't seem like a move you're ready to make. You're now questioning whether finding a reliable digital marketing agency is even possible.
Perhaps you've already ventured down this road, only to be disappointed by lackluster results, communication breakdowns or agencies that simply didn't understand what you wanted to accomplish with your brand. The bitter taste of these past experiences may still linger, making you question whether finding a reliable digital marketing agency is even possible.
Despite the negative experiences in both of these scenarios, finding a reliable digital marketing agency is absolutely possible. In fact, with the right approach and due diligence, you can find a marketing agency that understands your unique goals, shares your vision and possesses the expertise to propel your brand to new heights.
Here are tips on hiring a digital marketing agency that will leave you believing again in the power of strategic partnerships.
Determine What You Need
Before you begin, it's important to step back and determine what services you need. It's OK if you don't know exactly what services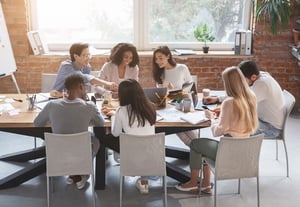 you need, but it's important to have an idea of what goals you have or the results you want to see.
There's a reason why you're seeking the help of a digital marketing agency. Pinpoint what areas of your sales you want to be improved, whether it's improving a specific aspect of your current marketing strategy or developing a new marketing strategy altogether.
This will help you determine which digital marketing agencies you should be looking at in your search. There are several types of digital marketing agencies, including:
Full-service digital marketing/inbound marketing agencies use various channels and methods like content marketing, web development, inbound marketing, email marketing, social media marketing and pay-per-click to bring all of your marketing efforts together seamlessly.
Basic digital marketing agencies offer a variety of marketing services, but in an a la carte approach. For example, a basic digital marketing agency may only focus on blog publishing or Facebook ad management.
SEO marketing agencies focus on using SEO strategy solely to increase search results visibility.
Digital ad agencies research, create and optimize paid ads, often on sites like Instagram, Facebook, Twitter or elsewhere online.
Social media agencies manage your social media presence across the platforms where your potential customers are found.
Web design agencies build high-performing websites that either you or they maintain, depending on your agreement.
While each of these types of agencies either manages one aspect of digital marketing or manages a comprehensive digital marketing strategy, it's important that the firm you choose can help you achieve your specific goals. Ultimately, these goals should center around getting more organic traffic online, which will then help generate more leads for your sales staff.
Know Your Bu
dget
When working through the process of how to hire a digital marketing agency, one of the crucial elements that should never be overlooked is your budget. Understanding your financial limitations and expectations upfront is vital for a successful partnership.
Having a clear understanding of your budget, you can effectively narrow down your options and find an agency that aligns with your financial capabilities. By knowing your budget, you can also allocate your resources wisely, enabling you to determine how much you can invest in digital marketing services without stretching your finances too thin.
It's important to keep in mind that different marketing agencies offer various packages and services at different price points. You should have a clear understanding of what exactly an agency's fees include. The best agencies will never have hidden fees or charge a fee based on performance. They should never require long-term contracts without opt-out clauses.
Look For An Agency With Experience In Your Industry
Industry experience can have a significant impact on the success of your marketing campaign. That's why it's important to consider hiring a marketing agency with experience in your specific industry or market.
An agency with industry experience brings a deep understanding of your sector's unique challenges, trends and target audience. They have likely worked with businesses similar to yours and have gained valuable insights into what strategies work best within your industry. Their familiarity with industry-specific terminology, competitors and market dynamics enables them to develop tailored marketing strategies that resonate with your audience and set you apart from the competition.
Marketing agencies with industry-specific experience often have a proven track record of success within your niche as well. By leveraging their knowledge and expertise, you can benefit from tried-and-tested strategies that have worked for others in your industry, increasing the likelihood of achieving your marketing goals and driving meaningful business outcomes.
Hiring a marketing agency that already has experience in your industry can also significantly reduce the learning curve and save valuable time. They don't need to start from scratch when understanding your business, target audience or industry landscape. Instead, they can hit the ground running.
Ask The Right Questions
The key to finding the right fit for your company often lies with the answers a digital marketing agency has when asked important questions. While you'll want to ask questions about what type of customized marketing services the company you are considering can offer, sometimes other types of questions can tell you a lot about a business.
For example, one of the first questions you should ask is: What marketing strategies do you use for your own company? A key indicator of whether a marketing agency believes in the methods it uses is if that company uses those same methods for achieving an online presence.
It's also important to ask: Who will execute the work? Some agencies have in-house teams, while others outsource client work. You should feel confident that your business is getting the attention it deserves and that the agency you hire will expertly manage all aspects of your marketing.
Another question that can have long-term implications on your success is: How do you manage communication with clients? Communication is key to setting timelines, gathering feedback, measuring results and dealing with ongoing maintenance like optimization of your website. As a client, you also want most of the hours budgeted for your company to go toward real work, not administrative duties like billing or running reports. The best agencies will use platforms to manage these tasks so they can spend far more time communicating with you and putting your marketing plan into motion.
As we noted above, measuring results is key to knowing whether your digital marketing plan is working or if it needs adjusting. Key performance indicators, or KPIs, are quantifiable measurements or data points used to gauge your company's performance.
Which key performance indicators do you focus on? That's the question you'll want to ask a digital marketing agency. Determining which indicators you should use is based on your specific goals, which areas you want to improve and your biggest priorities. While any agency can provide you with a slew of data, you should work with an agency that focuses on a few key metrics … and these key metrics should be decided based on your goals and the stage that your company is in currently.
Finally, the answer to this question … When will I see results? … can let you know right away whether the digital marketing agency you are thinking of hiring is high-quality, professional and honest. Yes, it's a good idea to better understand what to expect once your marketing plan is put into action. But if a marketing agency tells you that you should see results right away, that might be a clear sign to walk away.
That's because a successful marketing plan is often a marathon, not a sprint. It can take on average, six to nine months to see results, though sometimes sooner and sometimes a little longer depending on the competitiveness of your industry.
Keep in mind that a marketing agency's role is to generate high-quality, targeted leads for your sales staff. A marketing firm should never make solid revenue promises or tell you that it will land your site in the No. 1 spot on Google. The results you can expect should always be realistic and based on goals.
Agencies with the most experience know that setting achievable goals is important because these goals become the guideposts that keep you moving in the right direction. They will also work with you to re-evaluate these goals every three to six months, which is critical in the first year of your marketing plan.
By moving forward in planned, well-executed steps, you can rest assured that you are working with a marketing agency that understands your business objectives and places an emphasis on your company's long-term success.
Samantha, an Inbound and HubSpot Certified Marketer is the Social Media Director for InTouch Marketing.