Many businesses begin as solo endeavors, but as they experience more success, they often find the need to expand to meet increasing demand.
Whether it's to handle a growing workload or to take advantage of new opportunities, this growth can take many forms, from hiring employees to outsourcing certain tasks. One of these crucial tasks as your business grows is marketing.
Effective marketing is essential to maintaining business growth since it helps increase visibility, reaches new customers and retains existing ones. As a business owner, you may have handled much of your company's marketing yourself. However, as your business expands, you may find yourself facing a whole new set of challenges that will leave you wondering whether it's really in your company's best interest for you to continue shouldering its marketing efforts.
After all, you already have a lot on your plate, juggling multiple responsibilities like managing employees, finances, operations and more.
It may be time to hire a marketing agency. But knowing when to turn over that responsibility can be challenging since you've led your business this far. Could you get better marketing results by partnering with an agency? Here are five signs that it's time.
Marketing isn't your priority

You don't have the skillset

Sales are stagnant

You don't have the budget for in-house hires

Your marketing strategy is out of date
Marketing Isn't Your Priority
As a business owner, you have many responsibilities to attend to on a daily basis. From managing finances and operations to overseeing employees and handling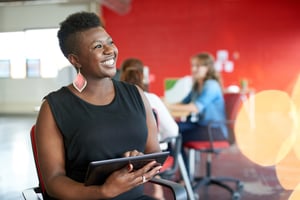 customer inquiries, the list of tasks can seem endless.
You're also responsible for staying up to date on industry trends and regulations and are often the final decision-maker who is responsible for making strategic choices that can impact the future of your business.
It's a demanding role, no doubt, and while you are certain marketing plays an important role in your company's growth, you simply may not have the time to make it a priority right now.
It also may be possible that you don't enjoy marketing. Marketing requires a different skill set and mindset compared to other aspects of business operations. This time-consuming role requires a deep understanding of target audiences, branding and advertising techniques, among other tools.
There's also the need to stay up to date with evolving technology and marketing trends, which can be overwhelming for some business owners who instead prefer to focus on other areas of their business. This can make marketing feel like a chore, resulting in uninspired blog posts or social media posts, impersonal emails and a boring website.
A marketing agency can take this important part of your growth plan off your plate and make it a top priority, allowing you to focus on what you enjoy most about running your business.
You Don't Have The Skillset
Why would you? You've developed a wealth of knowledge and experience running a company. You're business savvy and likely have a great grasp on your industry if your company is in a position to grow.
Yet effective marketing campaigns require an in-depth understanding of target audiences, branding and advertising techniques, not to mention how to measure and analyze results. Without these skills, you may struggle to not only execute successful marketing efforts, but pivot based on the results you achieve.
There's also the fact that marketing comprises several different skill sets. An effective marketing strategy requires a high level of experience and success in all of them. For example, a modern marketing strategy includes:
Collateral development and production

Content development

E-newsletters

Graphic art

Market research

Marketing software

Metrics and data analyzing

Mobile marketing

PPC expertise

Public relations

SEO (search engine optimization) and keyword research

Social media

Website development and re-engineering
While you may be experienced in one or a few of these areas, it would be exceptionally difficult to possess each of these skills required to execute your strategy.
A full-service marketing agency has a staff in place that will take on each of these roles and fulfill the responsibilities required to implement a successful marketing plan.
Sales Are Stagnant
If there is a market for your product or service, but your sales are stagnant, the quality of your leads, or lack of leads, may be to blame.
The old ways of trying to generate new business have changed. Today's digital world requires a new online approach to attract new business. A marketing agency will focus on connecting you with your ideal customers so that you have the best chance of turning those leads into sales. Also known as a buyer persona, your ideal customer is more than throwing out a few characteristics of who you think your average customer is.
In fact, buyer personas are fictional representations of your ideal customers based on real data about customer demographics and online behavior. Buyer personas are also based on speculation about their personal histories, motivations and concerns.
To generate leads, you MUST know who your buyer persona is. A marketing agency, particularly one that implements an inbound marketing strategy, will establish you as an authority in your industry by creating custom lead generation techniques.
There are a number of tools marketing services use to generate leads. Some of the top techniques include:
SEO optimization

Website with high-quality content

Landing pages designed to convert visitors into leads

Blogs

eBooks

Videos

Email marketing and nurturing

Social media

Call-to-actions

Guest blogging
The best agencies will also track conversion rates and adapt modified strategies based on what's working and what's not. Why is this important? One of the biggest indicators that your current marketing strategy isn't working is if your sales are stagnant.
You can have a strategy full of ideas for attracting customers to your business, but that strategy doesn't mean anything if your website isn't generating traffic and your visitors aren't converting. In other words, it takes both quality traffic and leads to generate revenue and returns.
You Don't Have The Budget For In-house Hires
Money is a very real concern for anyone in charge of overseeing the daily operations of a business. While you may know you need the expertise of marketing professionals to help your business generate leads for your sales staff, hiring an in-house marketing team may be cost-prohibitive.
How much does it cost to hire a marketing team? The answer often depends on what you need and who provides it. An in-house marketing team can cost you hundreds of thousands of dollars per year. On the other hand, a much more affordable option for many is hiring a marketing agency.
In today's digital world, your marketing team members may include several different employees, each responsible for fulfilling one of the marketing duties we outlined above. While one worker may handle your company's various social media channels, another may focus on drafting content used for eBooks or blogs. Another may develop and maintain your website, while you'll need an additional employee to implement the most updated marketing software that best fits your company's needs.
All of these positions can add up. A marketing manager alone will cost between $125,000 and $150,000 per year, including salary, benefits and other compensations. Now add an entire staff of salaries to that figure.
Hiring a marketing agency can provide you with the same benefits as having an in-house team … at a fraction of the cost.
Marketing agencies vary in retainer costs, but you can expect to pay about $4,000 per month. This figure includes both a monthly retainer agreement and software subscriptions. Depending on what you need to put your marketing plan into action, these subscriptions can range from $1,000 to $5,000 per month if you pay for them on your own.
Click the infographic to enlarge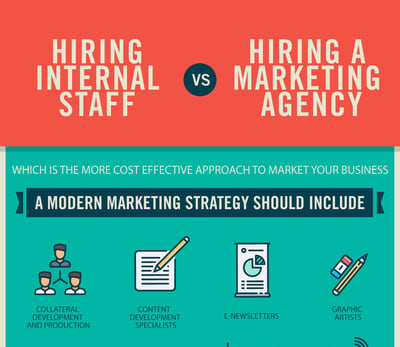 Your Marketing Strategy Is Out Of Date
As a business owner, you may be in a position where you are well aware that you don't have time to implement a marketing strategy, you don't have the skillset, your sales are stagnant or you don't have the budget to hire an in-house marketing team.
Your marketing may be out of date and it may simply be time to modernize your sales strategy. That's where hiring a marketing agency can help.
Today's modern buyers now have a number of ways to get information on the product or service they need, and each buyer's journey looks different. That means the traditional sales funnel strategy that teams have relied on for decades no longer is relevant.
A sales funnel describes the path your prospects take on their customer journeys. It includes the stages of becoming a customer, from hot leads to becoming new customers. However, this traditional sales funnel places customers as the output at the bottom of the funnel. It also doesn't take into consideration that times have changed and people are making decisions differently.
Potential clients also now rely on other forms of third-party advice, including review sites, friends or mentions of your service on social media … again, before they ever enter your sales process. If they don't enter your sales funnel, then you have little chance of improving your conversion rates.
Here's one of the main issues with the traditional sales funnel: Because of the way they are designed, funnels do not incorporate the momentum that you build and do not evolve when lead generation strategies begin to slow down.
A more updated flywheel incorporates the same components as a sales funnel but the main difference is that it places customers at the center … creating a less linear approach to your lead generation activities.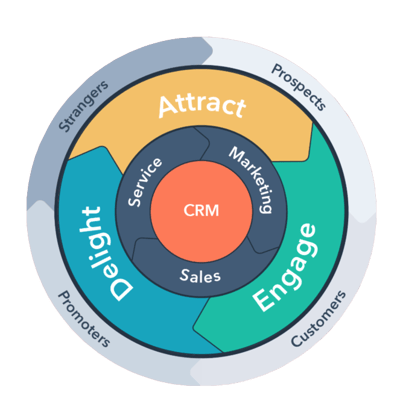 The flywheel has three main components, Attract, Engage and Delight.
Attract Phase
The Attract phase of the flywheel focuses on "drawing in the right people with valuable content and conversations that establish you as a trusted advisor with whom they want to engage," according to Hubspot.
Here, you are looking to attract the right traffic to your company website. The right traffic is based on your buyer persona. To attract buyer personas to your site, you use a cache of modern tools that strategically generate qualified leads from your target audience, including:
Blog posts

Search engine optimization (SEO)

Social media marketing

Content offers

Landing Pages

The Right Messaging

Forms

Calls-to-action
Through great content marketing, potential customers receive valuable pieces of information that they perceive as helpful as they try to solve a specific problem or fulfill a need. Content offers include items such as eBooks, editorial content, checklists and analysis reports, etc. These types of content are offered in the Attract stage of the buyer's journey.
Content offers should be targeted and focus on one service or product rather than each and every service your company offers. They should also have their own landing pages on your website. This dedicated landing page allows you to capture information about the prospect in exchange for the offer. To get potential customers to this landing page, use calls-to-action on your other website pages or content that you create (such as blogs).
Engage Phase
The Engage phase focuses on "presenting insights and solutions that align with their pain points and goals, so they are more likely to buy from you," according to Hubspot. Content pieces you may use in this phase include videos, podcasts, expert guides and comparison charts or whitepapers.
This stage is when you engage with potential clients so that they will want to develop a long-term relationship with you. In the early part of this stage, you can develop prospects or visitors into leads by typically getting simple contact information like their email addresses. Later, you can request more information.
Some modern tools to help you in this stage include:
Customer Relationship Management (CRM) software, which allows your marketing and sales teams to keep detailed records of your contacts and track the sales pipeline

Email, which allows business owners or sales team members to keep in touch with your prospects during their buying journeys, as well as provide useful, relevant content that can help build trust

Marketing automation, which is a great way for marketing departments to automate repetitive tasks such as producing emails from email lists, social media and other website actions
Delight Phase
The Delight phase emphasizes nurturing customers to expect assistance at any point, as well as promotes high customer retention and long-term relationships with clients.
Tools that modern customers respond to today include:
Social media, which provides a platform for customers to ask questions and share feedback

Surveys, which give you the opportunity to ensure you're providing clients with what they want and need

Ticket System or Knowledge Base, which provides customers with an easy opportunity to have problems with your products solved quickly or discover more detailed information about your products like installation manuals, help docs, etc.

Smart text, which provides existing customers with remarkable marketing content tailored to their interests and challenges and introduces new products and features that may interest them
Make sure you interact with current and prospective customers through these digital marketing efforts when opportunities arise, such as if someone asks a question about one of your services or products on social media.
Why The Flywheel Follows Modern Sales Trends
The flywheel is a more effective sales strategy tool because it reflects the fact that each action a team member takes impacts another action. When funnels do not incorporate any momentum or reflect slowdowns, you miss out on opportunities to improve your internal processes to make your flywheel spin faster.
Like any good marketing strategy, it's critical to know what's working and what isn't, and then adjust. As you implement strategies that ramp up your lead generation efforts, your flywheel speeds up. When these strategies are effective, there is little friction because you are removing any barriers to increasing your flywheel speed.
As you develop a flywheel and adjust accordingly, you are leveraging current customers to attract and engage the new prospects that your sales reps need to offer an extra boost to your modernized sales strategy.
Olivia is the Co-Owner and VP of Sales for InTouch. She loves getting to know and connecting with people.