According to several sites that report the latest tech news, LinkedIn is developing a new freelance marketing platform that will allow companies to connect with freelancers. This service will also reportedly allow businesses to pay the freelancers on the platform as well through a digital wallet.
Owned by Microsoft, LinkedIn has more than 760 million users in more than 200 countries. While the popular social media site for professionals already has a ProFinder tool that allows users to search for freelancers by topic, this new platform would better facilitate connections and deals.
For business owners who have seen this latest news from the tech world, some may be wondering whether they need business blogging services and what type of blog writing service or platform best meets their needs.
The answer depends on your budget and the amount of work you're willing to put in. Typically, you will have three options available to you:
Hire an employee or in-house staff writer
Work with freelancers that you can connect with through sites like Upwork, Fiverr or the upcoming LinkedIn freelance marketing platform
Partner with an inbound marketing agency that can both supply and distribute the blog content you need
But which option best meets your needs so that you can ultimately grow your business? Evaluating each of your choices will help you answer the question of whether the new LinkedIn freelance platform can solve your blogging needs.
Employees Or In-House Staff Writers
Businesses often struggle with the decision of whether they should use a freelance platform like the one LinkedIn is developing or they should hire in-house staff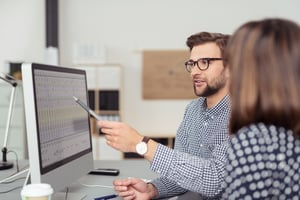 writers to generate content like blogs.
In-house writers are great for companies who have deep pockets, sufficient time and can afford the costs that come with hiring full-time employees. A staff writer not only comes with a salary, but the added costs of training, healthcare and insurance. Many fail to take this into consideration and are often surprised by exactly how much it costs to hire an employee.
In fact, hiring an employee actually costs as much as 1.25 to 1.4 times the base salary.
A significant benefit of hiring an in-house writer, however, is that you can achieve consistency of your overall produced content. Once that writer is trained and knowledgeable about your product or service, that individual will know how to target your company's message and tailor it to the right customer.
Another benefit is that in-house writers are always available during their normal work schedule and can be ready to discuss changes and edits, as well as content strategy.
While you can develop an in-house content creation writer into a long-term solution, there's a lot of work that needs to be done on the front end before hiring one. Providing the proper training is essential, especially if the writer you hire isn't familiar with your particular business, industry or subject matter.
If the content writer isn't experienced in proper formatting, keyword targeting, search engine optimization (SEO), buyer personas and other tools needed to implement a successful content strategy, that will require an extensive amount of training as well.
If you're not familiar with these tools, it's going to be difficult to ensure your in-house writer is effective at writing and promoting your blogs.
Freelance Marketing Platform
Hiring a freelance writer to create blog articles and other marketing content is another option that some businesses take advantage of in order to build their brand. Many choose this as an alternative to hiring a full-time staff writer, since freelance writers who offer a content writing service can be hired on an as-needed basis.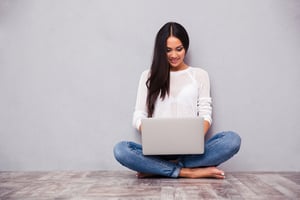 Because they are independent contractors, they are often paid by the piece or by the hour. They are typically not eligible for healthcare, unemployment insurance, paid time off or most of the other benefits that full-time employees receive. Many freelancers do not work on-site either, which allows you to hire from a pool of writers who don't necessarily live in the same area as your business.
While some freelance writers operate on their own, others use sites like Upwork, Fiverr and WriterAccess to connect with potential clients. The new freelance marketplace platform that LinkedIn is reportedly developing is an example of this as well.
The best freelancers will possess all the necessary skills to turn your instructions into a compelling blog article. However, there can be many drawbacks to using a platform like this to develop your content.
Because freelance writers often work remotely, chances are you have never met them and haven't had the opportunity to develop a good working relationship with them. In other words, they can - and sometimes do - disappear at any moment. If you're working with someone for the first time, you truly never know what product you're going to receive. While there are many seasoned writers that do a great job, others may simply be better at talking a good game.
Finding the right freelance writers can take a lot of time and energy. You can spend hours reading bios and looking at samples of work before you find one that is the right fit.
Then there is the amount of time you'll need to put in on the front end to ensure that they can hit the ground running. This includes having a sound content strategy in place before you hire a freelance writer. There is so much more to writing an article than the article itself. You need to have an effective content strategy developed that gives that article purpose.
While a good blog tells a good story, there's many factors that go into whether it is effective, including:
Whether it is geared toward your buyer persona, or your ideal customer
If it is formatted correctly using features like subheads, images, bullet points, hyperlinks and a call to action (CTA)
If keywords are used effectively, which can help your website be SEO optimized or rank higher
Whether SEO is maximized through tools like tags and meta descriptions
If backlinking is effective at bringing credibility to your site
There's also a lot of work that needs to be done before and after the blog is written that likely will fall on you, including:
Researching titles for articles
Providing an outline for the writer to follow
Editing the article once the writer has sent you the finished product
Formatting the final article for publication, ensuring the above features (CTA, keywords, backlinking, images, etc.) are included
Publishing the article on your website
Sharing it on social media
Interacting with social media users who may comment on your blog post
Considering you need a constant flow of expert blog articles for an effective content strategy, this can cost you a lot more than what you originally anticipated. While freelance costs can add up, the most expensive aspect of using a freelance platform for your blogging services can actually come from on your end considering the amount of time you'll need to commit.
And one thing we have learned...if you don't put in the time and provide the proper direction for the writer, what you will get back probably won't meet your expectations.
Inbound Marketing Agency
If neither of the above options sound like a good fit for your business, you're not alone. Yet some companies don't consider a third option, either because they think it doesn't fit within their budget or don't realize the long-term benefits it can provide … hiring an inbound marketing agency.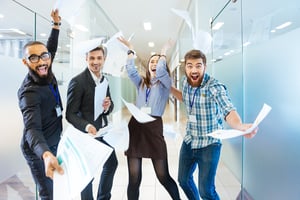 One of the biggest benefits of working with an inbound marketing agency is that you not only get a content writer, but also everything you need in order to implement a successful content strategy.
That begins with developing a high quality content marketing plan that will add value to your business. A solid marketing plan will help you generate leads, build awareness with your target audience, develop relationships with your customers, and ultimately grow your business and boost profitability.
This is not an easy feat, and often involves taking a close look at your business plan to assess your current situation, define your target market, create achievable goals and develop strategies to accomplish these goals. An experienced marketing agency can help you develop a plan and then provide you with the tools and resources needed, including a content writer, SEO expert, graphic/web designer, social media manager and more.
But what about cost? Often what attracts a business to using a freelance writer marketplace is the idea that you will save on costs. If you don't have a good content strategy in place that ensures that the value of the articles is maximized, the amount you spend on sourcing them out will simply be a waste of money.
In fact, working with even a top tier inbound marketing agency can also be much more affordable than many think. Take a look at the below chart, which compares the cost of hiring a marketing agency versus hiring an in-house blog article writer.
*Based on estimates, may vary on job title and industry
While the cost of hiring a freelance writer can vary, it's a safe bet that if you need a steady stream of blog articles, what you pay for this service will be comparable to what you would pay to work with an inbound marketing agency. And, keep in mind, if you hire a freelance writer, you're only getting the writer … not additional expert services like graphic design, web development, social media management, marketing and SEO.
Which Content Solution Is Right For You?
Content marketing is evolving quickly, spurred by developments and trends in the digital universe. What was once effective is likely not effective today.
While hiring an in-house blog writer or working with freelance writers through a freelance platform like the one LinkedIn is reportedly developing has their benefits, working with an inbound marketing agency is a win-win solution for many small businesses.
By working with a marketing agency, all your written content will be created, distributed, analyzed and managed. It's an enormous responsibility and a significant part of a content strategy you may need to grow your business.
The best inbound marketing agencies will get to know your business from top to bottom and work with you to implement a strategic and in-depth marketing plan that will meet your goals and allow you to focus on the important day-to-day operations of your company.
Olivia is the Co-Owner and VP of Sales for InTouch. She loves getting to know and connecting with people.