If you own a local business, one of the most important things you can do to attract new customers is to improve your local SEO ranking.
When potential customers in your area search for products or services like yours, you want your business to appear at the top of the search engine results page (SERP). Achieving a high local SEO ranking takes time and effort, but it can pay off in the long run by driving more traffic and revenue to your business.
Why Google? Google is the most popular search engine in the world with nearly 84% of the global market share. It's critical that you optimize your company's online presence to be more visible on Google's local search results.
That may seem like a tall task, however, especially for business owners who already have a lot on their plates. If you're a small business owner, these tips will help you to optimize your online presence, build your brand and increase your revenue:
Familiarize yourself with how Google determines its rankings.

Use Google Business Profile to claim and update your business information.

Utilize local SEO tools to improve optimization.

Take advantage of SERP features.

Combine local SEO with inbound marketing.
How Google Determines Its Rankings
Before you begin developing a strategy to optimize your online presence, it's important to understand how Google determines its rankings.
Local results are based on three qualities:
Relevance

Distance

Prominence
Relevance refers to how well a local business profile matches what a potential customer needs or wants. It's important to add complete and detailed business information, which helps Google better understand what your business offers.
Distance takes into account how far each potential search result is from the location term used in the search. If a potential client does not specify a location in the search, Google will calculate the distance based on what is known about the searcher's location.
Prominence refers to how notable the business is, such as famous museums or well-known store brands. Prominence can also be impacted based on what information Google has about the business. For example, links, articles and reviews that mention your business can all impact its prominence. Here's where search engine optimization (SEO) can impact prominence as well, since your position in web results is also a factor.
All three are important considerations for Google's algorithms, which is why you must ensure your business website is optimized for each of these factors in order to improve your local SEO ranking. Here's an example of how Google's algorithms may react to a specific search:
A collector of rare action figures is looking for a specific item that is highly sought after and difficult to find. He turns to Google to search for a collectible store near his location that might have the item.
Google's algorithm will consider factors like distance, a store's inventory and the relevance of a business to determine the ranking of the search results. In this scenario, the algorithm might decide that a collectible store located further away from the collector has a higher probability of having the rare action figure he seeks, and therefore will rank that shop higher in search results.
These findings could be based on the store having a reputation for specializing in hard-to-find items, as well as keywords used on the store's website like "collectibles," "limited edition," "action figures," "vintage" and "pop culture."
Use Google Business Profile
Google Business Profile is a free tool that businesses can use to manage their online presence across Google, including Google Search and Google Maps. Here are the steps to use Google Business Profile:
Claim your business: If your business doesn't have a Google Business Profile yet, you'll need toclaim it. Go to the Google My Business website and sign in with your Google account. Then, follow the prompts to verify your business.

Update your information: Once you've claimed your business, you can add or update information such as your business name, address, phone number, hours and website. You can also add photos of your business and products, which can help attract customers.

Manage customer reviews: Google Business Profile allows customers to leave reviews of your business. You can respond to these reviews, which can help show that you're engaged with your customers and care about their feedback.

Post updates: You can use Google Business Profile to post updates about your business, such as special promotions or events. These updates can appear in Google Search and Google Maps and can help attract new customers.

Add photos: Adding photos is a great way to showcase your goods and services. Photos also tell your business's story, as well as can show shoppers you have the products they want.

Monitor insights: Google Business Profile provides insights into how customers are finding your business and interacting with your profile. You can use this information to make informed decisions about your online presence and marketing strategy.
By using Google Business Profile, businesses can ensure that their information is accurate and up-to-date across Google, as well as engage with customers in a meaningful way. It's a powerful tool for improving your online presence and attracting new customers.
Utilize Local SEO Tools
Local SEO tools can help small businesses optimize their online presence, making it easier for potential customers to find and connect with them. From improving their online business listings to tracking their online mentions, there are a variety of local SEO tools that small businesses can use to gain an advantage in their local markets.
For example, SEMRush is a comprehensive digital marketing tool that includes a suite of SEO tools, including local SEO features. SEMRush can help businesses identify relevant and high-traffic keywords related to their industry, which can help them create targeted content and optimize their website for search engines like Google.
Effective local SEO tools like SEMRush will also scan a business's website and provide recommendations for optimizing it for search engines, as well as perform an analysis on features like backlinks, advertising and content.
BrightLocal is another SEO tool that helps businesses with local listing management, citation building and reputation management. Local citation building is the process of creating and managing a business's local citations, which are online mentions of their name, address and phone number (NAP). Consistent and accurate local citations can help improve a business's visibility in local search results.
Take Advantage Of SERP Fea
tures
SERP features (Search Engine Results Page features) are special elements that appear on the search engine results page in addition to the organic search results. These features are designed to provide users with more relevant and useful information for their search queries. Some common examples of SERP features include:
Featured snippets: These are brief answers that appear at the top of the search results, usually in response to a specific question or query.

Knowledge panels or graphs: These are boxes that provide information about a specific entity, such as a business, person, or place.

Local packs: These are maps and listings that appear at the top of search results when users search for local businesses or services.

Indented search results: Relatively new, indented search results can help companies even if their site doesn't appear in the No. 1 spot of search results. When a user searches for a product, such as a luxury watch, under the initial search result is an indented secondary result.

Reviews: Review snippets feature a yellow star rating and possibly an image. You can typically get this feature if your customers can review your products or services and if your page's content is easy for Google to understand.

Image and video results: These are results that show images or videos related to the user's search query.

Related searches: These are suggestions for other search queries that are related to the user's original query.

Advertisements: These are paid results that appear at the top and bottom of the search results page.

People also ask: These are related questions that appear below the featured snippet that can expand and provide answers to a specific question.
SERP features are important because they can significantly impact a website's visibility and click-through rate. For example, a website that appears in the featured snippet or knowledge panel can receive more clicks than a website that appears in the traditional organic search results. By understanding and optimizing for SERP features, businesses can increase their online visibility and attract more organic traffic to their website.
Important note: While these do-it-yourself tools allow you to take SEO into your own hands and save some money in your marketing budget, it's important to note that each of these strategies require some level of expertise. Local SEO services can help, but in the next section we'll explore how an inbound marketing agency can take your Google local SEO rankings to the next level.
Combine Local SEO And Inbound Marketing
Focusing on improving your Google local search engine optimization ranking can help increase your online visibility for location-based searches and attract local customers. Yet sustaining long-term growth often requires more than an emphasis on local SEO.
Sustained growth requires a comprehensive marketing strategy of which local SEO is a component. Inbound marketing uses local SEO as a tool to help drive relevant traffic to a business's website, increase engagement and generate leads and sales.
While a full-service digital marketing agency can certainly improve your local SEO results on Google, it will also create optimized content, improve outreach, create a strong social media presence, develop your web's design and help you reach your long-term business goals.
Think of it this way: Local SEO helps potential clients find your site. However, you need the right strategy in place to lead and support your customers through their buyer's journeys. Otherwise, potential clients will move on to another local company's site in search of the answers they need.
What Is Inbound Marketing?
So what is inbound marketing? Inbound marketing is a marketing strategy that focuses on attracting, engaging and delighting customers by providing valuable content and experiences, rather than interrupting them with traditional ads.
This type of marketing strategy involves attracting customers through search engine optimization (SEO), social media, blog posts, email marketing and other forms of relevant, informative content. The goal is to build trust, establish thought leadership and drive conversions by providing valuable information that addresses customers' needs and challenges.
If you have a comprehensive marketing strategy like inbound marketing in place, you are better set up to attract potential clients by creating valuable content and experiences tailored to them.
Four Stages Of Inbound Methodology
There are four stages of the inbound methodology:
Attract, which is how you will bring the ideal customer to you using the right messaging and tools, such as the content you produce and SEO strategy

Convert, which is the process when casual content consumption evolves into a more meaningful relationship using a combination of tools, such as analytics, segmentation and automation

Close, which is when you turn the most qualified leads into sales qualified leads

Delight, which continues to nurture with high-value content to increase loyalty and customer lifetime value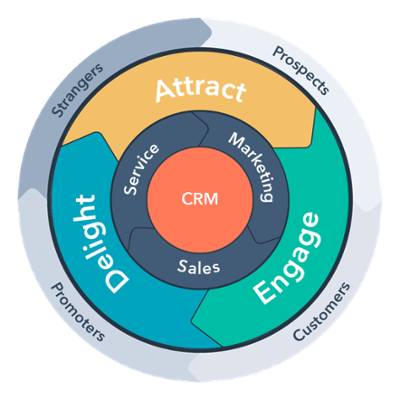 Local SEO strategy is part of the attract stage and is just one part of the overall plan that leads potential customers through their buyers' journey.
Why You Need More Than Only A Local SEO Strategy
A comprehensive marketing strategy is better than only a local SEO strategy because it takes a holistic approach to attracting and retaining customers. If you only focus on how well perform your business performs on Google, you could be missing out on long-term growth opportunities.
In other words, while using SEO tools is important for increasing a business's visibility and ranking on search engines, using SEO tools does not guarantee results on its own.
A comprehensive marketing strategy incorporates a plan that will help you perform better in Google local SEO rankings, but the customized plan also includes other tactics such as social media marketing, content marketing, email marketing and advertising.
This multi-channel approach:
Helps to reach customers at different touchpoints

Builds brand awareness

Establishes a strong online presence

Provides a more complete picture of customer behavior

Allows for more targeted and effective marketing efforts

Offers a more diverse and resilient approach to driving traffic
A comprehensive marketing strategy is a winning approach that will sustain your business into the future, even as SEO strategies evolve and Google algorithms change.
Samantha, an Inbound and HubSpot Certified Marketer is the Social Media Director for InTouch Marketing.