Everything You Need To Know About Inbound Marketing
Maximize Your Reach and Revenue
Unlock exponential growth through strategic inbound marketing techniques that captivate, convert, and retain your target audience.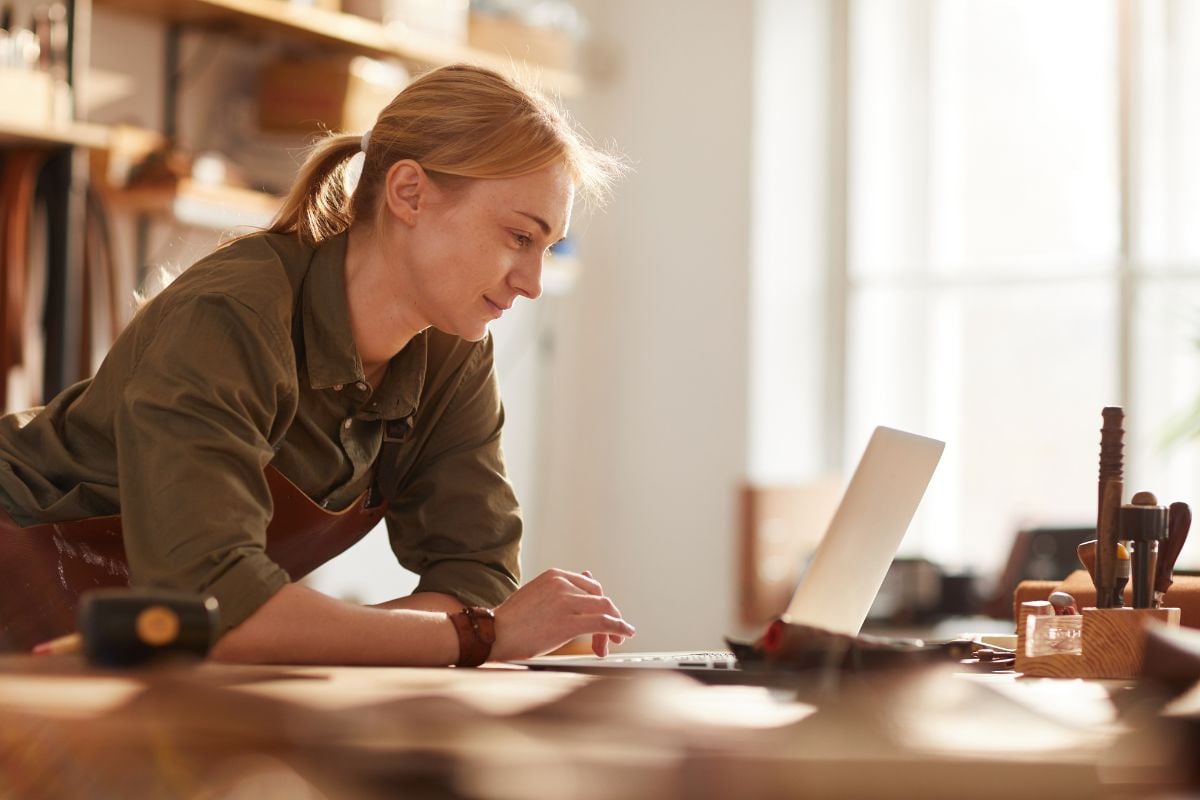 Inbound Marketing
Growing your business can feel like an uphill battle, especially in today's highly competitive market.
Developing a steady stream of quality leads is necessary for a sales team to flourish and a business to grow. Yesterday's marketing strategies in today's digital world simply aren't designed to accomplish this.
Instead, inbound marketing has quickly become a tested and proven methodology for doing business, boosting sales, and ultimately, growing your business. Below we'll dive into inbound marketing, exploring:
What this effective marketing approach is and how it compares to other marketing methods used in the past
How you can develop an inbound marketing strategy that achieves measurable results
Whether a marketing agency that is specialized in inbound marketing can help you meet your business growth goals
What Is Inbound Marketing
Inbound marketing is a tested, proven methodology for doing business online, and it's quickly become the method companies are using to boost their sales.
What is inbound marketing? How does it work? Inbound marketing focuses on the development of quality content that pulls people toward your company and product.
This modern-day approach to marketing attracts targeted traffic to your website by creating relevant content aimed at your buyer personas, or fictionalized representations of your ideal customers.
Ultimately, the inbound marketing definition states that the goal of inbound marketing is to develop qualified leads for your sales team so you can improve conversion rates.
Since its inception in 2006 when it was launched by the marketing platform, Hubspot, inbound digital marketing has become the most effective marketing strategy for doing business online. Customers do not want their lives or their business days spent dealing with intrusive marketing messages or pushy salespeople.
Instead, more buyers than ever are performing their own independent research thanks to the availability of online content and the growth of social media. In fact, according to a B2B Procurement Study, 94% of B2B buyers conduct online research at some point in the buying process.
Not only is this information widely available. It's instantly accessible. That means much of the research an individual does for a buying decision is done early in the buying process online before ever speaking with a company representative.
What Do Marketing Agencies Do?
Marketing agencies design, develop and implement strategic marketing strategies designed to meet their client's goals.
Inbound Vs. Outbound Marketing
Understanding how inbound marketing can benefit your business begins with examining the difference between inbound vs. outbound marketing. While each promotes your business, these two types of marketing couldn't be further apart.
Outbound marketing describes traditional advertisements, such as TV commercials, radio ads, direct mail flyers, and phone calls from telemarketers. This type of marketing is often described as "interruptive" and has been around for several generations.
Businesses that use this marketing approach have the goal of reaching customers that fit within a certain demographic. They may narrow their marketing campaign to focus on a physical location or an interest in certain shows and channels, though outbound marketing is similar to casting a wide net and playing the numbers game.
This form of promotion can help brands reach customers who might be able to use their products or services but otherwise might not have known to look for them.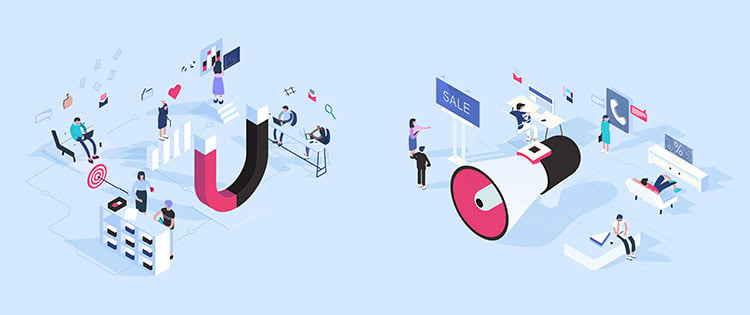 Inbound marketing allows customers to come to you. Successful inbound marketing focuses on solving problems and providing answers.
Rather than pushing your message in front of people who might not be interested or aren't in need of your product or service currently, inbound marketing allows you to establish yourself as an authority in your industry using the internet. When customers are searching the internet for your product or service, they will naturally discover your brand.
In other words, your prospects receive your message on their terms, making them far more receptive to what you have to say. Because of this, inbound marketing has become a highly effective means of bringing in new leads and customers.
Inbound marketing vs. outbound marketing looks very different when it comes to the type of tools used. Inbound marketing includes a variety of different components that include blogging, free content offers like ebooks, social media and websites that resonate with your targeted customers.
Free Download
Hiring A Marketing Agency Complete Guide
Everything a business owner needs to know before hiring an agency.
Download
Five Fundamentals Of Inbound Marketing
There are five basic fundamentals of inbound marketing, in which the entire process is built upon. Understanding these fundamentals will help you develop a marketing plan that focuses on doing business that is more human- and customer-centered.
We'll explore some of these fundamentals in more detail below, but here is a quick overview of what each of these entails:
Contacts: A contact is anyone you come into contact with and anyone who engages with your business. Keeping track of your contacts is extremely important, especially as you develop relationships with them and they become quality leads.
Buyer personas: Buyer personas are fictionalized representations of your ideal customers. Knowing whom your ideal customers are (and understanding that this fictionalized representation can change over time) allows you to more effectively address their needs and position yourself as a business that can solve their problems.
Buyer's journey: There are three stages to a buyer's journey (awareness, consideration and decision). In the awareness stage, the buyer has a problem and is experiencing symptoms of this problem. In the consideration stage, the buyer is committed to solving this clearly defined problem. In the decision stage, the buyer is compiling a list of products or services that can solve this problem.
Content: This consists of carefully crafted content that revolves around bringing contacts to you so that you can turn them into customers. There is a lot of detail that goes into creating effective content, from the value it provides to search engine optimization that ensures it performs well on sites like Google.
Goals: Finally, a marketing strategy should include measurable goals that help you determine what's working and what isn't working. Setting goals and keeping track of your progress is essential. Remember to use the SMART acronym when setting goals: Specific, Measurable, Attainable, Relevant and Timely.
Five Fundamentals Of Inbound Marketing Are:
Contacts
Buyer Personas
Buyers Journey
Content
Goals
Inbound Marketing Methodology
For inbound marketing to be successful, it requires an intense understanding of what customers need throughout their buyer's journey. It means anticipating their questions and concerns during each step so that you can be there to provide the content and messaging that assures them and guides them closer to making a purchase from you.
Most importantly, it allows customers to be in control of their buyer's journey, until they are ready to speak with a sales representative.
To accomplish this, Hubspot inbound marketing incorporates a methodology that focuses on three phases for improving a brand's performance:
Attract
Engage
Delight
Working together, these marketing phases deliver exceptional customer service and create growth for many businesses that have invested in inbound marketing.
Here's how these three phases work:
Attract
The "Attract" phase focuses on "drawing in the right people with valuable content and conversations that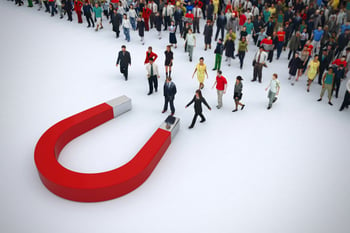 establish you as a trusted advisor with whom they want to engage," according to Hubspot.
This is the time in which you are looking to attract the right traffic to your company website. For this to occur successfully, you need to look for those who are most likely to become leads and who are the most qualified prospects for your products or services.
You may have heard the term, buyer persona. Buyer personas are fictionalized representations of these ideal customers based on real data about customer demographics and online behavior. A buyer persona is also developed by speculating about your ideal customers' personal histories, motivations, and concerns.
Once you know who your buyer persona is … their challenges, pain points, goals, common objections to products and services like yours … you can then begin to target your marketing content in order to grow your business.
So how do you ATTRACT your buyer personas to your site? The answer is through a cache of tools that strategically generate leads, including blogs, social media and content offers. We'll further explore these inbound marketing tools below.
Engage
The "Engage" phase focuses on "presenting insights and solutions that align with their pain points and goals so they are more likely to buy from you," according to Hubspot.
It's also during this stage that it's critical to communicate and deal with leads in a way that will make potential clients want to develop a long-term relationship. In the early part of this stage, you'll develop prospects into qualified leads.
Ultimately, your goal should be to convert and close a prospect by the end of this stage.
At first, you'll typically just need their email addresses at first, but as they move down your sales funnel, more information may be requested. In order for a prospect to offer up information willingly, they'll need value in return.
Closing tools that will help engage prospective customers include:
Customer Relationship Management (CRM) software

that allows your sales team to keep detailed records on your contacts that we discussed above and track the sales pipeline
Email

that keeps you front and center in your prospects' minds while providing useful, relevant content that can help build trust
Marketing automation, which is software that exists with the goal of automating marketing actions like emails and social media
Delight
The "Delight" phase is just as critical as the two phases above because it focuses on nurturing a customer. In order to develop a long-term relationship, customers must be able to expect assistance at any point in time. This stage ensures that customers are happy and satisfied beyond their initial purchase.
Social media is a great way to delight customers because it provides a platform for them to ask questions and share feedback. Make sure you respond to any interactions so they know you hear and care about them.
Other tools that fall under this phase include surveys, calls-to-action, and smart text.
The Hubspot flywheel shows the three phases of the inbound methodology and takes it a step further by indicating where parts of your organization and customers fall into the flywheel and at what stage.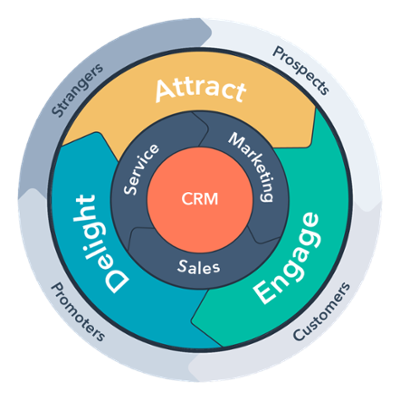 Is A Hubspot Certification Needed?
Working together, these three phases deliver exceptional customer service while creating growth for many businesses that have invested in inbound marketing. You may be wondering, however, if you or your staff need a Hubspot inbound marketing certification to incorporate this into your marketing plan and grow your business.
A Hubspot inbound marketing certification course offers anyone involved in the sales and marketing of your business the opportunity to learn about inbound marketing techniques and to develop a better understanding of core tactics used in this type of digital marketing.
If you are planning on implementing an inbound strategy, it may be a good idea to sign up for the four-hour course that explores topics like inbound marketing fundamentals and understanding social media promotion.
You can learn more about this course in our article, Should Your Staff Have A Hubspot Inbound Marketing Certification?
Inbound Marketing Methodology
The inbound marketing methodology is the method of growing your organization by building meaningful, lasting relationships with consumers, prospects, and customers. This is accomplished by focusing on three phases for improving a brand's performance:
Attract
Engage
Delight
Now that you have a better idea of what inbound marketing is and how it can help grow your business, it's time to dive into the inbound marketing tools that are used to achieve this.
There is a wealth of tools available to you that help you grow your business through inbound marketing. These include the following:
Blogs
Blogs are among the top three media forms used in inbound content marketing strategies (Hubspot, 2020). In the business world, a blog usually serves a specific purpose and can be an important tool to engage prospects and customers by delivering information relevant to their needs.

An inbound marketing blog relies heavily on a number of factors to ensure it is found by prospective customers. These factors include compelling content, consistent activity, a visually appealing format, keywords, backlinking (creating a link from another website back to your website), promotion on social media, and search engine optimization (SEO).
Search Engine Optimization
SEO enhances content and makes it more attractive to a search engine. Optimizing the keywords in your blogs and other content is an important component of SEO. Not only do you want to increase the number of people visiting your website, you also want to increase the quality of those visits as well.
By ensuring you have optimized your blogs, you can make it easy for search engines to scan your blogs to better understand what they are about. In fact, optimizing mobile performance is the top technical SEO tactic used by marketers to improve site performance (Hubspot, 2020).
There are several items that need to addresses to ensure blog posts or other online content can be found by search engines.
The top 8 factors for optimizing blog posts:
Pick a targeted keyword

- Look for long-tail keyword options
Title

- Must be an H1 tag and try to keep it around 70 characters
Include target keyword 1-2 times in specific parts of your blog
Optimize your meta description
Use alt text on all images
Link to internal content when possible
Write evergreen content
There are several factors that make up the algorithm of a search engine and how your website performs. In addition to keyword usage, factors include social metrics (how often your blog is shared), mentions of your product on other platforms, the quality of the links within your text, your content's relevance, and your content's length, originality, and readability.
Social Media
Social media may seem like something people do for fun, making some wonder: Why is social media an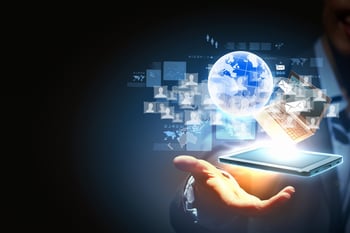 important part of inbound marketing?
Billions of people are on social media globally, making this an integral part of content marketing today. In fact, when implemented correctly and combined with a strategic content marketing plan, social media sites like Facebook, YouTube, Twitter, Instagram, Snapchat, LinkedIn, and Pinterest can help you convert more leads into sales for your business.
Content Offers
In addition to blogs, content offers help drive potential customers back to your website and provide valuable information that helps make you an expert authority on a subject.
Examples of content offers include checklists, eBooks, video tutorials, white papers, how-to videos, and buyers' guides.
Forms
Online forms are an important tool to help you develop your contact list. Online forms should be optimized to make it as easy as possible for contacts to provide their information in exchange for content or to ask for help.
Calls-to-Action
Calls-to-action appear as buttons or links that encourage your visitors to take action, such as "download a whitepaper" or "request a free quote."
Surveys
Surveys are a great way to figure out what your users want by simply asking them. Use feedback from surveys to ensure you're providing customers with what they want and need.
Your Website
Although many people don't consider their company's website to be a content marketing tool, it is a very important one. Remember, all the content you generate is designed to drive potential customers back to your website. That's why it's important to keep your site up to date and filled with helpful information.
Your website should also be mobile-friendly. According to Google, 59% of shoppers surveyed say that being able to shop using a mobile device plays a role in whether they buy from a brand or retailer.
Studies show that companies with a marketing plan in place are more likely to be successful in their marketing efforts. A solid marketing plan will help you generate leads, build awareness with your target audience, develop relationships with your customers, and ultimately boost profitability.
An inbound marketing strategy, in particular, is a proven marketing methodology for the digital age and is a modern-day approach designed to help you develop qualified leads for your sales team. Here are some tips to help you develop an inbound marketing strategy.
Perform A Situation Analysis
When developing a marketing plan, one of the first questions you should ask yourself is whether an inbound marketing strategy is right for your company. To do this, you'll want to perform a situation analysis or an assessment of the current situation.
Inside current sales figures, key products or services, whom you sell to, and what makes you unique should all be examined.
Taking a few minutes to work through these questions will also help you determine the state of your business and your perspective as a business owner, as well as whether inbound marketing is right for your company.
Do your products or services require a level of education before a purchase is made?

Do you have a sales cycle that is longer than just a few minutes?

Do your prospects spend time researching your industry and businesses like yours before making a purchase?

Do your prospects spend time on other industry sites, or association and trade sponsored sites?

Are your salespeople telling you that they are having difficulty connecting with prospects?

Are your competitors' websites ranking higher than yours in Google, Yahoo and Bing?

Are your customers saying to you, "I didn't know you had that service or product?"

Are you finding that traditional advertising like print, trade shows, yellow pages, and direct mail are showing diminishing returns?

Are your prospects spending time on social media outlets like LinkedIn and LinkedIn Groups?

Is the price of your average order above $500?

Do you want a steady stream of leads over a period of time?
If you answered yes to most of these questions, then inbound marketing is most definitely a good fit for your business. If you answered no to several of these questions, that does not mean an inbound marketing strategy won't work for you. It simply means you may need to take a second look at the questions a little more deeply since it can be easy to answer a question based on how you think a strategy is working rather than basing your answers on data.
Define Your Target Market
This is a breakdown of the buyers most likely interested in your product or service. Ask yourself, "What are their needs and how does your product or service meet those needs?"
Include details on demographics, psychographics, etc. One effective tool you can use is the buyer persona. As we outlined above, the buyer persona is your ideal customer. To develop your buyer persona, try to answer these questions:
Who is your ideal customer?

What is the person's background, job, career path, demographic, age, income, location and family status? What company does the person work for, what is that company's size and what is the employee's job in the company?
What are your ideal customer's goals - primary and secondary?

What are some challenges the person faces, and how can you help your persona achieve his or her goals?
Where does this person hang out online?

What type of online content is used to educate your buyer persona? Does this person find information on blogs, eBooks, white papers, social media, etc.?
What drives your buyer persona?

What frustrates your buyer persona? What are some common objections that may prevent your buyer persona from buying your product or service?
How can you help your buyer persona?

How would you describe your solution to that person?

Perform A SWOT Analysis
Different from your situation analysis, this type of analysis focuses more specifically on strengths, weaknesses, opportunities and threats (SWOT). Having a firm understanding of this information can provide you with a better direction for positioning your company and knowing which opportunities you are in a strong position to leverage. Check out this sample SWOT analysis.
Develop Goals
An important component of your inbound marketing campaign is goal setting. Why is goal setting important to inbound marketing? Setting inbound marketing goals helps you focus your inbound marketing efforts, offers clear guidance for your content, aligns all of your teams (marketing, sales, services, etc.), and helps you measure the success of your goals.
To set your goals, assess your current content marketing to determine whether you are reaching your target audience, are converting your audience into qualified leads, are able to close leads in a timely manner, are growing as a company and whether you are spending too much time and getting too little in return.
Then, determine where you want to be. Look at criteria such as the average customer's lifetime value, your average order value, what percentage of leads become paying customers and what percentage of people you attract to your website that then become leads.
This information will help you set achievable goals. Don't forget to use the SMART acronym … all objectives should be specific, measurable, achievable, realistic and timely. You can use this free SMART template to help you develop your goals.
Put Into Place Supporting Strategies
It's important to stay in tune with customer buying habits and marketing trends so that you have the insights necessary to put the right strategies into place. This will better help you understand your audience and which opportunities will put you in the best position and which ones are best for reaching that audience.
Remember, as you monitor and analyze the results of your strategies, your plan should adjust accordingly. Keep track of your visions and as your business evolves, so should your plan and the strategies you have put into place.
Develop A Marketing Budget
The strategies and tactics supporting your objectives will typically have a cost associated with them. Many people ask what their marketing budget should be. The answer is far more complex than a single number, but in general, business owners should allocate an average of 5-10% of their total revenue to marketing.
Our article, What Should My Marketing Budget Be?, helps guide you in determining how much you need to spend and how to get the greatest value from your marketing budget.
Having a budget in place that coincides with your SMART objectives will help ensure that you have everything you need to determine the ROI for each effort.
What To Look For In An Inbound Marketing Agency
Inbound marketing is a proven tool to increase sales and grow your business. However, knowing which strategies will be effective and understanding how to combine different tactics across a variety of channels can result in a level of complexity you don't feel you have the expertise or time in-house to pull off.
And the truth is, lead generation is something that has to be constantly maintained in order for a business to survive. It's the lifeline for a business and must be continually maintained and refined.
Many businesses are turning to an inbound marketing agency to help deliver more leads and increase revenue. But how does an inbound marketing firm help accomplish this?
A qualified digital marketing agency knows what works and what doesn't, and will deliver a tailored approach for your company and your industry. This is important. Based on a study from Gartner, properly executed inbound marketing tactics are 10 times more effective for lead conversion, compared to outbound methods.
A qualified inbound marketing consultant will advise you in areas such as:
Whether an inbound marketing strategy is right for your business
Which key performance indicators (KPIs) you should be tracking
Which dedicated resources are necessary to implement the strategy
Working with an inbound marketing expert may help you save money in the long run, since working with a marketing agency is often less expensive than spending money on hiring an internal staff. That's because when you hire a marketing agency, you get access to an entire team of experts who know every aspect of marketing, including creative content developers, graphic artists, social media managers, web developers, marketing analytics experts, and more.
But it's also important that you find the right inbound marketing agency to work with that can best meet the needs of your company and help put a successful marketing plan in motion.
When evaluating your options, look for:
A marketing agency that has extensive experience in inbound marketing, versus only one type of marketing such as social media or web design
A proven process that has been applied with previous small business clients and gotten measurable results that can be shared
An agency that has longtime clients that have experienced results over the years
Eagerness to answer your questions and ask you the right questions, such as, What makes your business unique? What are your goals for inbound marketing? Who is your audience? An agency shouldn't come at you with all the answers … every answer must start with a question.
Quality work provided through samples, including websites an agency has worked on, social media profiles, email marketing campaigns, blog posts, etc.
An agency that puts the same inbound marketing process into place for its own company
It's also critical that you work with an inbound marketing agency that makes realistic promises. A marketing company's role is to generate quality leads for your sales department. The agency shouldn't make solid revenue promises or tell you how you're going to place in a Google search in six months.
Instead, the best inbound marketing agency will help you understand what is achievable and how it can help you get there so that you can grow your business now … and continue to grow your business in the future.
Free ASSESSMENT
Let's Have A Conversation About Your Business
Sometimes the worst thing to do is nothing!
Talk With Us Today