Small businesses today face fierce competition, both online and offline. To succeed, it's crucial to have a strong online presence, especially when it comes to local search engine results.
Local SEO tools can help small businesses optimize their online presence, making it easier for potential customers to find and connect with them. From improving their online business listings to tracking their online mentions, there are a variety of local SEO tools that small businesses can use to gain an advantage in their local markets.
Top 10 Local SEO Tools
To improve online visibility and reach more potential customers in their local markets, these 10 local SEO tools will give businesses an edge.
Google My Business:

A free tool by Google that allows businesses to manage their online presence across Google, including Search and Maps

Bing Places for Business:

A free tool by Bing to help businesses manage their online presence across Bing, including search results and maps

Moz Local:

A tool that helps businesses improve their local search engine visibility by creating and managing their online business listings (there are similar tools offered by SEMRush)

BrightLocal:

A local SEO tool that helps businesses with local listing management, citation building and reputation management

Yext:

A platform that helps businesses manage their digital knowledge and control their online presence across search engines and maps

SEMrush:

A comprehensive digital marketing tool that includes a suite of SEO tools, including local SEO features

Ahrefs:

A tool that provides detailed information and insights on backlinks and keywords to help improve SEO performance

Local Falcon:

A local SEO tool that provides website analysis, local keyword ranking and business listing management

Waze Local:

A tool by Waze that helps businesses advertise on the Waze app to reach drivers near their location

Whitespark Local Citation Finder:

A tool that helps businesses find and track the online mentions of their business name, address and phone number (NAP) in local directories and citations
Why Are These Local SEO Tools Important?
Nearly 72% of consumers who perform a local search visit a store within five miles, according to Hubspot. Nearly 88% of searches on a mobile device either call or visit a business within 24 hours.
By not prioritizing local SEO, you could be missing out on potential customers within your own community.
With more than half of all searches now having local intent, local SEO is crucial for businesses looking to reach and connect with their target audience and compete in their local markets.
By optimizing their online presence and ensuring that their business information is accurate and consistent across the web, businesses can increase their chances of appearing in local search results and drive more relevant traffic to their website.
How SEO Tools Impact Google Search
Despite the common belief that Google performs a live search every time you enter a set of words into the search bar, this is not so. Instead, Google begins searching a stored copy of all the sites the search engine has indexed. This is called the Google Index.
To create this index, Google crawls the web, looking at every page's content and links. This information is stored on Google's servers, creating an index. Google continuously updates its process that determines how it ranks sites, called algorithms.
When a potential customer searches for a product or service that you offer, Google will check its index and provide the customer with a list of websites that match their search. These results are ranked based on not only relevance but other factors like authority or expertise, the readability of the page, and the physical location of your business. These are only a few of the approximately 200 factors Google uses in its algorithm to rank websites.
SEO tools can impact Google search in several ways:
Keyword research:

Tools can help businesses identify the most relevant and effective keywords to target in their website content and metadata.

Website analysis:

Tools can analyze a website's technical structure and suggest improvements to make it more search engine-friendly, such as fixing broken links or improving page load speed.

Competitor analysis:

Tools can help businesses monitor their competition and understand what strategies they're using to rank in search results.

Link building:

Tools can help businesses identify and build high-quality backlinks, which can positively impact their search rankings.

Tracking and reporting:

Tools can track a website's search engine performance, providing valuable insights into what's working and what needs improvement.

Local listing management:

Tools can help businesses create and manage accurate and consistent business listings on local directories and maps, which can improve their visibility in local search results.

Citation building:

Tools can help businesses track and improve their online mentions of their business name, address and phone number (NAP) in local directories, maps and citations, which can positively impact their local search rankings.

Reputation management:

Tools can help businesses monitor and manage their online reputation by tracking and responding to customer reviews, which can improve their local search visibility.
Keep in mind that Google also knows that when people are seeking a product or service, they likely want search results from their immediate area. A customer doesn't even have to include "near me" in the search field. Google automatically takes into account the location of the searcher.
It's important to note that SEO tools can assist in optimizing a website for search engines, but they cannot guarantee top rankings. SEO is a complex and constantly evolving discipline that requires a comprehensive and strategic approach to be effective.
Google Local Pack
As we mentioned in item 6 above, local listings can be very important.
Here are some statistics from 2022 regarding how people interact with local pack listings.
Local SEO Statistics

46% of all Google searches have local intent.
500% higher conversion rate for Local 3-pack compared to organic, paids conversions.
80% of local searches lead to a conversion within a day.
68% of searchers trust the listings in the local 3-Pack, 27% trust organic results below the 3-Pack, and only 10% trust paid search results.
93% of Google Local searches, the Local 3-Pack ranks in the #1 position.
69% of the attention gets by businesses that have 5 star rating on the 3-Pack, compared to 4 stars earning 59% of the attention, and 3 stars earning 44%.
44% of local searchers clicked Local 3-pack compared to 29% organic clicks, 19% paid clicks, 8% more local results clicks.
64% of consumers prefer to do business with businesses that are closest in proximity to their location; 57% rely on their familiarity with a brand; 57% take into account the star rating of a business; and 49% look for customer reviews.
17.8% of local pack click-throughs went to the #1 local pack result, compared to 15.4% for #2 position, and 15.1% for #3 position.
28% of "near me" searches result in a purchase.
What Local SEO Tools You SHOULDN'T Use
While Local SEO tools can significantly help improve your company's online visibility, there is one tool that you should avoid. Any type of tool that employs the use of "Black Hat" techniques should be avoided.
What are "Black Hat" techniques? "Black Hat" techniques are unethical and manipulative tactics used to artificially improve a website's search engine rankings. These techniques violate search engine guidelines and can result in penalties or even a complete ban from search engines. Examples of "Black Hat" techniques include:
Keyword stuffing:

Overloading a page with keywords in an attempt to manipulate search rankings

Hidden text or links:

Using hidden text or links to manipulate search rankings and deceive users

Duplicate content:

Copying or scraping content from other websites and using it on one's own site to manipulate search rankings

Link schemes:

Buying or exchanging links to manipulate search rankings

Cloaking:

Delivering different content to search engines than to users in an attempt to manipulate search rankings

Doorway pages:

Creating pages specifically designed to rank well in search results and redirect users to a different page
These techniques may provide short-term gains, but they put a website at risk of being penalized or banned by search engines, damaging its long-term visibility and reputation. It's important for businesses to use only ethical and sustainable "White Hat" SEO tactics to achieve and maintain their search engine rankings.
How A Local SEO Agency Can Help
Local SEO services can increase your visibility and help potential customers find your business using many of the tools we described above. Here's what the process may look like when evaluating how well your business performs online and taking the next steps to improve your visibility.
Site audit:

An experienced SEO agency will first perform a site audit. This is an essential part of the process and involves performing an in-depth analysis of your website's strengths and areas of opportunity.

Keyword research:

The SEO company will then conduct keyword research to help find effective keywords that will help your business rank higher, drive more traffic and get the results you want.

Personalized strategy:

With this information, a SEO agency will create a personalized strategy for your company. This digital marketing plan will be personalized to your business goals and expectations.

Build backlinks:

The best SEO services will also build backlinks to your website through quality content and link placements to increase your online authority.

Create content:

Content is also key, which is why an SEO team should create valuable content to ensure your target audience sees relevant information that will influence their interactions with your site.

Routine monitoring:

Lastly, SEO services should include monthly reporting so you can measure audience growth, track rankings and analyze conversion funnels for KPI performance.
A local SEO agency will also use SERP features to provide a more user-friendly experience for potential customers. SERP features include:
Local pack:

A Local Pack appears in SERPs when a query features words like "near me" or "in (insert city)." The Local Pack usually appears at the top of the search engine results page under the AdWords results and consists of a map with pinned locations, a five-star scale that shows the rating for each location and three search results (some may be ads).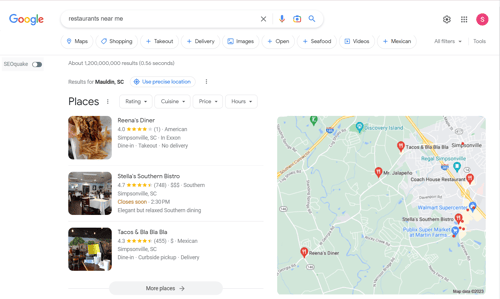 Site links:

Site links are special links that Google places near the top of a search results page to allow a user to quickly navigate to a specific part of a website. For example, if a user searches for a bank, the sitelinks that Google provides may be "Log In" or "find bank locations."

Indented search results:

When a user searches for a product, such as a luxury watch, under the initial search result is an indented secondary result. Instead of occupying one space on the search engine results page, your product now takes up two spaces. These indented searches can include a variety of links, from blog posts to product pages and e-commerce sites.

Reviews:

Studies show that search results that have reviews with them can feature a higher average click-through rate (CTR). Review snippets feature a yellow star rating and possibly an image. You can typically get this feature if your customers can review your products or services and if your page's content is easy for Google to understand.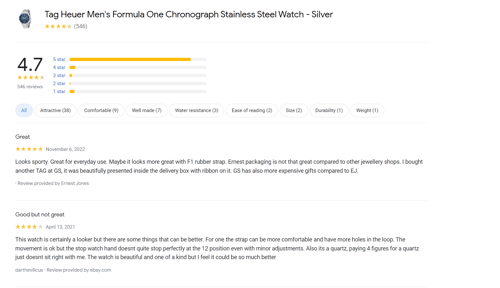 Knowledge graph:

A knowledge graph powers a knowledge panel, which provides a quick overview of people, places, things, significant dates or topics. This panel usually appears at the top right corner of a SERP and at the top when viewing a page on a mobile device. A knowledge graph enhances a SERP's results with information that appears in these panels, establishing a relationship between your business and these facts.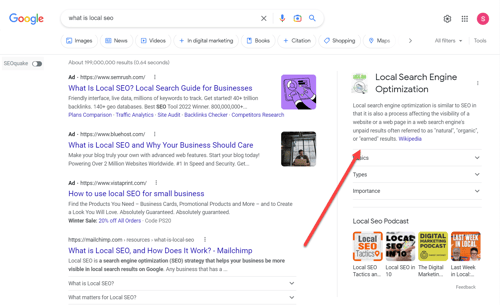 Important note: You can take a DIY approach to improving your Local SEO using these SERP features. However, if you are not familiar with how to use these options, it's important to work with an SEO expert. Impacting your search rankings negatively can ruin your chances of gaining any future search results.
Local SEO Tools And Inbound Marketing
Local SEO helps businesses to increase their online visibility for location-based searches and attract local customers. It is a crucial aspect of inbound marketing as it helps to drive relevant traffic to a business's website, increase engagement and generate leads and sales.
While a local search engine optimization agency is a great resource for boosting your visibility in search engines, an inbound marketing agency may be better equipped to help your business grow.
A full-service digital marketing agency can improve your Local SEO but also create optimized content, improve outreach, create a strong social media presence, develop your web's design and help you reach your long-term business goals.
It's important that once potential clients find your site through an effective Local SEO strategy, you need the right tools in place to lead and support them through their buyer's journeys. Otherwise, potential customers will move on to another local company's site in search of the answers they need.
What is inbound marketing? Inbound marketing is a marketing strategy that focuses on attracting, engaging and delighting customers by providing valuable content and experiences, rather than interrupting them with traditional ads. It involves attracting customers through search engine optimization (SEO), social media, blog posts, email marketing and other forms of relevant, informative content. The goal is to build trust, establish thought leadership and drive conversions by providing valuable information that addresses customers' needs and challenges.
If you have a comprehensive marketing strategy like inbound marketing in place, you are better set up to attract potential clients by creating valuable content and experiences tailored to them.
There are four stages of the inbound methodology:
Attract

, which is how you will bring the ideal customer to you using the right messaging and tools, such as the content you produce and SEO strategy

Convert

, which is the process when casual content consumption evolves into a more meaningful relationship using a combination of tools, such as analytics, segmentation and automation

Close

, which is when you turn the most qualified leads into sales qualified leads

Delight

, which continues to nurture with high-value content to increase loyalty and customer lifetime value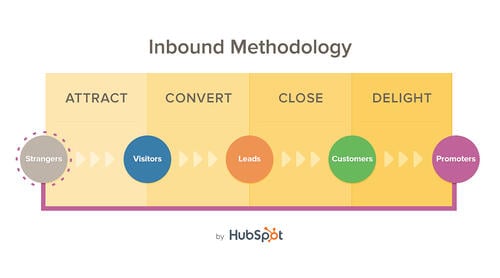 SEO strategy is part of the attract stage and is just one part of the overall strategy that leads potential customers through their buyers' journey.
A comprehensive marketing strategy is better than only an SEO strategy because it takes a holistic approach to attracting and retaining customers. While using SEO tools is important for increasing a business's visibility and ranking on search engines, using SEO tools does not guarantee results on its own.
A comprehensive marketing strategy incorporates SEO, but also includes other tactics such as social media marketing, content marketing, email marketing and advertising. This multi-channel approach helps to reach customers at different touchpoints, build brand awareness and establish a strong online presence. It also provides a more complete picture of customer behavior and allows for more targeted and effective marketing efforts.
A comprehensive marketing strategy provides a more diverse and resilient approach to driving traffic and generating leads since it is not solely dependent on ranking well in search engines. It's a winning strategy that will take your business well into the future, even as SEO strategies evolve.
Samantha, an Inbound and HubSpot Certified Marketer is the Social Media Director for InTouch Marketing.