As a business owner, you're used to wearing many hats. But should you also do your own PPC (Pay Per Click) management?
The answer is NO. We get it - you may feel like you're capable of taking one more task, but that doesn't mean you should.
Think about it this way. Many businesses hire a professional accountant to do their taxes. The tax code is incredibly complicated. You want the best results possible, not a poorly prepared tax statement that leaves you with a higher than anticipated tax bill, or worse, lands you an IRS audit.
Sure, you can do your own taxes, but that doesn't mean you should. The same reasoning applies to online PPC marketing.
Even if you know how to write powerful ad copy, lumping it in with the others and hoping for the best won't help you draw attention and compel people to click on it. To achieve the results you expect, you must team up with an experienced specialist who understands the intricacies of PPC campaign management.
Here's why.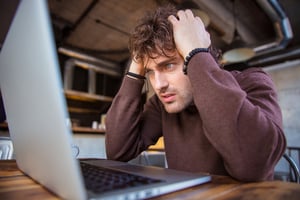 PPC ads provide an excellent opportunity to connect with potential prospects at the moment they are looking for specific information or products.
Although paid search marketing is incredibly useful, bringing in the traffic you need to grow your business is NOT easy.
Throwing an ad somewhere on the internet is not going to help you boost revenue. Throwing your hard-earned money into campaigns, ad groups and keywords that generate traffic does not mean a greater revenue stream either.
All the pieces have to work together to get the highest value from PPC and drive the right traffic. If not, in the end, you'll end up with a slimmer advertising budget and less profit.
The Terminology Can Be Overwhelming
Although advertised as user friendly, PPC is anything but. PPC advertising includes a lot of terms that beginners may not understand. These include:
Accelerated ad delivery
Ad auction
Ad rationing
CPA, CPC and CPM
Average position
Quality score
Key terms like "Google Search," "Remarketing" and "Google Display Network" can also influence your PPC campaigns.
For example, the "Google Display Network" allows you to choose the most relevant websites for your business so that you can reach your target audience without too much hassle. However, if you do not understand the impact that "Google Display Network" can have on your campaigns, this could cause you to go through your budget quickly with few results.
Though it is just one component of PPC, an effective keyword research and analysis is the foundation for a successful ad campaign.
With the help of advanced analytics tools, PPC experts are able to:
Select the most appropriate topics for campaigns
Create seed lists of starting keywords
Refine these lists
Develop ad campaigns around them
By using these tools to analyze keywords, ads and campaigns, experts can also identify specific elements that attract consumers.
For example, while short-form ads were once favored, more and more consumers seem to gravitate toward funny ads. Since the success of an ad campaign depends so much on keyword research, it's important to ensure any information you receive is not false or misleading.
PPC Can Be Time-Consuming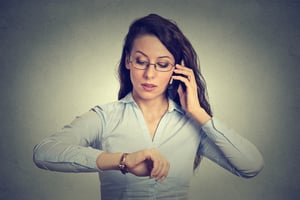 Good pay per click management takes a lot of time. As a business owner, you likely don't have that luxury.
Creating and managing PPC campaigns include a series of tasks that include:
Developing seed and keyword lists
Optimizing copy
Creating landing pages
Optimizing for better conversion rates
Researching the competition
Further researching to find opportunities that maximize sales
Keeping up with the latest Google algorithm updates
If you do all of this by yourself, you won't be able to take care of more important business aspects, such as running your business!
As business owners know, it can be difficult to hand tasks off to someone else. However, finding the right company that can save you not only time, but money is a resource you shouldn't ignore.
PPC Involves Technical Expertise
PPC management goes far beyond creating campaigns and tracking results.
In fact, in order for PPC to be successful, you must know how to:
Apply results toward funneling your advertising budget
Identify and correct the problems that make your campaigns fail
Fine tune ads to increase quality scores, click-through rates and conversion rates to make more money
This takes a great deal of technical expertise. A PPC expert knows how to do all of these and has plenty of HTML knowledge to perform more complex tasks including installing and setting up classified ad scripts and tagging campaigns to get valuable insights from specific analytics tools.
PPC Experts Manage Expectations
Many business owners believe that AdWords can help them achieve impressive results without spending too much money.
The truth is that a small advertising budget won't take you very far.
If you have a small budget, say $200 per month, you can run into a serious problem if the keywords you are bidding on are high value keywords. Your $200 at $5 per click only returns 40 clicks in a month, or 1.3 clicks per day.
Traffic is one thing, but revenue is another. Revenue is tied to your conversion rate. If you can convert at a higher rate than your competitors, you can look to spend more and gain more market share.
Let's take a look at a couple of similar companies and what happens if the conversion rate is slightly higher with one over the other.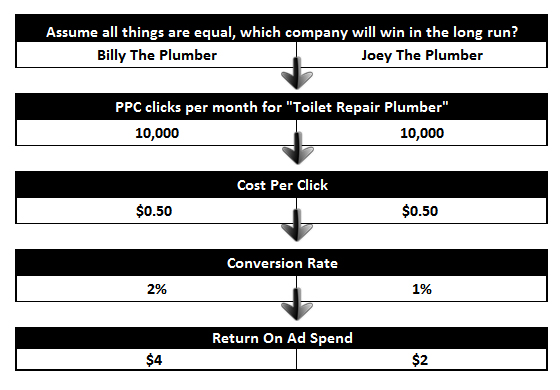 As you can see, Billy the Plumber has a much better Return On Ad Spend (ROAS) due to his conversion rate of 2%. For every $1 spent, he generates $4 in revenue.
However, Joey the Plumber only generates $2 in revenue for every $1 spent.
A PPC expert can help you be realistic about what to expect and understand since PPC is a process that requires a lot of work, experience and patience.
Final Note
Creating ad campaigns can be a fun and rewarding activity. With a lot of training and "real world" experience, it is even possible to become an expert at it.
However, it may be more profitable to spend your time on closing deals and running the day-to-day operations of your business than to go through the intricate PPC management process.
The best PPC specialists will help you develop a well-rounded marketing strategy that incorporates PPC and other marketing tools, including inbound marketing.
For example, a well-executed PPC campaign will jump start your marketing strategy. An inbound marketing agency strategy that includes industry-leading blog posts and other forms of content will start to build relationships with these prospects - and keep your lead generation sustainable.
You can read more about the benefits of PPC and inbound marketing campaigns in our article, PPC Vs Inbound Marketing - Which One Works Best?
Bill is the CEO and Founder of InTouch Marketing. Bill drives the vision and direction of InTouch except when England's playing in a soccer tournament, because everything stops!