Determined entrepreneurs know that creating compelling content that attracts rather than interrupts sets them apart from their competition.
Traditional marketing tactics like radio, television and newspaper advertisements have lost their effectiveness in today's digital age. Departing old-school methods that feel intrusive and impersonal, and instead embracing a customer-centric approach, is key to revolutionizing your business and connecting with ideal customers.
Although you may be surprised to know that blogging has been around since the 1990s, it's successfully evolved into a modern-day marketing tool … leaving other marketing tactics used during the same period in its dust.
In fact, blogging has become a cornerstone used in inbound marketing to draw in clients who are actively searching for a product or service. Blogging isn't just a means of communication … it's a powerful tool for lead generation that ultimately nurtures potential customers and turns them into valuable clients.
Here are 5 inbound marketing blog strategies that work:
Identify your target audience
Optimize through keywords and backlinks
Create compelling content
Get on a consistent publishing schedule
Promote your blog content
What Is Inbound Marketing?
Inbound marketing is a tested, proven methodology helping companies boost their sales in a competitive online landscape. This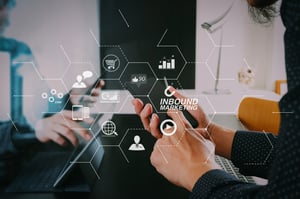 effective type of marketing strategy focuses on the development of quality content, including blogs, that pulls people toward your company and product.
This modern-day marketing approach attracts targeted traffic to your business's website by creating relevant content geared toward your buyer personas, or individuals who you've identified as your ideal customers.
Ultimately, inbound marketing strives to develop qualified leads for your sales team so you can then improve conversion rates and grow your business.
Today, people don't want to deal with businesses who push intrusive marketing messages. In most industries, old-school methods like newspaper ads, billboards and junk mail simply aren't cost effective.
Instead, more buyers are performing their own independent research online and even through social media. Inbound marketing allows these potential customers to come to you. Successful campaigns focus on solving problems and providing answers to problems that potential customers need solved.
Inbound marketing also allows you to establish yourself as an authority in your industry. When clients search the internet for your product or service, they will naturally discover your brand.
Why Is Blogging Important In Inbound Marketing?
Blogging is one of the most effective ways to attract your buyer personas to your website. When written well and optimized for content, blogs can engage prospects and customers by delivering information relevant to their needs.
Blogs are also an important tool for lead generation. By offering valuable content, businesses can entice visitors to subscribe to their email list or follow them on social media. This allows companies to capture leads and nurture them through targeted email campaigns or social media interactions. Eventually, the goal is to convert these high-quality leads into customers.
To be effective, an inbound marketing blog relies heavily on a number of strategies, from including compelling content to utilizing keywords and backlinks. Let's dive into some of these strategies further.
Strategy 1: Identify Your Target Audience
Identifying your target audience lays the foundation for creating effective blog strategies. By learning more about your audience's demographics, preferences, behaviors and pain points, you can tailor your content to meet their specific needs and interests.
To research your target audience (or buyer persona), you can employ various methods such as:
Analytics: Utilize website analytics tools to gather data on your existing website visitors. Analyze metrics like age, gender, location and browsing behavior to gain initial insights.
Surveys and Interviews: Conduct surveys or interviews to directly engage with your target audience. Ask questions that help you understand their challenges, goals, preferences and the type of content they find valuable.
Social Listening: Monitor social media platforms and online communities relevant to your industry. Observe conversations and discussions to gather insights about your audience's interests, concerns and opinions.
Competitor Analysis: Study your competitors' blogs and social media channels to gain insights into the type of content resonating with your shared target audience. Identify any gaps or opportunities that you can leverage in your own blog strategy.
Once you have gathered this data, you can use it to create buyer personas. When creating buyer personas, consider including demographics, psychographics (values, attitudes, hobbies), goals and challenges, communication preferences, and buying behavior (what factors influence their choices).
You will use all of this information above to tailor your blog content. Tailoring your blog content helps you create meaningful and relevant experiences for your audience, increasing the chances of engagement and conversion.
Yet customizing your content goes beyond what you write about. Successful business blogging also involves:
Adapting your writing style and tone to match the preferences and characteristics of your target audience
Finding the right content format, such as how-to guides, listicles, case studies or interviews
Incorporating relevant images, videos, infographics and other visual elements to enhance the visual appeal and engagement of your blog posts
By focusing on your target audience and creating content tailored to their interests and needs, you can position yourself as a valuable resource and build stronger connections with your readers. This strategy sets the stage for effective inbound marketing through blogging.
Strategy 2: Optimize Through Keywords And Backlinks
Keyword research is a crucial aspect of optimizing (or improving the visibility of) your blog posts for search engine optimization (SEO). This process involves identifying the specific keywords and phrases that your target audience uses when searching for information related to your industry or niche.
To perform effective keyword research, there are various tools and techniques available, including:
Keyword research tools like Google Keyword Planner, SEMrush or Moz Keyword
Competitor analysis techniques like analyzing the keywords that your competitors are targeting in their blog content
Long-tail keywords, which are more specific and have lower competition (these keywords may have lower search volume but can drive highly targeted traffic to your blog)
Once you have the keywords that can help improve the overall performance of your blog, it's essential to incorporate them strategically into your blog titles and content. This helps search engines understand the focus of your content and improves its visibility in search results.
However, it's important to incorporate keywords naturally throughout your blog post, ensuring they fit seamlessly into the content. Avoid keyword stuffing, or overusing your keywords to an extreme, since it can harm your SEO efforts..
You will also want to optimize your content in additional ways by including keywords in other parts of your blog, such as in the:
Image Alt Text
URL structure
Meta tags
Meta description
Meta tags and descriptions play a crucial role in optimizing your blog posts, so make sure you create concise, compelling titles that accurately describe the content of your blog post. In the meta description, write a concise summary of your blog post that entices users to click through your content. Include keywords naturally while providing a clear value proposition.
Other tips for successful optimization include internal linking and backlinking.
Incorporating internal links within your blog posts helps guide readers to relevant content on your website, as well as helps search engines crawl and understand the structure of your website.
Backlinks, also known as inbound links, are links from other websites that direct users to your blog content. Backlinks are an important factor in search engine ranking algorithms and can significantly boost the visibility and authority of your blog. Make sure you only use high-quality backlinks from reputable and authoritative sources within your industry. You can also contribute guest posts to other relevant websites, including a link back to your own blog.
Strategy 3: Create Compelling Content
The headline of your blog post is the first impression you make on readers, and it plays a crucial role in capturing their attention. To develop an attention-grabbing headline, be clear and concise, use words that evoke emotions or curiosity, and include keywords to improve search engine visibility.
To write well-structured blog posts, the key is to provide valuable information and insights. Here are four best practices that can help you write informative and valuable content:
Conduct thorough research to gather accurate and up-to-date information. Cite credible sources and provide data or evidence to support your claims.
Address your target audience's pain points and challenges by offering practical solutions and actionable advice. Be informative and helpful in guiding readers toward achieving their goals.
Organize your content in a logical and coherent manner. Use headings, subheadings and bullet points to improve readability and facilitate skimming. Break up long paragraphs to avoid overwhelming readers.
Write in a conversational style that resonates with your target audience. Avoid jargon and complex language, and instead aim for clarity and accessibility.
As we mentioned above, incorporating multimedia elements into your blog posts enhances the visual appeal and engagement of your content as well. Make sure you include high-quality and relevant images that complement your content, and only embed videos that provide additional value or expand on the topics discussed in the copy. Videos can include tutorials, interviews or presentations.
Infographics can help break down complex information and can convert data into a visually-appealing and easily-understandable format.
At the end of your blog post, it's important to include a call-to-action. Blogging is a tool used to drive potential customers back to your website. A clear call-to-action will invite readers to learn more about the topic they are researching by clicking on a link that provides them with another piece of valuable content, such as an ebook or tutorial. Be sure to have a landing page on your website for this additional content. On this landing page, you can collect the reader's email in exchange for the content offer. This allows you to further engage and move the potential customer through your sales funnel strategy.
Additional tip: Include an option for readers to comment on the blog article, and then engage with readers by responding to their comments. Include social sharing buttons as well, making it easy for readers to share your blog posts on social media platforms like Facebook, Twitter or LinkedIn.
Strategy 4: Get On A Consistent Publishing Schedule
Quality is more important than quantity, but consistency is also essential for inbound marketing success.
Establishing a regular publishing frequency ensures that your audience knows when to expect new content from you. This builds trust, keeps readers engaged and encourages them to return for more. When determining your publishing frequency, consider the preferences and habits of your target audience. Determine how frequently they prefer to consume content and align your publishing schedule accordingly.
Yet you should also assess your resources, time and ability to consistently produce high-quality blog posts. Set a publishing frequency that you can realistically sustain without compromising on the quality of your content.
As a business owner, you're already wearing multiple hats and likely maintain a busy schedule. Professional blogging services can help you create and maintain a blog that drives the right customers to you while increasing your ROI. This can be a great option for those who simply don't have the time to produce a high-quality blog, but are looking for tools that can help generate leads. After all, according to Hubspot, B2B companies that use blogs generate 67% more leads than those that don't.
Maintaining a content calendar can also help you stay organized and ensure that your content is published consistently. A content calendar will provide an overview of your planned blog posts, their status and their scheduled publishing dates. Options like Google Calendar, Trello or dedicated content calendar software can accomplish this.
Strategy 5: Promote Your Blog Content
Social media platforms offer excellent opportunities to promote and distribute your blog content to a wider audience. However, it's critical to choose the right platform for promoting your blog content.
According to Hubspot, Facebook is the primary content distribution channel for marketers today. Nearly 69% of Americans use Facebook, so chances are, many of your clients have Facebook profiles.
However, depending on who your client is, another social media network may be more effective in sharing the content that you produce. For example, 4 of 5 LinkedIn members drive business decisions. If you're a service provider, you may find more success using a site like Pinterest. Hubspot reports that most Pinterest users (85%) use the platform to plan new projects.
Combining content marketing and social media is a great way to ignite lead generation, but when sharing your blog post on social media, it's important to make your content teasers just as compelling. Use engaging visuals, catchy headlines and concise descriptions to encourage users to click and read more.
And don't forget to engage with your audience on social media. Respond to comments, answer questions and participate in relevant conversations. This helps build relationships and encourage further engagement with your blog content.
Social media isn't your only avenue for sharing content, however. Online communities and forums provide valuable opportunities to connect with like-minded individuals and share your blog content.
You can also build relationships with influencers through guest blogging opportunities. Collaborating with influencers in your industry can expand your reach, increase your credibility and drive traffic to your blog.
An email marketing strategy is another powerful tool for promoting your blog content directly to your audience. Encourage website visitors to subscribe to your email list by offering valuable incentives such as exclusive content, discounts or updates. Segment your email list based on subscribers' interests, preferences or demographics as well. This allows you to send targeted emails promoting specific blog content that is relevant to each segment.
By effectively promoting and distributing your blog content through social media, online communities, influencers and email marketing campaigns, you can amplify your reach, attract new readers and drive sustained traffic to your blog.
Samantha, an Inbound and HubSpot Certified Marketer is the Social Media Director for InTouch Marketing.