"Social content consumption is on the rise. As consumers seek out content in different places, businesses will have to move their content marketing efforts to uncharted territory – this means optimizing content distribution beyond just your website or blog." (Source: HubSpot)
Things are certainly changing. The excerpt above is one of the takeaways from the recently released State of Inbound Report for 2016 by marketing software giant HubSpot.
HubSpot has been producing the quintessential report on all things inbound marketing for the last the last seven years. This year's incarnation is a truly global affair as HubSpot surveyed over 4,500 respondents hailing from marketing backgrounds in B2B, small and mid-sized businesses, representing opinions from over 132 countries.
As inbound marketing is becoming the go-to comprehensive strategy for both (B2B) and (B2C) marketers, this study is becoming an annual must-read for best practices of both organizations and agencies.
The marketing report is chock full of statistics for marketing geeks like me. One of the promises of this year's reports was to take these incredibly diverse insights to not only to provide the current state of inbound, but to predict its future
"The 2016 State (and Future) of Inbound holds some of the most informed predictions for the future of marketing and sales you're likely to find."
There is so much data here, it would be hard to summarize the whole thing in one post, so today we will look at one aspect that I found incredibly interesting –how consumers find content online, how it's changed over the last two years, and what these changes may signal for the future.
Key Takeaway #1 – Search engines are still king, for the time being.
Growing organic presence is still a top priority for the majority of marketers. But as consumers turn to social media and bots for quick answers, marketers must adapt their distribution and promotion strategies.
Search engine optimization (SEO) remains a top goal for inbound marketers according to the survey. From the Yellow Pages to today, "being found" by the right audience has always been a top priority for businesses. Today 66% of marketers agree that growing SEO is their top priority.
People are still doing internet searches every day, currently estimated at over 3 billion per day for Google alone. For those organizations that have an effective SEO and content marketing strategy, including regular business blogging are destroying their peers.
According to HubSpot, those companies that prioritize SEO and blogging generate 67% more business leads than those that do not.
Key Takeaway #2 - People are starting to look beyond traditional SERPs.
While Search is still king, social content consumption is on the rise. As consumers seek out content in different places, businesses will have to move their content marketing efforts to uncharted territory – this means optimizing content distribution beyond just your website or blog.
Here are some interesting statistics from the report that highlight how people are now consuming content online.
In the past two years, social content consumption has increased:
The following chart provides a good illustration on how content consumption has changed over the last 2 years.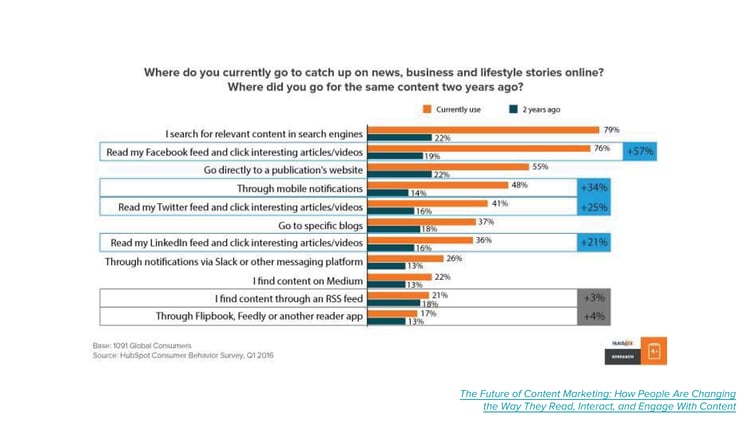 Key Takeaway #3 – Search must accommodate the rise of mobile.
A third of people now say their mobile is their primary device for accessing the internet, meaning content format must fit on-the-go habits. Mobile notifications will play a larger role in how consumers discover content.
According to Moz, 88% of search experts believe mobile friendliness will have greatest impact on Google's algorithm over the next twelve months.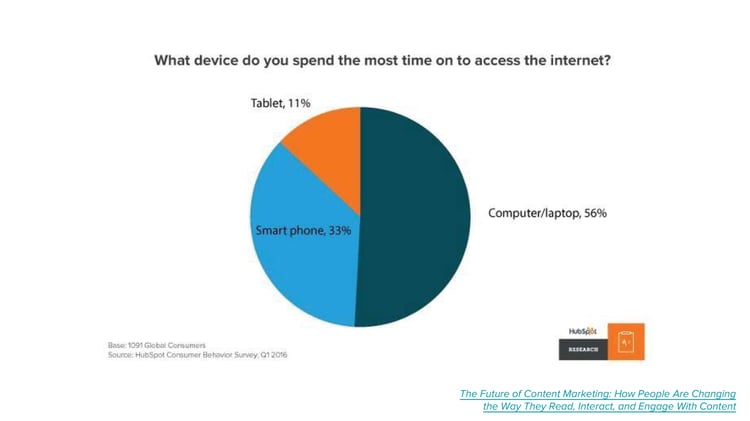 Because of the growing usage of mobile devices, consumers who live on their smartphone are more likely to want mobile content notifications or text/messenger notifications. Newer notification options, like desktop notifications and messenger app notifications have a small potential audience currently.
Big players like Facebook are preparing desktop notifications and HubSpot predicts that consumers will be more receptive to receive these notifications in the future.
Developing a mobile strategy is no longer optional.
Here are a few questions to ask your team about your mobile marketing strategy:
Is our website mobile optimized?
Are a significant portion of our visits coming from mobile devices?
If so, are we offering the option to sign up for mobile notifications?
Are we creating content on certain channels to specifically attract more desktop or mobile traffic?
Key Takeaway #4 – New mobile technologies are disrupting SEO.
The trend in moblie applications is turning toward bots or voice technologies and conversational UIs to search for content on demand. The bots we're talking about here are essentially virtual assistants, much like Siri and Cortana. Only the latest generation of bots communicate via text rather than speech. Cortana already does this, both on Windows Phone and in Windows 10. This trend is growing and does not appear to be a fad. Traditional search engine providers have taken notice and are building conversational search into their own product plans.
Here are some stats that illustrate the point.
The impact of voice search is likely to be huge in the near future. Voice search results give just one answer.
What are the implications for companies who want to be the definitive source of that answer?
Many are still trying to ascertain the impact a shift to voice search will have on traditional SEO and SERP but the consensus seems to be: things are going to change dramatically.
There's plenty more in the State of Inbound 2016 report that you'll no doubt find interesting if you're at all concerned about the future of online marketing and business lead generation. If you're not, you should be.
To get a copy of the State of Inbound 2016, Click on the link below to get your copy, and leave a comment to let me know what you think.
David, a HubSpot Certified Inbound Marketer is the Chief Content Creator for InTouch Marketing and its clients.