"A goal without a plan is only a dream."
While this quote by motivational speaker and author Brian Tracy rings true, the best marketers have long known that a campaign without a clear goal in place is also likely a waste of money.
A solid marketing strategy will help your small business generate leads, build awareness with your target audience, develop relationships with current and potential customers, and boost profitability. Studies show that companies with effective marketing strategies in place are more likely to be successful in their marketing efforts and grow faster.
The best marketing strategies follow 3 key tips to improve brand awareness. They:
Set SMART Goals
Set Benchmarks
Set A Plan Into Action
As you'll notice, each of the three tips involves planning ahead by establishing key goals, benchmarks and a well-though-out plan. Let's dive into each of these tips to further understand how they play an important role in developing a winning digital marketing strategy.
Set SMART Goals
Goal setting is one of the most important parts of developing a high-quality content marketing strategy. When you have clear digital marketing goals, you can streamline your activities to focus on the ones that best help you meet these goals.
You also likely have a lot of ideas, and creativity is a great thing to have in any marketing plan. However, creativity can go off-track … fast. You may end up wasting time and money with little to show.
Goals help everyone know what you're trying to achieve as a brand. Every idea must align with your goal. No matter how creative the idea is, if it doesn't align with your goal, it shouldn't be put into action right now.
Setting goals also create alignment among your marketing, sales and service teams, as well as helps you measure the success of your efforts so that you can implement the right marketing strategy for your business.
But what's the difference between a goal and a SMART goal? In order for a goal to experience success, it should follow the acronym, SMART:
Specific: Your goal should communicate exactly what is expected, why it is a goal, who is involved in implementing actions toward that goal, timelines and any challenges ahead.
Measurable: Your goal should include criteria for measuring progress along the way to achieving that goal and ultimately reaching the goal. (See the next section below.)
Attainable: Your goal should be attainable, or in other words, realistic. If your goal is not possible to achieve, it should not be part of your plan.
Relevant: Your goal should matter to your business. It should also address a core initiative part of your marketing plan.
Timely: Your goal should include a date when you expect it will be reached.
When SMART goals are part of a company's long-term marketing plan, businesses are more likely to experience success. In fact, a university study found that nearly two-thirds of participants who wrote down their goals, create a list of goal-driven actions and provided weekly progress reports achieved their goals.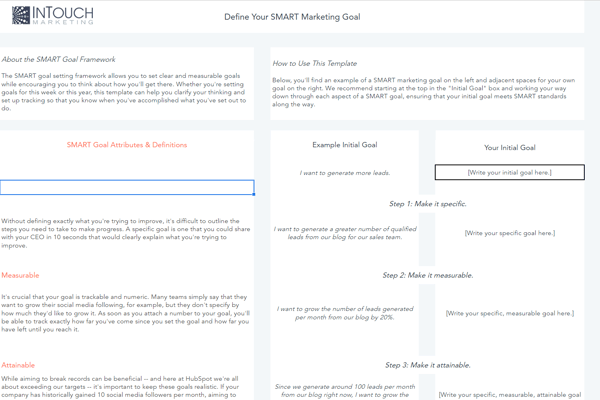 Set Benchmarks
As we noted above, an important part of setting SMART goals is to make them measurable. For example, rather than using vague statements, like "more" or "less," use specific numbers or percentages you want to achieve during a specific timeframe.
Here are some examples of benchmarks or metrics you can explore:
Landing page visits
Conversion rates
Search engine optimization (SEO) results of content
Social media shares
Call-to-action clicks and conversions
Blog post comments
Email delivery rates
Bounce rates
Email subscribe and unsubscribe rates
There are a variety of content marketing metrics that you may use to measure your day-to-day performance and performance over time. In addition to the ones above, you may focus on key performance indicators like:
Customer acquisition costs (CACs)
The marketing portion of CACs
Time necessary to pay back the CAC it spent to acquire a new customer
You can read more about each of these, as well as other KPIs to consider, in our article, What Business Analytics Should You Use For Your Marketing Metrics?
Set A Plan Into Action
Once you have your goals established, you must now create a timeline for executing the marketing actions that support each goal.
As you begin setting a plan in action, the best way to begin is by considering all the steps that must go into executing this plan. You may want to take larger aspects of a project or goal and divide them into smaller, more manageable tasks.
Each of these marketing actions and goals should align with each team member on board. It's vital that people understand their roles. While each team has its own objectives, they are all working together to achieve big central goals. And when every team knows what you're trying to achieve as a whole brand, each will work together to achieve more.
Other tips that can help you develop an action plan include:
Schedule due dates to stay within your timeline
Set up alerts so that you remember to complete smaller tasks that are still vital to moving a project along
Celebrate and mark any milestones before moving on to your next goal
It's also a good idea to re-evaluate your goals periodically every three to six months, especially in that first year. If you're blowing goals out of the water, it's time to adjust that goal. By the same token, if you are missing hitting your goals, it might be time to re-set your goals so that they are more achievable.
Keep in mind that any plan you put into action is a work in progress. As you monitor and analyze the results of your strategies, your plan should adjust accordingly in order to maintain a sustainable competitive advantage. On a larger scale, keep track of your visions and as your company evolves, so should your plan.
Bill is the CEO and Founder of InTouch Marketing. Bill drives the vision and direction of InTouch except when England's playing in a soccer tournament, because everything stops!