The business of sales has come a long way in the past few decades. Successful companies understand that to stay competitive in today's market, they must develop an effective and repeatable sales process that works for their business and their customers.
Sales is about the relationships. Always has been. But managing those relationships can get complicated. As your business grows, so do the many challenges that come along with the sales process. We haven't always associated technology with sales and building relationships, but thanks to Customer Relationship Management (CRM) systems, that is changing. In a good way.
A CRM can help you sell better and faster by providing the context necessary to effectively manage relationships and streamline many tasks to make the overall process more efficient. A CRM helps your company put repeatable and scalable processes into place that will allow your team to focus on understanding what works and build deeper relationships without worrying about what might slip through the cracks.
Sell Better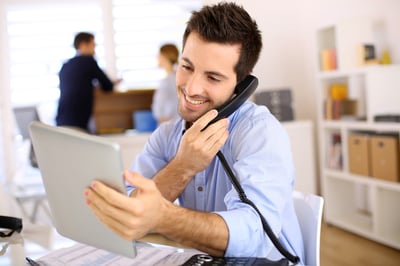 One convenient source. A CRM helps to track relevant information on your prospects and stores everything you need in one place. Pertinent information on your prospects like who and where they are, how the lead was generated, where they are active online and how they've engaged with you in the past is accessible to your entire team.
Nothing falls through the cracks. The more information about prospects available to your team, the better equipped they are to better prioritize their tasks. Documenting the various stages of your sales process and ultimately understanding what is necessary to move prospects to the next stage ultimately increases the likelihood that you will close deals. With a CRM your team can be in the loop and better manage the outreach process and ensure that they are connecting with prospects at the proper intervals.
A comprehensive CRM not only stores and manages customer and prospect data, but can also include task modules that remind members of your team who they should follow up with and when. HubSpot's CRM automatically saves previous voicemail and email messages along with other customer interactions so your sales reps know exactly what their next steps should be. HubSpot also integrates seamlessly with your Office, Google or other personal calendars for booking meetings with ease.
Better segmentation. When all your prospect data is stored in one place and you understand more about your leads, you are better able to segment your various audiences and ensure that they receive the best possible nurturing campaigns to guide them through their journey. A CRM provides the tools necessary to develop insights into behaviors and how your product or service will address your prospects' business challenges, better anticipate their needs and build a customized customer experience. When everyone has access to the information and reports, team members can see opportunities, identify trends that might otherwise be overlooked and sell better.
A solid process in place. As your business grows & evolves and as you hire new team members, having a solid, defined & transparent sales process built into your CRM will provide a cohesive experience for all prospects and clients. Having a centralized CRM also goes a long way in unifying your sales and marketing teams ensuring that everyone involved in the process is on the same page.
Sell Faster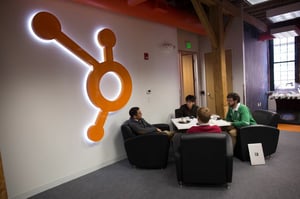 Faster prospecting. 50% of sales time is wasted on prospecting that goes nowhere. Prospecting is an incredibly time-consuming activity that can be automated by features from CRMs like HubSpot through the collection of sales and other information collected online and compiled in a searchable database based on specific search terms and queries.
Streamline tedious administrative work as well as customized engagement. A CRM like HubSpot can automatically populate contact information by pulling data from other sources. And it's not just data entry that can be automated. According to a recent study, 80% of sales require at least five follow-ups. We already know that a CRM helps you track where prospects are in the sales process and what follow-ups they need, but did you know that a solid CRM can also streamline the process by automating many of those engagements with personalized content? As you begin to collect more information about your prospects and analyze where there are in the buyer's journey, you can better assess what they need from you at any given time and develop automated nurturing campaigns that deliver relevant content at the right time, fostering deeper relationships and creating more loyal customers.
A CRM delivers a multitude of benefits for the sales organization but it goes beyond just productivity and being able to sell better and faster. It all comes back to the relationship. Leveraging all of the benefits of a CRM gives your team the time & the information they need to truly connect with and delight your customers.
To learn about how to sell better and faster download a copy of our eBook: The Definitive Guide to Selling Better and Faster.
Photo Credit: By Rebecca Churt | CC BY-SA 3.0 via Wikimedia Commons
Olivia is the Co-Owner and VP of Sales for InTouch. She loves getting to know and connecting with people.