Linkedin has a new profile design that we think it's safe to say that most professionals are not aware of just how important a vibrant online presence can be to a career. The use of social media such as Facebook, Twitter, even Pinterest and Instagram, is no longer optional, but a necessity for continued success. However, no social networking site (SNS) is as suitable for working professionals as LinkedIn (recently reported to have over 300 million users).

A LinkedIn account that is well-developed and kept current is essential to maintaining a credible, professional online persona that can be readily accessed by potential employers and colleagues. In fact, a complete, accurate, and engaging LinkedIn profile speaks volumes about who you are and what you have to offer. To enhance your ability to stand apart from those other 300 million users, LinkedIn's recently rolled out a new profile design to its premium users.
LinkedIn Rolls Out New Profile Design To Premium Members
Simply put, LinkedIn's new profile design is dynamite and a step in the right direction. It offers several tools that help build your personal brand, one of which has, to some extent, blurred the lines that clearly differentiated LinkedIn from Twitter and Facebook.
The redesign allows you to post a larger, more potentially impactful profile picture. In addition, you'll now be able to customize the header image by uploading your own images or choosing from the header images LinkedIn provides. What the LinkedIn new profiles design does, therefore, is modify your profile page so that it more closely resembles the already successful Facebook and Twitter profile pages.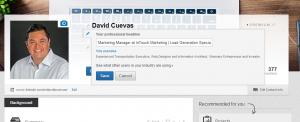 LinkedIn's new profile design doesn't simply change the look of your page, however. The redesign of this social networking site enables you to choose personalized keywords (suggested by the program) for inclusion in your profile which can increase your search engine optimization (SEO); in other words, you'll show up more frequently in search results. There's an interesting byproduct of this greater SEO: When you show up more frequently in search results, the profile of a premium LinkedIn user will be twice as large and, therefore, more detailed than that of a free user.
An additional feature rolled out with LinkedIn's new profile design is that the Open Profile option is now standard for premium users. This option permits other users to message you directly and makes your profile completely public, thereby increasing your potential visibility.
Last but not, as the saying goes, least, is that LinkedIn's new profile design offers the ability to review 90 days worth of "Who's Viewed Your Profile" and will tell you how you rank in relation to your first-degree connections. Consider these analytical tools in order to provide you the feedback you need to assess whether your LinkedIn page is getting the traffic you want (and, if you're looking to change your employment situation, probably need!).
New Design Will Be Available For Non-Premium Members Soon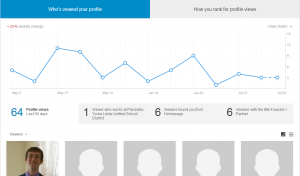 Now, here's a little secret (don't tell them we told you!): Some components of LinkedIn's new profile design will eventually be made available to free users as well. Use this link to get on the short list of users that will receive early access to the "New" LinkedIn profile.
You should remember, however, that no matter how "new and improved" LinkedIn's re design may be, it can only do so much. Before you use the new features, perhaps taking stock of your current profile is in order. Some things to consider:
A picture is worth a thousand words. Is your profile photo conveying the story you want told? Is it time to update it? Is the definition suitable for the increased size of the new profile design?
A heads up about your header. Is it appropriate? Is it relevant? Is it you?
You are your brand and your brand is you. Revisit your profile with a critical, dispassionate eye. Better yet, have someone you trust and respect critique it for you. Remember that your LinkedIn profile is intended to represent you on a social networking site. Does it do a good job? Is it current? Is it sufficiently interesting to engage the reader? If not, you've got some work to do.
Do you refresh your content or is your profile stale? Engaging visitors to your page also means giving them a reason to come back. Updated content is how you accomplish that.
For more information on how to spice up your LinkedIn profile, check out this blog post on "5 Quick Ways to Optimize Your LinkedIn profile."
Do you have the new LinkedIn profile? Tell us how you like it!
Bill is the CEO and Founder of InTouch Marketing. Bill drives the vision and direction of InTouch except when England's playing in a soccer tournament, because everything stops!