Once a place to browse resumes for potential hires, LinkedIn is evolving into a valuable tool for companies to build their brands and generate leads.
Now, LinkedIn will be further expanding its arsenal of engagement and lead generation tools for company pages, offering businesses even more reasons why this social media platform shouldn't be overlooked when driving more high-quality leads.
Below, we'll take a closer look at some of these tools and how they can help you promote lead generation, convert leads and ultimately grow your business.
LinkedIn My Company Tab
If you have a LinkedIn company page, you will be seeing a "My Company" tab available. This tab will include listings such as "recommended" and "content suggestions." These listings will allow businesses to encourage their employees to share relevant posts.
Why is this important? When employees are more involved and there is a higher level of internal engagement, they are more likely to share your company's content versus another brand's content.
Hint: Ignoring the impact that the reach of your employees have in spreading your messaging can be a mistake.
The last thing you want as a business owner is for an employee to feel more engaged with a competing brand. Yet this happens probably more than you would think. In fact, according to Gallup's State of the Global Workplace, only 15% of workers feel like they are engaged in their place of work.
Yet when there's an opportunity to become engaged, employees will take advantage of it. LinkedIn reports that when relationships with your employees are nurtured, this pays off. Employees are 60% more likely to engage with posts that are made by coworkers versus those made by non-coworkers.
Even better for you, as a business owner, these new tabs will come with a new analytics feature that allows you to see the reach your employees have, providing insight into whether you may need to nurture the relationships with your employees a little more.
LinkedIn Product Pages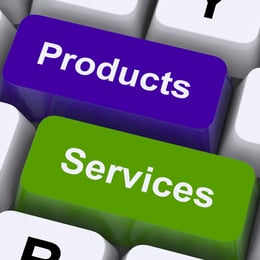 One additional item to keep your eye on is an addition to LinkedIn's Product Pages that is currently rolling out.
The rollout brings Lead Gen Forms to a Product Page for free, allowing businesses to "drive more high-quality leads through pre-filled forms populated with a member's LinkedIn profile data," according to LinkedIn.
Product Pages enables a company to develop a list of products and services that it offers, and then publish that list on its company page. Product Pages isn't yet available to all company pages yet. In fact, only B2B software products are allowed to be listed currently.
However, once Product Pages become more widely available and used, the Lead Gen Form feature can be useful. For example, when a potential customer clicks on a company's product, that customer's LinkedIn profile information will automatically populate in an in-app form that the individual can submit immediately.
This easy way to gather leads (and for free) can also serve as an effective tool for companies to better get to know potential clients and to fine tune who they target and where they spend advertising dollars.
LinkedIn Stories
If you aren't yet using the LinkedIn Stories feature, it should now be available to you. Last May, Linked announced the addition of this feature, which allows users to share images and short videos of everyday professional moments.
While featured on other social media platforms like Facebook, it may seem a little out of place on a site used for professional networking. However, LinkedIn has noted that this is one of the most popular ways that the next generation of social media users are communicating.
When it comes to lead generation, staying on top of how your buyer persona is communicating and using social media is essential.
While this feature was slowly rolled out for company pages, it is now available for all to post LinkedIn stories. Every company should be able to add "swipe-up" URL links now as well to their Stories frames.
There's also a tracking tool available that allows you to see your stories' performance and how many people are "swiping up."
An important note: You can only post a "story" using the LinkedIn mobile app, so you will need to have a cell phone available to take advantage of this feature. Make sure you use the most recent version of the app and download any app updates when they become available.
An Effective Lead Generation Tool
Even before these additions, LinkedIn had become a marketing tool that small and large businesses have used to generate leads. With nearly 160 million users in the United States alone (Hubspot, 2020), LinkedIn has become a force for connecting with potential customers and promoting your brand.
Creating a LinkedIn company page sets a foundation for accomplishing this, but to get the most out of this social media giant, it's important to take advantage of everything that it offers.
Our article, 5 LinkedIn Lead Generation Techniques That Work, further explores the best ways of attracting ideal customers and ultimately growing your business, from perfecting your profile to implementing effective engagement strategies.
Samantha, an Inbound and HubSpot Certified Marketer is the Social Media Director for InTouch Marketing.