Pay per click quality score – what does it have to do with your online marketing campaigns? Well, you're not the only one asking this question. One of the biggest issues many advertisers face nowadays is comprehending how the quality score can affect their ad campaigns and assigned budget. In order to understand the impact your PPC quality score has on your AdWords campaigns, it's essential to understand what it actually is.
What is a PPC Quality Score
Essentially, the score is a metric used by Google to measure how relevant and useful your keywords, ads and landing pages are to the people looking for specific information.
For instance, when a potential customer types a search phrase into the Google search box, you will get approximately 3 paid ads at the top of the search results page and about 7 paid ads on the right side of the search page. If, they click on your ad it should take that person to your website where they could buy the item or find the information they are looking for.
The ads that provide users with relevant results and a great experience climb to the top of Google's search results, bringing more customers and business. (See Section "How To Improve Your PPC Quality Score")
How to Find Your Quality Scores
Since quality scores provide valuable information on your marketing campaigns, monitoring them is of the utmost importance. By checking these scores, you can select the most relevant keywords to add to your advertising campaigns. You can identify and replace ineffective ads, ad groups and campaigns with more relevant alternatives. Thus, quality scores are critical elements to a successful PPC campaign.
To check these scores, you can create a performance report for each keyword, click the Status button next to keywords or use the Customize columns command.
To enable this command, you need to sign in to your AdWords account, select the Campaigns tab, and click Keywords, Ad groups, Ads or Campaigns, then the Columns button. Pick Customize columns from the drop-down menu, choose Attributes, click the Add button next to Quality Score and Save.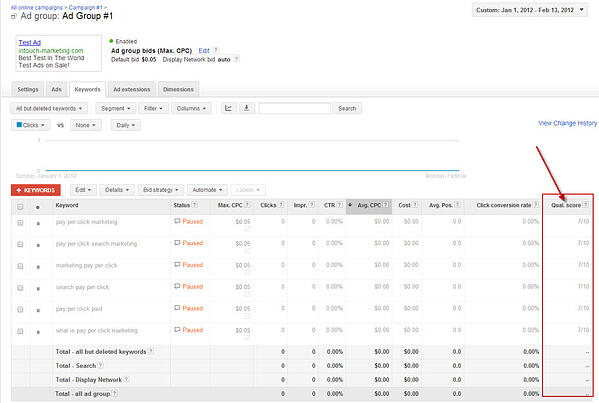 How Is Your PPC Quality Score Calculated
Now that you know how to understand your PPC quality score, it's time to find out how it's calculated. Pay per click quality score is calculated every time your ads are triggered by a search query. What does it mean? Simply put, your quality score is calculated multiple times a day, based on whether or not your ads, keywords and landing pages fit the search criteria people use to look for specific products or services.
Some factors affecting your quality score are:
Historical click-through rate (CTR) not only of keywords and ads, but also of the entire AdWords account
Relevance of the ad copy to the search query; typically, ad copies including keywords have a higher quality score than ad copies that don't contain keywords
The quality of the landing page, which refers to whether or not the page contains original, relevant content, loads quickly and links to an easily navigable website
Geographical considerations, which relate to ad performance across targeted geographies
Other factors considered when calculating PPC quality score include on-site conversion data and ad performance on different websites and devices, including desktops, tablets and Smartphones.
This is a terrific infographic from Wordstream, that shows the Adwords Auction in process.

The Benefits of Getting High Quality Scores
Your PPC quality score allows you to pay less per click, receive more exposure and higher conversion rates. In a nutshell, a higher score means much more than cheaper clicks; it translates to a higher Ad Rank and Impression Share, bringing you more traffic, customers and return on investment than before.
Always remember, Google is in the business of making money! The vast, and I do mean vast, amount of income Google makes in a year comes from Adwords spend. Ensuring you are paying the least amount per click as possible, should be a high priority.
How to Improve Your PPC Quality Score
A recent survey conducted by MarketingSherpa has shown that 48 percent of advertisers use PPC in their marketing campaigns. This means that the decline in the use of PPC that we saw a few years back is reversing. PPC advertising is on the rise again, especially for businesses with small marketing budgets.
To make the most of your PPC budget, you need to improve your quality score. How can you do this? Well, you could start by:
Raising your CTR – To increase your CTR, you need to create specific ad groups and select relevant keywords for each group. Additionally, ensure that your ads are simple yet compelling and complement them with appropriate landing pages. Including a strong call-to-action, testing various ads and reviewing campaign performance metrics are a few more things you can do to raise your CTR.
Let's take a closer look. I just ran a search for the keyword phrase, "plumbing supplies" and found the following two ads in the top 3 positions:
You can see from the first ad that the ad itself has little relation to the search term, "plumbing supplies." In the second ad the keyword, plumbing supplies is used twice and has a Call-to-Action. If you were looking for plumbing supplies, which one would you click? Further, if you happened to click on the first ad and went to their landing page. see below, you would immediately realize you were in the wrong place and leave.
That wrong click would cost that particular business the cost of the click, which could amount to a hefty total if the keyword is expensive, and lower their quality score for a poor landing page and ad.
Building additional sitelinks – You can direct potential customers toward different pages on your website by including keyword-rich links in your ad.


Using product listing ads – Product listing ads can be used to provide comprehensive information about products, including specifications, images and prices.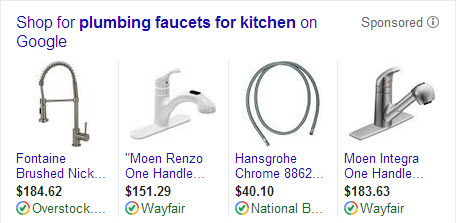 Create Landing Pages That Match Your Ad Copy – Your landing page should deliver exactly what your ad says it will deliver, and be a visual representation of what your ad says.
If we take a look at the Landing Pages from the two ads above, you'll immediately see a disconnect from what the search was, "Plumbing Supplies," and the landing page.
1st Ad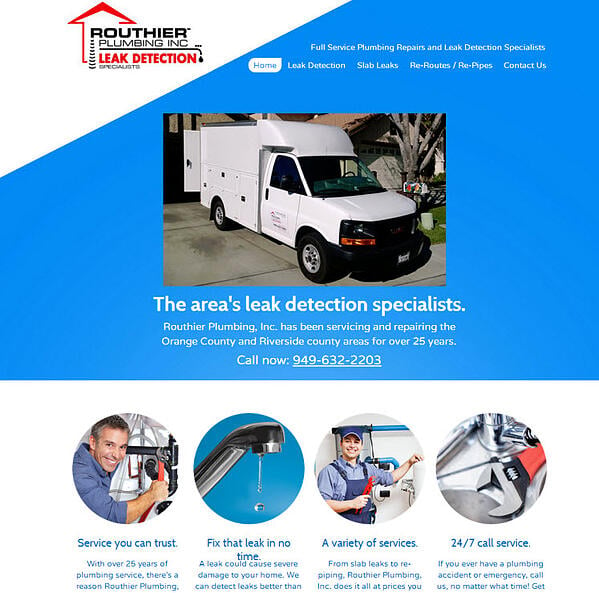 Immediately you can see that you are on plumbing contractors page, not a plumbing supplies page. Chances are you would leave. This business owner is probably paying a lot higher cost per click for that particular keyword than their competitors, due to the poor quality of the ad and landing page in relation to the original search.
2nd Ad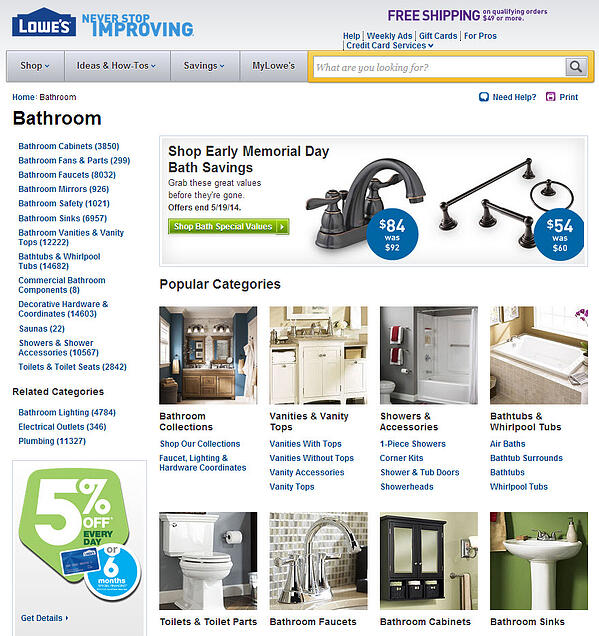 This time you are taken to a web page that is full of plumbing supply products. Exactly what you were searching for. The site is very visual and easy to navigate. Not only do you receive the information you asked for, but you also get 5% off which corresponds with the original ad copy of "New Low Prices Today!"
Improving you PPC Quality Score can be achieved with a little elbow grease and careful attention. Its much like growing a vegetable plant, put in the right place (Googles Search or Display Network) give it lots of sun and water, (Budget Allocation) feed it regularly, (Work on your campaigns daily) trim off the dead stuff and spray for insects, (Fix keywords, ad copy, landing pages if they are not working) and you'll end up with a bumper harvest!
Bill is the CEO and Founder of InTouch Marketing. Bill drives the vision and direction of InTouch except when England's playing in a soccer tournament, because everything stops!