Growing your business can feel like climbing a mountain. But with any large feat, it's important to take each step with purpose.
In today's highly competitive market, that's more important than ever. You must take advantage of the best resources available online and maximize your marketing strategy in order to consistently generate leads and grow your business.
Below we'll explore how to grow your business online using strategies that work so that you can hit the ground running and make it to the top.
Look At Marketing As An Investment
Marketing IS NOT AN EXPENSE. It's an investment.
When done right, marketing will always pay you back many times over. The fact is, the more you market, the more you grow your business. But the catch is, for it to be a good investment, you must market it using a strategy that's best for your business so that you'll have more revenue growth to invest in other areas of your company.
This can be a significant mentality change for a lot of people. You see that money going out. And there's no immediate payoff for certain marketing activities. Some of the marketing activities that can have the highest payoff and lead to OUTRAGEOUS GROWTH often take time to deliver an ROI.
But this is key! As a business, you'll never get out of survival mode and into the thrive mode until you recognize the nature of marketing as an investment. Where are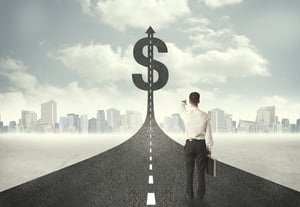 you right now?
Survive or thrive? Where would you like to be?
The true value of marketing is not in its immediate return. It's in its ability to:
Generate brand awareness
Increase brand affinity
Deliver qualified leads for sales
Get customers talking
Take revenue growth to the ionosphere
Growing businesses understand this. So what happens when you don't see marketing as an investment?
You hold yourself back. You grow at a snail's pace. You end up spending more, in the long run, to acquire new customers and lose customers you already won over.
You create a long and arduous sales cycle for both the customer and your salespeople. You lose sight of who your brand is and what you want to be.
It's a trap! So many businesses have fallen into it.
But you don't have to!
Know Your Customers
Who you attract to your business says a lot about your brand. You must understand who's using your products and services. Many companies struggle to understand their buyer's journey in the digital age and who their buyer persona is.
A buyer persona is a researched representation of your ideal customer. To know who your buyer persona is, you need to know more than basic demographic information. Keys to finding your ideal buyer persona include analyzing data and talking to your customers to learn what motivates them. The key to a robust inbound marketing strategy is to attract your company's ideal leads...the ones who buy quickly, have low return rates and share their amazing experiences online, among other key metrics of success.
But how? Start with asking yourself these questions:
Where do they hang out online?
Who do they trust for accurate information?
What are their pain points and goals?
Where are they at this point in their lives?
What's their journey look like? Is it mostly online now?
The answers to the above questions will help you determine your buyer persona. When you understand these qualities about your customer, you can streamline your marketing efforts, optimize your message and GET BETTER RESULTS.
It's also important to use real customer data when uncovering your buyer persona. Look at what types of customers buy more and buy more often. If you currently lack data, consider sending out a survey to those you see as your loyal customers. They'll likely be more than happy to share.
Evaluate Your Website
First impressions matter! Most customers today do their own research online before they ever contact you.
Your website says a lot about who you are. Do you care about customer experience? Are you organized and capable of delivering good customer service? Are you in touch with what your current customers need?
If you seem out of touch, your website will say that. And IT CAN SPEAK LOUDLY.
All of the content that you publish out there online leads back to this website. Every social media post, every guest post, every pay per click ad leads here.
Your website is where conversions and online sales take place.
Make sure your website lives up to your customer's expectations. It needs to have a good design, be easy to use, and be super, super fast.
And remember: If your website doesn't look good on mobile devices, you will lose half your possible customers right off the bat in 2021.
What business can afford that?
Create Engaging Content
They say content is king. But content for content's sake isn't king of anything.
Content adds value to your target customer's life. For most businesses, that value is found through being helpful. Solving your customer's problems.
Different kinds of content can help you meet different goals in marketing. So evaluate your marketing goals and create a variety of content types to achieve them.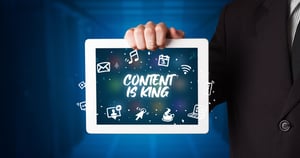 This may include:
Blog posts
e-books
Case studies
Videos
Social media
White papers
Engaging content is also great for increasing search visibility through SEO. In fact, 70% of marketers polled by Databox said SEO was better at generating sales than PPC (Source: Databox)
Have a Social Media Presence
Over half of the world's population uses social media. (Source: Statista)
The average person now spends 2+ hours on social media a day. (Source: GlobalWebIndex)
It's critical that you spend time marketing in places where your buyer persona hangs out. To attract them, you'll need to learn to use social media in a way that they can relate to and appreciate. Organic social media is a great place to get your content in front of your target audience. You may need to use a combination of paid advertising, organic sharing, contest and influencer networking to achieve this.
And regardless of the industry you're in, it's time to embrace video. It's the second most used media, more likely to be shared than text-only content, and it's the best way to increase engagement on social media fast.
Nearly 55% of people watch videos online every day, and this medium is quickly expanding. (Source: HubSpot) Live video is a great way to quickly get people interested in your brand. People watch live video 8 times longer than regular video. (Source: HubSpot)
Showcase your employees. Take questions and provide tips. Interact in real-time with your customers. Ignite your lead generation.
Work With A Marketing Agency
Digital marketing agencies have the tools, talent and experience to generate qualified leads for your sales staff.
They can use data to learn more about who your ideal customers are and why they buy. They leverage this knowledge to test, streamline and optimize. That's what gets the highest ROI.
They will have access to a whole toolbox of resources and expertise in SEO optimization, high-quality content, social media, email marketing and more.
Because marketing agencies have access to advanced automation and analytics tools that may be cost-prohibitive for small businesses, that can provide a significant benefit for you. You gain access to insights provided by these tools when you work with the agency.
Perhaps most important, digital marketing agencies provide you with the time you need to run your business. Marketing agencies are built with professionals who specialize in specific creative and technical disciplines. They focus on producing quality work to generate leads for your team while you focus on building your business.
Bill is the CEO and Founder of InTouch Marketing. Bill drives the vision and direction of InTouch except when England's playing in a soccer tournament, because everything stops!