When you search on Google, webpage page titles appear in the search results with a link to that specific page. Also, commonly called the meta title or SEO title tag, they're intended to summarize the page a person might choose to click on. In most cases, you can influence what this page title includes. However, in some cases, Google generates titles for your pages, and they've recently updated how they work with the SEO title tag. So, here's what you need to know.
The Importance of the SEO Title Tag
A good SEO title tag can be the difference between earning a click when you appear in the search results or fading into the background. And the click-through rate in search when you do have a search impression does influence your ranking. If two sites hold spots seven and eight on the page when a search is performed, and number eight is clicked more often, it is likely to move up in rankings.
The SEO title is equally important for the people who use Google every day, many times a day, to find what they're looking for. With that said, some SEO titles are less than helpful, which is why Google generates your web page titles some of the time.
How Google Generates Titles
As of August 2021, Google released an update that changed how Google generates titles. Before the release, the query could determine the web page title. So based upon the query a user asked, Google might change the title slightly to demonstrate how the page answers that query.
This will no longer happen because Google can now effectively review a page's structure and generate a title that works better to describe the page without the need to adapt to the queries.
Google still relies on the title tag you create most of the time. But when this is inadequate, Google will generate a different title for your page, and it pulls this from what people can see on the page, not HTML code.
Google believes that what a person sees prominently on the page when they click should represent that page. That is your H1 title (Primary heading on the page). For a blog post, this would be the blog post title. For a service page, your H1 might be the name of the service most of the time.

It might also be text that is large or has stylized treatment, even if it is not H1. In other words, if you have something on your page that you intend the customer to see first when they click, Google may consider this to be your page title.
Google may add your website's name to the title if the algorithm used thinks it would help the human better identify the web page from search. If your H1 is too long, Google generates titles using the most important words in the title.
Why This Google SEO Update Matters
This latest Google SEO update represents may influence your ranking and how your website appears in search. This may, in turn, change decisions about your page layout, H1s, or design elements.
It's critical that you audit your website to determine how Google is now displaying your pages in the search results so that you can fix the element if it is not displayed in a way that best represents your brand or the page. You may notice a drop in traffic in SEO Google Analytics or a drop in the click-through rate in Google Search Console.
The easiest way to see how your web pages appear in Googles search results is to do a Google search using site:yourdomian.com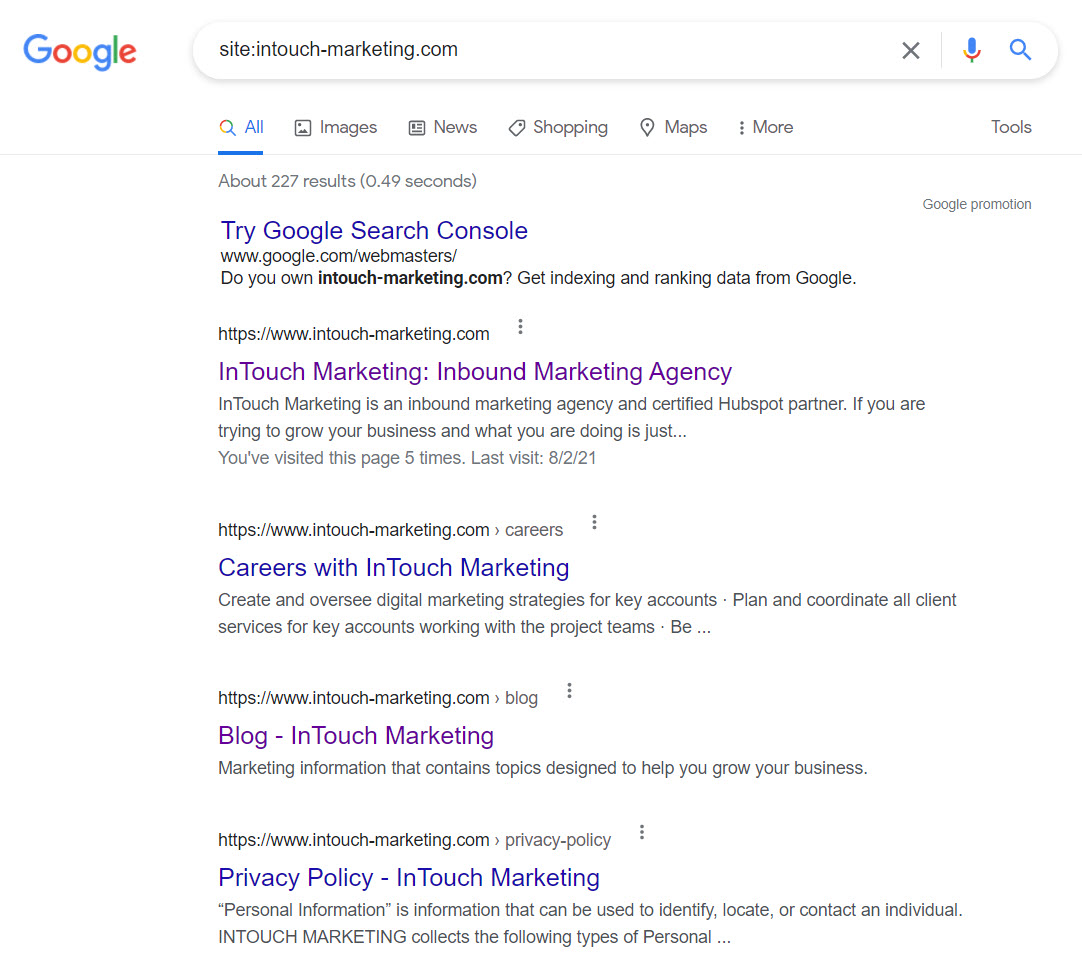 Why Google Generates Titles
Google generates titles because the existing title doesn't always explain the page very well. If the person writing the SEO title tag is too focused on SEO and not on people, they may have stuffed it awkwardly with keywords. If the person who created it is unaware of SEO best practices, they might add a title that gets cut off, has the same title for all pages, or they might not have one at all. In these cases, Google has historically tried to fix the problem by generating its own.
Google's goal continues to be to create the most humanly readable titles for the search results.
Examples of How Google Might Change SEO Titles
Addressing Short or Irrelevant Titles
Google might recognize that the page title is very short, perhaps one or two words. E.g., "Lawn Care" on a service page.
Two words are unlikely to help a person understand if the page that appears in the search results is worth a click. Google decides to add the "| company" name after the words to further clarify what the page is, so it might now look like this "Lawn Care | Company Name".
Google might also choose to add the location and other elements it believes better describe the page. After all, if you're looking for lawn care, you want a local company.
Addressing Obsolete Titles
Let's say that the SEO title for the page is "2021 admissions criteria - University of Amazing". Based on other page elements, it's clear to Google that the website owner updated the page to 2022 criteria but forgot to change 2021 to 2022. Google generates a title for the page to correct this: "2022 admissions criteria - University of Amazing"
Addressing Inaccuracy
Let's say you have a product page on an eCommerce site that states you carry some specific items, but Google can find none of these items on the page. Google might remove them from the page title and substitute them for the brands it does see on the page.
For example, the page could have dynamic content with a title element like:
Giant stuffed animals, teddy bears, polar bears - Site Name
It's reasonable to assume that people would expect to find these types of items on the page. However, the title is a static title and since the page itself may change from day to day with different products, sometimes the products will appear and sometimes not.
Google's system tries to understand if the title isn't accurately showing what a page is about. If it determines that the tile does not accurately reflect what's actually on the page, it might modify the title so that the user better knows what to expect. For example,
Stuffed animals - Site Name
Addressing Boilerplate Titles
Let's say you run a fan site for your favorite NetFlix shows. You have sub-sections for each show, but also sub-sub-sections for each season of that show. You may have used the same title for each page related to a specific show.
My NetFlix TV show

My NetFlix TV show

My NetFlix TV show
Google's system has the ability to detect the season number used in large, prominent headline text and insert those in the title. This way the titles are are more helpful:
Season 1 - My NetFlix TV show

Season 2 - My NetFlix TV show

Season 3 - My NetFlix TV show
What You Should Do Next
Google recommends that you continue to create excellent SEO title tags of the appropriate SEO title length (usually 60 characters or fewer, including spaces). You should use free SEO tools like Moz Title Tag Checker to see how your title will appear in search results if Google doesn't change it. Creating a good SEO page title from the start reduces that risk.
Google states they will use the tag you create 87% of the time. While Google's algorithm is certainly getting smarter all the time, you certainly don't want to leave your SEO titles to Google's decision-making when you can control what Google displays the vast majority of the time. So continue to create great titles that accurately represent the page and drive search traffic to your website.
Bill is the CEO and Founder of InTouch Marketing. Bill drives the vision and direction of InTouch except when England's playing in a soccer tournament, because everything stops!