You've decided to start your company blog.
Congratulations! Business blogging is one of the best things that you can do for your company website. When done correctly it can be a great source of highly relevant traffic to your site, help with lead generation and establish you as a thought leader in your industry.
Here are some stats from our partners at HubSpot that support blogging as a valuable marketing tactic.
B2B marketers that use blogs receive 67% more leads than those that do not.
Marketers who have prioritized blogging are 13x more likely to enjoy positive ROI.
By 2020, customers will manage 85% of their relationships without talking to a human.
Companies who blog receive 97% more links to their website.
Blogs have been rated as the 5th most trusted source for accurate online information.
(Source: HubSpot)
Sounds great, what's the catch?
For many novice business owner bloggers, there are several things that you can do to kill your blog posts and make the exercise a waste of your time.
Before you open up that word processing software and create your first masterpiece, check out this list of practices to avoid.
Bad Headlines
Headlines are the first thing that your potential readers will see on the search engines. Write a compelling headline and you're likely to see an increase in social sharing which may lead to a better click through rate. Write a boring, non-descript or irrelevant headline, and your likely to diminish your audience or worse attract the wrong audience.
A great headline should do three things: capture your potential readers' attention, entice them to want to read more, and concisely explain the payoff for reading your article.
Mistaking Your Audience
It's crucial on so many levels to make sure that the topics of your blog posts are relevant to your company mission. You should have a sense of who your blog's target audience is. It should be related to your ideal customers.
For example, if your business is investment management and your blog is about stock, bond and options trading, writing a post about finding inexpensive general liability insurance is sure to be a head scratcher. Your audience is expecting stock tips and trading strategies. While finding good insurance is an important financial matter, it is not in alignment with the desires of your core audience.
If your target audience wouldn't find a blog post interesting or valuable, or if your content strategy is all over the map, you definitely have a problem.
Poor Formatting
There is nothing more frustrating that trying to get through a blog post that is formatted as one giant block of text. No matter how great the ideas are in your article, if it is hard on the eyes to read, your readers probably won't stick around long enough to get through the first few sentences.
Make sure that you break up big blocks of text with headers, bulleted lists, and bolding key ideas and images. If you make your content more pleasing to the eye, your readers will likely be more engaged with the content.
Images
Speaking of images.
Let's be honest, good looks sell. That's why supermodels have a job. Your blog post is no different. As discussed above, poor formatting will kill your blog post before you even get started, no matter how intriguing the post may be. The impact of an amazing image can grab a reader's attention to your post in a way that text only cannot do.
Proper images can make or break your blog. They not only make your post look good but can also help a reader to grasp the content of your blog post with ease.
Make sure that if you check the rights associated with any images that you use. Don't use images where the artist has retained the rights. Give artist attribution when required and make sure that you purchase images that you will use in your posts if you cannot find a suitable free image.
Don't have a graphic designer on staff?
No problem, use an online editor like Canva. They have thousands of images on hand, and free templates to get you started. Many of their images are also free or can be purchase for as little as $1.
Overt Self-Promotion
One of the most common mistakes that we see with company blogs is to make it read like a sales pitch. A little self-promotion is fine, but you don't want the greatness of your company or the attributes of your product to be the post's dominant theme.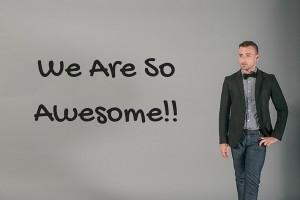 The main purpose of a blog post is to generate relevant traffic to your company website and generate highly qualified leads for your sales team. In order to achieve this, you need to establish trust with your readers and offer them real world solutions to their problems.
Focus on delivering high-impact, information rich content. It should be backed up with quality research which will establish you as a thought leader in your industry. Strong Informational content is more likely to lead to social sharing and high-quality backlinks which will help your blog rank higher on search engines.
Social Media
Once you create your high quality blog posts it is important to promote it to a wide and captive audience. Social engagement is the life blood of your blog. Interacting with your audience on the major social media portals is the key to amplifying lead generation.
This is a list of key social media outlets that should be considered:
Facebook
Twitter
Google Pages
LinkedIn
Pinterest
Instagram
Snapchat
Make sure that your blog has social media sharing links and comments enabled. Communication and social shares are the lifeblood of developing an audience. Make sure that you reply to comments and engage authentically on more than one social network.
Forgetting The Spell Check
This last one should go without saying, but I am constantly amazed by the number of blog posts that contain spelling and grammatical errors. You may express some killer ideas, but all people will remember is the misspelled words and bad grammar.
Make sure that at a minimum you hit the spell-check on your word processing software, and better yet, have a colleague proofread each post looking for errors that will diminish your credibility and limit the comments from the grammar police.
These are my main bad practices to avoid. What other bad habits should be on the list?
David, a HubSpot Certified Inbound Marketer is the Chief Content Creator for InTouch Marketing and its clients.