Sales teams have their hands full with administrative tasks nowadays. An average workday consists of writing emails, entering data about a prospect, researching leads, attending internal meetings and setting up meetings.
Notice something missing? Selling.
In fact, a HubSpot sales survey of more than 400 sales professionals in the United States, United Kingdom and Ireland found that they spent more than half their day tackling administrative work and only a third of their day actually selling.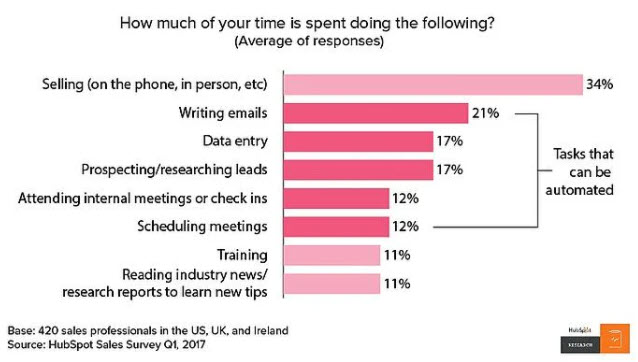 Converting sales into leads involves having an effective sales strategy in place, but having the time to do so is an important factor in how many deals are closed. That's where sales automation tools come in.
Sales automation is an important tool in providing your sales staff the time needed to close more deals so you can grow your business. Here's how.
What Is Sales Automation?
Sales automation reduces the amount of time that salespeople spend on tasks that are essential, but are lengthy in time and take away from the time that could be spent on actual selling.
These tasks include:
Writing emails
Entering data
Researching leads
Attending meetings or check-ins
Scheduling meetings
Sales automation tools are designed to take care of these tasks for you, or at the very least, make them more manageable and less time-intensive.
For example, a simple email template can make sending a message much faster. Automation tools can even send follow-up emails so salespeople do not need to keep track of prospect follow-ups.
There are also several sales management tools on the market that allow prospects to book a meeting with salespeople, reducing the back-and-forth correspondence that often occurs when arranging a time to connect.
There are even tools available that automatically record correspondence like emails, calls and other activity, reducing the need for data entry. The number of prospecting tools that are available today is also increasing, making it easier for salespeople to retrieve information that is readily available.
Benefits Of Sales Automation Tools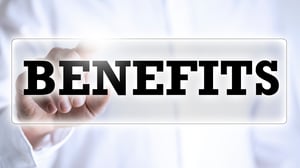 Marketing strategies are designed to grow your business and reach your revenue goals. The primary purpose of sales automation is to make time for your salespeople to take the valuable leads you have acquired and turn them into sales.
By including sales automation tools in your sales process, your company can allocate more time to activities that are considered "sales critical" to increase your sales closure rates and help your salespeople focus on the right leads.
There is an added benefit to these helpful tools as well. Today, more employees are working remotely in large part due to COVID-19 safety precautions. While it is uncertain whether companies will keep their employees remote in the long-term to reduce overhead costs, there's some data that suggests at least 16% of employees will remain at home even after COVID-19 recedes.
Sales automation tools can help employees in remote working conditions because they allow both manager and employees to see whether processes are running smoothly … even when there is little to no in-person interaction among staff.
Sales automation tools can also increase accuracy and improve reporting. From these numbers, sales automation tools can generate reports that offer an in-depth look at activity. This provides useful information to help you decide which templates perform best.
Examples Of Sales Automation Tools
There are a wide variety of sales automation tools available on the market that are designed to help you generate, research and close leads. Here are four you may want to consider to increase the efficiency of your sales operations and close more leads.
Hubspot Sales Hub
Hubspot Sales Hub is a great option to help salespeople with following up with leads and closing those leads. This all-in-one automated sales tool brings tools and data together on one platform.
Popular automation features to start conversations include email templates, email tracking, and call tracking and recording, while salespeople can take advantage of features like appointment scheduling and a live chat to connect directly with prospects when they're engaged with a company's website.
A sales analytics component also brings data together in one place to show how effective a company's sales process is, allowing users to optimize every step of the way.
Pricing: Plans start at $50 per month
LinkedIn Sales Navigator
Ideal for advanced prospect search, LinkedIn Sales Navigator provides salespeople with an alternative to generic searches for leads and instead offers them targeted, highly-qualified prospects.
For example, an advanced search box lets users filter leads by categories, such as job titles, experience, location, company and more. Salespeople can also set notifications to alert them when leads take certain actions, such as when a contact moves to a new company.
Pricing: Plans start at $64.99 per month
Calendly
Setting appointments can be a time-consuming task, but Calendly allows sales reps to set their availability preferences and then share those with a prospect. The prospect then selects which time works for them, automatically adding the meeting to the salesperson's calendar.
No need to worry about confliction calendars. Calendly integrates with popular programs used today, including Google, Office 365, Outlook and even Hubspot.
A "pro" plan also allows companies to accept payments through the meeting scheduling links.
Pricing: Plans start at $8 per user per month
Leadiro
Leadiro is a top choice for lead generation with its more than 47 million business contacts. This sales automation tool allows salespeople to filter target accounts based on different types of data, including firmographic, technographic and demographic.
This allows users to more narrowly pinpoint prospects based on specific buyer personas, as well as target emerging markets. If your company is ready to go global, Leadiro is a great choice as well since it offers details for companies in more than 98 countries.
Pricing: Free, with paid plans that start at $99 per month
Close More Deals
A successful sales strategy is more than just about generating leads. It's also about converting those leads into sales.
Sales automation tools help free up valuable time for a sales staff to spend more time selling and less time tackling necessary, but time-intensive administrative work. These tools may be the boost your staff needs to increase revenue and experience breakthrough success.
Olivia is the Co-Owner and VP of Sales for InTouch. She loves getting to know and connecting with people.