Guest blogging services can get a bad rap. Some fear they are too spammy, may cost too much and are low-quality.
Yet guest blogs have survived the countless changes digital marketing has experienced over the years and are still quite popular. So why hasn't guest blogging gone the way of the dinosaurs?
Marketers have stopped wasting their time on low-quality guest blogging and have instead started investing in guest blogging services that are focused on quality over quantity.
If you're considering adding guest blogging services to your list of marketing tools in order to generate leads and land customers, here's what you need to know.
What Do Guest Blogging Services Provide?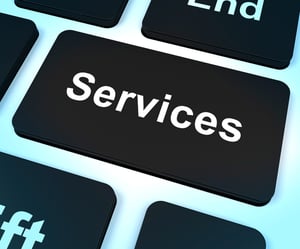 Before you can determine whether guest blogging services are worth the cost, it's beneficial to get an idea of what exactly blogging services offer.
The best guest blogging services provide:
Quality blogs that deliver targeted content to an audience, provide advice and showcase you as an expert authority on a subject

Quality backlinks

to to help build search engine optimization (SEO) efforts

Increased

traffic to your website

and greater opportunities for conversions
This is in stark contrast to old-school guest blogging, which involved networks that distribute a keyword-stuffed article to multiple low-quality websites.
These days, guest blogging strategies also include focusing on building relationships with people at well-known publications. Using connections, guest blogging services negotiate posting opportunities on behalf of their clients. Some are free and others charge a fee, and the clients get to publish guest posts on A-list websites.
How Much Do Guest Blogging Services Cost?
There are several factors that go into the cost of guest blogging. Typically, you must factor in the guest blog service or site itself and the cost of the writer.
If you are paying a site to host your blog, it may cost anywhere from $150 up to $1,000 per piece. The cost of the writer will run anywhere from 10 cents per word or more, depending on experience and the difficulty of the content. For a 1,000-word article, it could cost a total of $250 or up to as much as $1,100 or more.
To give you a better idea of numbers, here's a breakdown of some possibilities for a 1,000-word article:
For one mid-level Domain Authority link (20 or higher), you'll pay $175 at

The Hoth

.

For one high Domain Authority link (40 or higher), you'll pay $425 at The Hoth.

With

Stellar CEO

, the equivalent links would cost $167 and $367, respectively.
However, on A-list sites like Forbes, Huffington Post or Entrepreneur can run north of $1,000 a piece, according to Ahrefs.
When taking into account the cost of the writer, a lot will depend on the writer's experience. Expect to pay a premium if you only want to work with someone who is an expert in your field, who has years of experience or who is willing to meet your tight deadlines.
One final thought: There may be other associated costs you'll need to consider, such as whether you use a Grammar check service like Grammarly, or you need to include photos and must purchase stock images from sites like Shutterstock or DepositPhotos. While some sites, like Grammarly, are free, others require payment that will add to the final cost of your blog.
What Is The ROI?
One of the reasons why guest blogging didn't disappear is that there's a huge potential for digital marketing results, including:
Increased organic traffic

Quality backlinks

Increased referral traffic

Increased brand exposure
Despite these benefits, it is difficult to tie these outcomes to hard numbers. It's important to note that the success of a campaign really depends on how it's conducted.
You can also take a look at how well the blog is performing to get a general idea of its success. Tools you can use include:
To give you another idea of what you can expect, consider this case study:
A small business that makes mobile websites and native apps published 44 guest blogs over the course of five months. As a result of this effort, the business' website saw a sustained increase in organic traffic (20%), Domain Authority increased by 5, and it received 38 quality backlinks.
That's a pretty solid outcome for an isolated effort. It's the promise of ROI like this - and even beyond - that gets marketers really excited about guest blogging strategies.
Top Guest Blogging Services Companies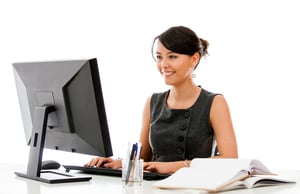 Here are the top 4 guest blogging services companies to consider:
BLOGGER LINKUP - This is one of the free services that you can find guest blogging opportunities on. It connects bloggers who need content with marketers and businesses who are looking to place content in exchange for links. There are different contracts that have various payments and other information on it, so just read them carefully to make sure that you know what you are signing up for.
GROUPHIGH - This is a solution for big brands looking to incorporate blogger outreach into their marketing strategy. Their service indexes millions of blogs so that you can search them by keyword, topics covered, number of followers, and location. You can also see if the blog supports video, guest posts, sponsored posts, ad networks, and giveaways.
MYBLOGGUEST - This is one of the most well-known names when it comes to guest blogging communities. You can sign up for free to list yourself as someone looking for guest bloggers or looking to guest post on another blog in specific categories in the guest blogging forum. There is also a forum dedicated to those looking for social promotion help for their published posts.
GUESTR - This site helps blog owners find new content from bloggers and helps guest bloggers and SEO's find guest posting opportunities to place their content and build links. It is currently a free service for both site owners and those looking for guest post opportunities.
Guest Blogging Services Best Practices
When searching for a guest blogging service, there are a few important things to keep in mind.
Avoid black-hat guest blogging services
First and foremost, make sure the guest blogging provider you're partnering with has a good reputation. Google penalizes sites that use spammy guest blogging schemes, so it's in your best interest to make sure the vendor you choose is only using white-hat practices.
You should also ask to see some credentials for the sites where they'll distribute your content. Check for:
High domain authority:

Is it a respected publication that will pass a lot of trust signals to your site?

Audience relevance:

Is it the type of site your customers would visit? How big is the audience? Are they engaged?

Editorial practices:

How do they treat backlinks? Do the posts look professional? Is the blog updated often?
Outline your goals and expectations
Provide specific information about what you need to achieve to consider the campaign a success, so your guest blogging service can help you find the right solution.
Are you more concerned with getting on an A-list blog?

Are you mostly focused on getting as many quality backlinks as possible while staying under budget?

If they are running into editorial roadblocks with the ideal publication, is the deadline a deal breaker?
The last thing you want is to hand over your credit card, and later find out that you and the vendor were on different pages about where the guest blog should go, what it should cover, and what it should be promoting.
Vet your writers
Make sure the writer(s) you're working with has a clear picture of what you need the blog post to achieve. Some things that you might want to be on the lookout for:
Style:

Can the writer achieve the type of post that you want to have? Do they understand the vocabulary you use? Can they do the research?

Experience:

Has she/he written guest posts before? Articles in your niche? Content to support marketing goals?

Proven track record:

Is the writer able to finish the project by the deadline? On spec?
Any red flags during the vetting process should be a signal to find another writer for the project. It's important that you're working with someone who you can trust, as the results of your guest blogging strategy hinge on their performance.
And, if you have any thoughts you'd like to share about guest blogging best practices, let us know in the comments section below.
Bill is the CEO and Founder of InTouch Marketing. Bill drives the vision and direction of InTouch except when England's playing in a soccer tournament, because everything stops!