Puzzled about inbound and outbound marketing? Uncertain about the difference between those types of marketing services? You aren't alone. Even people who use the terms don't always understand what they mean. But failure to understand the different types of marketing is costly. Invest in the wrong type, and you might as well toss your cash into a trash can.
Understand the basics
Broadly speaking, the goals of inbound and outbound marketing are the same: capture customers who will return and sing your praise to others.
The approaches, however, are markedly different. Before we dig into the details, here's something that will give you a sense of the distinction. Outbound marketing, often termed "interruption marketing," is frequently compared to a megaphone. Meanwhile, inbound marketing gets called "permission marketing," and is compared to a magnet.
The interrupting megaphone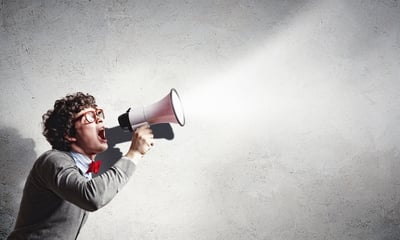 Outbound lead generation is marketing's traditional form: Businesses try to capture potential customers' attention. Direct mail, cold calls, billboard and newspaper ads, TV and radio commercials, mass email blasts -- those are all examples of megaphone marketing.
Outbound marketing is still alive but, increasingly, consumers are finding ways to bypass it. (Wouldn't you try to avoid an interrupting megaphone?) Consumers have the tools to block telemarketers and fast forward through commercials. Most toss direct mail directly into the recycling bin. Others simply don't respond.
Outbound marketers produce one-size-fits-all content -- a magazine ad, a billboard, a mass e-mail -- and distribute widely. And indiscriminately. Outbound is rapidly losing its impact. It's inefficient and therefore expensive.
The permissive magnet
Inbound marketing, in contrast, is a magnet that draws qualified leads on a consistent basis. It focuses creating quality content that attracts people toward your company and product. With "permission marketing" (a term coined by marketing guru Seth Godin almost 20 years ago), ideally, consumers can choose to engage with the marketer, by reading a blog, downloading a podcast, etc.
Done well (and that's the catch!) a strategic, targeted approach to attract the right visitors, convert them into leads and help close them into customers, can help your company reach its business goals.
It helps customers find you, rather than you, looking for them
For this to work --to convert visitors into leads--you need to speak to their needs, wants and interests. That means you need to understand who they are and what they need or desire.
There are different types of marketing elements within inbound marketing. Here are some:
Buyer Personas:

This is a semi-fictitious representation of your ideal customer. Buyer personas allow marketers to create specific, targeted content to attract these types of customers. Used effectively, they allow you to improve your marketing ROI by focusing on your highest value prospective customer. Creating relevant buyer personas is the starting point for your inbound marketing efforts.
Buyer's Journey –

Once you understand who your ideal client is, it's important to understand the journey that they go through on the road to the purchase of your product or service. The buyer's journey is the process buyers go through to become aware of, evaluate, and purchase a new product or service. It's a three-step process that includes the following stages:
Awareness Stage: The buyer realizes they have a problem.

Consideration Stage: The buyer defines their problem and researches options to solve it.

Decision Stage: The buyer chooses a solution.
Content marketing:

This type of marketing includes blogs, ebooks, white papers -- even podcasts. This is a time- consuming approach, but it helps you identify, attract and cultivate the right people -- your future customers. In fact, blogging is one of the single most effective tools to help attract the customers you want and provide real solutions, or education around the areas that interest them the most.
Pay-per-click marketing:

Also called paid search, this involves placing your ad where your customers are searching. Google AdWords is the world's largest and most popular pay-per-click advertising platform but, of course, the same fundamental approach applies to Bing and other search engines. However, Google AdWords is so ubiquitous, it's generally what most people mean by "paid search." You bid on specific keywords and phrases used in Google search; the hope -- and it's only a hope -- is your ads will be displayed alongside search results. Each time a user clicks on an ad, you are charged a certain amount of money -- you "pay per click," hence the name.
Social Media marketing:

Facebook, Twitter and LinkedIn are far more targeted, and generally more cost effective compared to pay-per-click marketing. But you need to use the right one for your business. Pay-per-click-marketing businesses find new customers via keywords; with social media marketing, you help users find your company, products or services based on the things they're interested in and the ways they behave online. If you're trying to increase awareness as well as generate customers, Facebook ads can help you target those with a need -- a need they may not recognize -- for your product or service.
Email marketing:

This isn't mass emails to a generic list -- that would be

outbound marketing

. Email can be very targeted, especially if you use segmented lists.

Tip:

You don't have to make a big investment -- at least not at first. Mail Chimp, Constant Contact, iContact and others offer limited free accounts. All of them provide ways to slice and dice --in other words, segment --your mailing lists.
(Note: If you'd like a more in-depth explanation of inbound marketing and how it compares to other types of marketing, see one of our previous blogs here.)
Harder than it sounds
The challenge is this: You can't just dump all these methodologies in the pot and expect them to work together. You need an inbound marketing program designed to get you on the right path to success.
You must have a specific plan to help you reach your specific financial business goals. The types of marketing strategies you need for your business depends on your business, budget and business goals. Get the strategy right, and you'll start seeing results right away. Get it wrong, and you might as well put up a billboard.
Need help putting together an inbound marketing program? An inbound marketing agency can help you put together a plan to achieve the goals you want to reach. Check out our article on why hiring a marketing agency is your best option.
Bill is the CEO and Founder of InTouch Marketing. Bill drives the vision and direction of InTouch except when England's playing in a soccer tournament, because everything stops!