Local business SEO is the practice of optimizing your online presence to improve its visibility in local search results. It involves developing strategies and techniques to help your business attract more customers by appearing in organic search listings and local map results.
In today's competitive digital landscape, local SEO allows businesses like yours to leverage the power of search engines to establish a strong online presence, gain visibility and ultimately grow your customer base.
If you own a business already experiencing some success, you may wonder whether you really need to prioritize local business search engine optimization. If you don't, you could be missing out on opportunities and a potential loss of customers to competitors who are actively investing in optimizing their local online presence.
Can your business benefit from local business SEO? Here are some important reasons why your company may need to improve its visibility on the web:
Traditional methods aren't bringing in customers.
You've noticed a lack of organic traffic to your site.
Your business has a lack of presence on Google Maps
You're having difficulty competing with other local businesses.
Traditional Methods Aren't Bringing In Customers
Even within your own community, it may surprise you how many people may not be aware of the services or products that your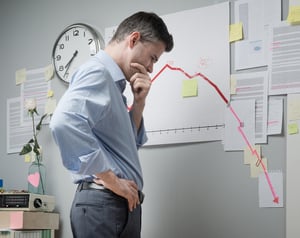 business offers. With the rapid advancement of technology and the increased reliance on the internet, more and more people are turning to the web for assistance in finding local companies.
Traditional methods like word-of-mouth recommendations or physical storefront visibility are no longer sufficient to reach a wide audience. Likewise, if you've been pumping advertising dollars into outdated marketing methods like mail flyers, television ads or radio spots, you may not be seeing the return on investment that you would like.
Potential customers are using search engines, online directories and social media platforms to discover businesses that meet their needs. In fact, according to Think with Google, 4 in 5 consumers use search engines to find local information. That's where your customers are, and where your business should be as well.
By leveraging the power of the web, you can expand your reach, attract new customers and establish a strong presence within your local market.
You've Noticed A Lack Of Organic Traffic To Your Site
If you've noticed a decline in website traffic or a lack of organic traffic from local sources, it could indicate a need for incorporating local SEO into your marketing strategy. You can identify if your website is experiencing a deficiency in local organic traffic a number of ways, including by:
Reviewing the geographic breakdown of your website traffic. Web analytics tools typically provide a report that shows the locations from where your website visitors originate. Look for the percentage or volume of traffic coming from your local area. If that number is significantly low compared to other regions, it indicates a lack of organic traffic from local sources.
Performing location-specific keyword analysis. This allows you to analyze the keywords that are driving organic traffic to your website. Look for location-specific keywords or search terms that indicate local intent, such as "near me," city names or specific local modifiers.
Monitoring the search engine results page (SERP). Monitor this page for location-specific queries related to your business and conduct searches using relevant local keywords to evaluate whether your website appears in the organic search listings for those queries.
Analyzing your website's organic traffic patterns over time. Look for any significant fluctuations or trends in organic traffic from local sources. If you observe a decline or stagnant growth in local organic traffic while overall website traffic is stable or growing, this suggests that your website is not effectively attracting local organic traffic.
By assessing these factors and analyzing your website's traffic data, you can better identify if there is a lack of organic traffic from local sources. This information will then help you begin developing more local SEO strategies to improve your website's visibility.
Your Business Has A Lack of Presence On Google Maps
If your business is absent or poorly represented on platforms like Google Maps, Yelp or other local directories, it can hinder your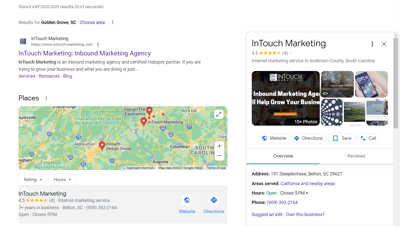 visibility to potential customers. Local SEO helps optimize your presence on these platforms, making it easier for people to find your business when searching for local services.
Having a strong presence on Google Maps in particular is crucial. A whopping 93% of all search queries conducted across all search engine providers are done through Google.
How can you optimize your presence on Google Maps? Claim and optimize your Google My Business (GMB) listing. Ensure that your GMB listing is complete, accurate and up to date, as well as provides essential information such as your business name, address, phone number, website URL, business hours and category. By optimizing your GMB listing, you increase your chances of appearing in relevant local searches on Google Maps.
Remember in the previous section where you were looking to see if your business appears in Google for specific search terms relating to your business? This is where your GMB plays a vital role. If your business does not show up in search terms specific to your business, then it's likely due to your GMB page being incorrect or missing entirely. If Google does not know you exist, how can it show you in search results? It's also important to:
Managing and respond to customer reviews
Add photos and videos
Navigate customer inquiries
You can also gain helpful insights and analytics provided by Google My Business to better understand how users are interacting with your listing, such as the number of views, searches and actions taken.
By implementing local SEO techniques and optimizing your presence on Google Maps, you can increase your business's visibility to local customers who are actively seeking your products or services.
You're Having Difficulty Competing With Other Local Businesses
If you're finding it challenging to compete with other local businesses in your industry, local SEO can provide a competitive advantage. Local SEO techniques can help improve your rankings, increase your online visibility and enhance your reputation within the local market, allowing you to stand out from competitors and attract more customers.
Local SEO can be a game-changer for your business. That's because Google knows that when people are seeking a product or service, they likely want search results from their immediate area. A customer doesn't even have to include "near me" in the search field. Google automatically takes into account the location of the searcher.
Local SEO will focus on optimizing your website and online presence to rank higher in local search results. By targeting location-specific keywords, optimizing your website's content and implementing on-page and off-page SEO strategies, you can improve your search engine rankings. Higher rankings mean increased visibility to potential customers and a better chance of being clicked on over your competitors.
But how exactly does the magic happen? Search engine optimization can be a complex process that takes into account several factors. This is where a local SEO agency can help you.
Local SEO services can increase your visibility and help potential customers find your business by:
Performing a site audit, which involves performing an in-depth analysis of your website's strengths and areas of opportunity.
Conducting keyword research to help find effective keywords that will help your business rank higher, drive more traffic and get the results you want.
Create a personalized strategy for your company. This digital marketing plan will be personalized to your business goals and expectations.
Build backlinks to your website through quality content and link placements to increase your online authority.
Create valuable content to ensure your target audience sees relevant information that will influence their interactions with your site.
Provide you with monthly reporting so you can measure audience growth, track rankings and analyze conversion funnels for KPI performance.
If you don't have a marketing budget that includes the funds needed for local SEO services, you can also try the do-it-yourself approach by using SERP features like local pack, site links, indented search results, reviews and knowledge graphs.
While these do-it-yourself tools allow you to take SEO into your own hands, it's important to note that there is a steep learning curve with these features and require some level of expertise. The best marketing agency will work with you to develop an effective strategy based on your budget that helps you attract ideal customers, converts them into meaningful relationships, turn the most qualified leads into sales-qualified leads, and ultimately, grow your business.
Samantha, an Inbound and HubSpot Certified Marketer is the Social Media Director for InTouch Marketing.