Should I use Google Authorship?
We all know that trying to get your business found online among all the noise is difficult. Blogging has become an integral part, or should be if you're not doing it, of any business strategy to help target content towards your ideal customers and get it found online. One of the best tactics to use for this purpose is Google's Authorship.
What is Google Authorship?
Google Authorship is a solution that Google came up with to connect a piece of content with the Google Plus profile of its author and help eliminate duplicate content, reduce spam and increase quality content. By linking the content to the actual author, it helps strengthen search results instead of relying on bots to make their rankings. Everyone screams "Content is King!" Well, targeted content is king, so Google came up with this solution to help authors get their content found more easily.
How Does Google Authorship Work?
Your Google + profile is at the heart of Google Authorship. It's a way of linking and verifying that the content you have created is yours and you are the actual author. By posting content and links on your Google + profile pages, Google search can find that content and display it in the search results.
Example of one of our clients Dawn DeVroom CFO of IDR Environmental Services

Example of the business Google Authorship for IDR.

Should I Use Google Authorship?
It's great for SEO purposes. Google's algorithms are constantly searching for quality and relevant content related to the search term you enter. As you develop more original quality content and post it on your website and Google + page, the more "AuthorRank" you receive and the more credit you build with Google. When you couple this with your domain ranking, social shares, inbound links, comments and engagement on Google + and a few other factors, your articles have a much higher degree of certainty of being found on the first page. Further, Googles Penguin search algorithm is becoming more social media oriented making social shares of your articles play a much higher role in the ranking process.
The majority consensus is that Google Authorship can increase click thru ratios from 30%-150%. If you think about when you personally type a search into Google, are you more likely to click on a search result that has an image attached to it or just a plain link?
For example, using our client's example above, which link would you click on?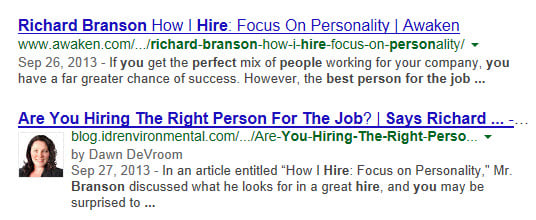 Most people will choose the link with the image because images have more of an attraction to us, even though both articles discuss the same topic and the first link is placed higher on the search results page.
Bottom Line
If you are serious about increasing your company's visibility, then signing up for a Google Authorship account is important. The noise online is loud and will only get louder as we rely on the internet for virtually everything these days. Developing quality targeted content is the first step, but getting it found is the hardest part. Establishing a Google + profile and Authorship strategy will help you establish yourself and your business more effectively and help drive the quality traffic and leads you are trying to get.
Bill is the CEO and Founder of InTouch Marketing. Bill drives the vision and direction of InTouch except when England's playing in a soccer tournament, because everything stops!