When it comes to selecting the perfect marketing partner for your business, one of the first things you may look at is the agency's web design portfolio.
Your website is your digital storefront, your online personal brand ambassador and a pivotal element of your marketing strategy. So it's only natural to want to see what an agency has done for other businesses like yours.
But a picture isn't always worth a thousand words. An online portfolio can be a great resource to evaluate the capabilities of a web design agency, but it's also important to look for subtler details in design work, as well as to know the right questions to ask about the agency's portfolio to make an informed decision.
8 Things To Look For In A Web Design Portfolio
When evaluating the web design portfolio of a marketing agency, here are 8 things to look for to help you make an educated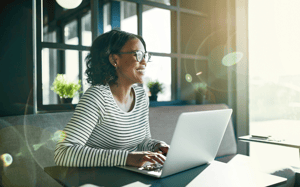 decision:
A diverse range of projects
Design consistency and cohesion
Customer -centric approach
Innovative and up-to-date designs
Results and metrics
Clear Communication
Client testimonials and case studies
Compatibility with your goals
Diverse Range Of Projects
Great web design portfolios should showcase diversity. Look for a web design company that has experience working with various industries, including yours, since this demonstrates adaptability and a wide skill set. A diverse portfolio indicates that an agency can tailor its design skills to meet your specific business needs.
Design Consistency And Cohesion
While diversity is essential, consistency in graphic design and cohesion across projects are equally important. Your website should maintain a unified brand identity throughout. The portfolio should reflect an agency's ability to create a seamless visual experience.
User-Centric Approach
An effective website is one that caters to its users. Look for evidence that the agency prioritizes user experience (UX) and user interface (UI) design. A focus on intuitive navigation, clear calls to action and mobile responsiveness is a must.
Innovative And Up-To-Date Designs
The digital landscape evolves rapidly. Ensure that the agency's portfolio includes modern and innovative design elements that are eye-catching and user-friendly. This demonstrates the agency's commitment to staying current with design trends and interactive design technologies. Some top web design trends this year include using artificial intelligence like chatbots and using AI-driven analytics to provide insights into user behavior.
Results And Metrics
That leads us into results and metrics as a key point of consideration. A strong web design portfolio should include evidence of results. This may include increased website traffic, improved conversion rates or enhanced user engagement. Agencies that can tie their designs to measurable outcomes are more likely to deliver a return on investment.
Clear Communication
Evaluate the clarity of the agency's communication in its portfolio. Is the website design services company transparent about its design process, timelines and client expectations? Clear communication is a sign of professionalism.
Evaluating the clarity of an agency's communication in its portfolio can be done by looking for specific indicators and information within the portfolio itself by looking for project descriptions, insights into the design process, client testimonials and case studies, which we'll discuss next.
Client Testimonials And Case Studies
Client testimonials and case studies provide valuable insights into an agency's working relationship and the impact of their designs. Positive feedback and success stories can boost your confidence in your abilities.
Case studies should address the challenges or pain points clients face before hiring the agency. Understanding how the agency tackled these challenges can provide insight into its problem-solving abilities.
Compatibility With Your Goals
Ultimately, the web design portfolio should align with your business goals and objectives. The agency should demonstrate an understanding of your industry, target audience and unique challenges so that it can tailor its design solutions to not just meet, but exceed your expectations and drive your business forward.
Key Questions To Ask About A Portfolio
A web design agency's portfolio highlights a company's work, but it's also important to ask questions that will help you gain deeper insights into aspects that might not be explicitly shared. Here are some key questions to ask:
Client Collaboration:

How do you collaborate with clients throughout the project?
What was the feedback process like, and how were client suggestions or concerns addressed?

Project Challenges:

Were there any unexpected challenges or obstacles encountered during the project?
How did you handle and overcome these challenges?

Long-Term Support:

Do you offer ongoing maintenance and support services for websites after launch?
What level of post-launch support can potential clients expect?

Customization and Scalability:

How customizable are the designs? Can they be tailored to the needs of my unique business?
Have you worked on projects that required scalability as a business grows?

Performance and Optimization:

What strategies do you employ to optimize website performance and load times?
Is there a focus on SEO (Search Engine Optimization) to improve search engine rankings?

User Testing and Feedback:

Did you conduct user testing during the design process?
How did user feedback influence design decisions?

Content Management System (CMS):

What CMS (Content Management System) or platform do you recommend or specialize in?
How user-friendly is the CMS for clients to manage their content?

Security Measures:

What security measures and protocols are in place to protect websites from potential threats?
How frequently are security updates and patches applied?

Accessibility and Compliance:

How do you ensure websites comply with accessibility standards (e.g., WCAG)?
Are there processes in place to address accessibility issues?

Project Timelines and Deadlines:

What is the typical timeline for a project of similar scope?
How do you manage project milestones and deadlines?

Ownership and Intellectual Property:

Who owns the intellectual property rights to the website design and code?
Are there any restrictions on transferring or modifying the website in the future?

Analytics and Reporting:

How do you help clients track and analyze website performance and user behavior?
Are there regular reporting and insights provided to clients?

Client References:

Can you provide references from past clients who can speak to their experiences?
What do these references have to say about working with the agency?
Selecting the right marketing partner is a significant decision for your business, and the agency's web design portfolio is a valuable resource to aid in this choice.
By considering factors like the ones outlined above and asking the right follow-up questions, you can make a well-informed decision that sets your business on the path to digital success.
Bill is the CEO and Founder of InTouch Marketing. Bill drives the vision and direction of InTouch except when England's playing in a soccer tournament, because everything stops!